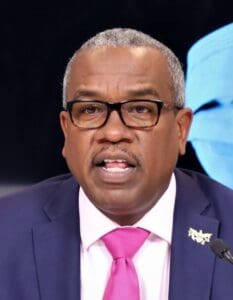 Gov. Albert Bryan Jr. is out of the territory this week to attend the SelectUSA Investment Summit at the Gaylord National Resort and Convention Center in National Harbor, Md., before participating at the Boston Business Summit.
Lt. Gov. Tregenza A. Roach also will attend the SelectUSA Investment Summit in Maryland, which takes place on Tuesday, May 2, and Attorney General Nominee Ariel Smith will be the acting governor in their absence.
At the SelectUSA Summit, the governor will be on the Governors Panel "Workforce Development: Economic Prosperity and Job Creation" with Massachusetts Governor Maura Healey, Arizona Governor Katie Hobbs and Indiana Governor Eric Holcomb.
The governors will discuss innovative efforts in their states and territories to improve workforce development, retain and create attractive and accessible job opportunities and promote economic growth through a diverse workforce.
U.S. Secretary of Education Miguel Cardona also will speak at the summit on the topic of "The Diverse American Workforce," and he will discuss how companies can effectively shape their workforce to meet the needs of their industries. Participating business executives will discuss their experiences with the American workforce and how they have promoted training initiatives to grow their businesses.
Also at the summit, U.S. Commerce Secretary Gina Raimondo will be joined by Sarah Friar, CEO of Nextdoor, to discuss opportunities for women in Tech in the United States. This one-on-one conversation will provide insights on the U.S. Tech sector and highlight ways the public and private sectors are empowering women.
On Wednesday, May 3, Bryan is scheduled to speak at the Boston Business Forum at Fenway Park. The summit comprises a series of meetings to promote the U.S. Virgin Islands and establish partnerships with private-sector stakeholders to spur workforce development and economic opportunities.
On Wednesday afternoon, Bryan has a one-on-one meeting scheduled with JetBlue CEO Robin Hayes.
The governor also will attend the Boston College Chief Executives Club Luncheon, and he has a scheduled radio interview on "The Financial Exchange" to talk about economic opportunities available in the U.S. Virgin Islands.
At the Boston Business Summit, Gov. Bryan, Tourism Commissioner Joseph Boschulte and RTPark CEO Peter Chapman will join Red Sox President Sam Kennedy in making remarks to the attendees.
Following the summit, the participants will watch the Red Sox Game in Kennedy's private stadium box and have an informal networking session.