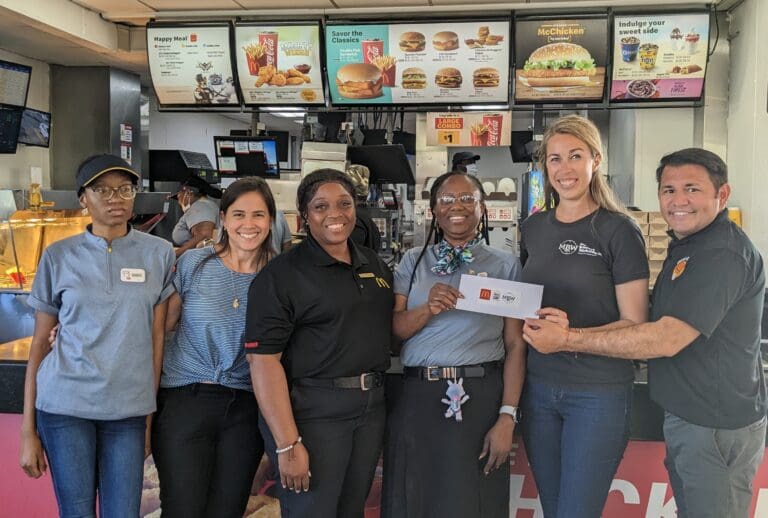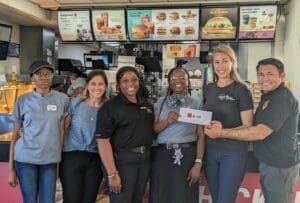 McDonald's continues its partnership with My Brother's Workshop (MBW) by donating 100% of its iconic Big Mac sales on their annual Great Day fundraiser. Last December, the company hosted the fundraiser in their five restaurants on St. Thomas and St. Croix, welcoming hundreds of Virgin Islanders who joined the celebration and contributed to the event. With the proceeds raised through the event, McDonald's donated $10,000 to the local non-profit organization My Brother's Workshop.
"We're proud of our entire McDonald's USVI crew's commitment to our Great Day fundraiser and the community's generous spirit for a good cause. Serving good food and giving back to the communities we get to serve every day is our core commitment as a company. Our Great Day is McDonald's biggest fundraiser in Latin America and the Caribbean, and it gives us an additional opportunity to bring our employees and customers together to contribute to such valuable community programs and organizations. It brings us great joy to continue our partnership with local non-profit organization, My Brother's Workshop and be a part of their efforts to continue expanding their programs." said Marisol Vega, managing director for Arcos Dorados Puerto Rico and USVI.
With this donation, My Brother's Workshop will be able to expand its main program offerings to local youth, including mentorship, education, mental health counseling, job training and placement, amongst other services. My Brother's Workshop is dedicated to providing hope, support and opportunities to at-risk and high-risk youth in the U.S. Virgin Islands from ages 16 to 24.
Through their programs and holistic approach, they've helped over 1,400 young people further their education, expand personal skills and develop professional experience.
"We are so grateful to McDonald's for supporting My Brother's Workshop as the recipient of Great Day funds. The support of McDonald's and community partners allows us to continue to serve our USVI youth by providing mentorship, education, mental health counseling, job training and placement. We want to provide them with the skills and tools they need to be successful," said Chrystie Payne of MBW Communications/Donor Relations.
To know more about Arcos Dorados' commitments and projects in regard to equal-opportunity employment, career development, diversity and inclusion, sustainability and community impact, please access www.recipeforthefuture.com.