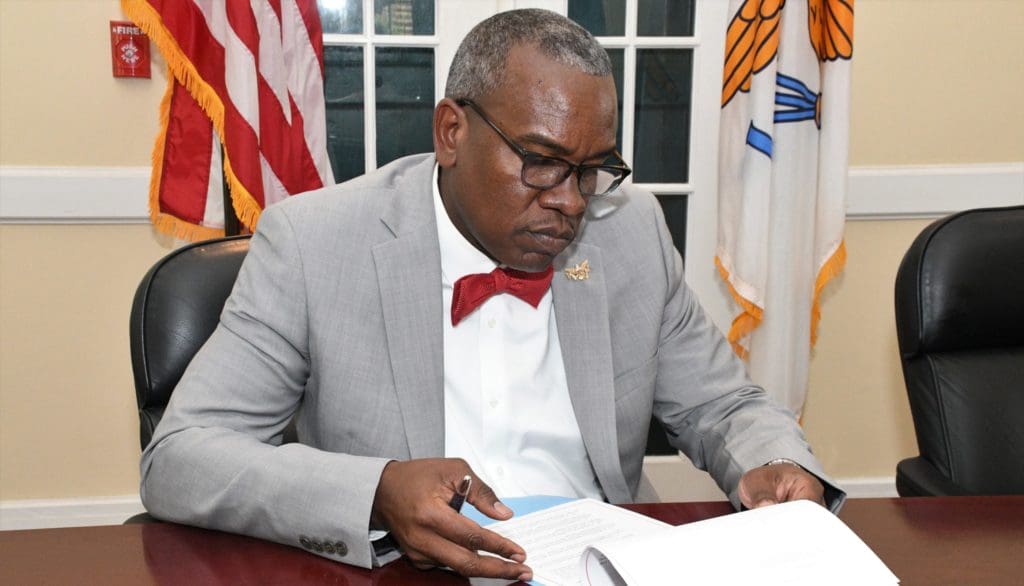 Gov. Albert Bryan Jr. was invited to accompany members of the 34th Legislature to Denver, Colorado, to gather information about the economic benefits and best practices for regulation of the cannabis industry.
According to a news release issued Friday by Government House, he will be out of the territory from Saturday, Oct. 23, through Friday, Oct. 29.
After signing into law legislation authorizing the medicinal use of marijuana in the territory in 2019, Bryan proposed the Virgin Islands Cannabis Use Act, which calls for expanding the use of cannabis and cannabis-derived products for non-medical purposes.
The Government House statement said the intent of the governor's bill is to create new, steady revenue streams dedicated to the Government Employees' Retirement System as additional funding in an effort to stabilize the pension system, which is quickly becoming insolvent.
"I'm joining the delegation to see working systems of cannabis production, manufacture and sales and in support of the members of the 34th Legislature in seeking verification of successful legislative provisions and regulatory systems that can help advance the Cannabis Use Act," Bryan said in the statement. "Our administration has recognized that the act can be a key potential economic driver for the territory. I look forward to us seeing first-hand how other jurisdictions have successfully applied a regulatory model that covers medicinal and non-medicinal uses for cannabis and have reaped the great economic benefits that model brings."
After numerous discussions with members of the Legislature, Bryan made adjustments to his proposed Cannabis Use Act based on their recommendations and resubmitted his proposed bill to the 33rd Legislature in May 2020.
Governor Bryan's Virgin Islands Cannabis Use Act is a comprehensive law that would establish a regulated system for the cultivation, manufacture and distribution of cannabis for medicinal and sacramental use. The Virgin Islands Cannabis Use Act proposes to provide oversight of the cannabis industry by establishing a regulated system to protect public safety, improve public health and create economic opportunities for the Virgin Islands and its residents.
The Governor's proposed bill calls for expunging criminal records for minor offenses involving marijuana, defines enforcement procedures, and places restrictions on where cannabis may be used. It also establishes the duties and responsibilities of the Office of Cannabis Regulation within the Department of Licensing and Consumer Affairs to create the rules and regulations governing the cannabis industry and oversee all aspects of licensing for businesses that would cultivate, manufacture or distribute cannabis.
During Bryan's absence, Lt. Governor Tregenza Roach will be the acting governor.