Caneel Bay Resort is suspending all resort operations until at least December 2019, according to Patrick Kidd, director of marketing for the iconic luxury resort on St. John.
Most of the resort was devastated by Hurricane Irma on September 6, 2017. Since the storm, however, Caneel Bay Resort has provided limited accommodations to government agencies, NGO's , and some private individuals involved in the recovery effort.  Caneel Bay will no longer make these accommodations available but plans to keep its Cruz Bay properties operational.
"Our apartments and marine operation in Cruz Bay are not impacted in any way, and a team of personnel will remain on-hand for security and essential maintenance purposes," said Kidd.
It remains unclear whether the resort will keep open its reverse osmosis water plant which supplies water to many of the island's water haulers.
[adrotate group="6"]
"It's not finalized yet, but water production will be affected by the power being turned off," said Kidd.
Kidd said CBI Acquisitions LLC,  the owners of Caneel Bay,  remains completely committed to rebuilding the upscale resort which was developed by Laurance Rockefeller in 1956.  Built on 180 acres within the Virgin Islands National Park, the resort has continued to operate under different ownership since 1983 through a retained use agreement, or RUE, which is similar to a lease.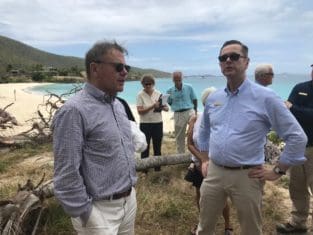 Since the storms, CBIA has worked with V.I. Delegate-to-Congress Stacey Plaskett to pass federal legislation to extend its lease for 60 years beginning 2023 when the present RUE expires.  The extension has generated considerable controversy. Read more on the topic in an article from The Source back in April.
"Nearly a year on from the hurricanes, CBIA continues to work to extend the RUE, on its insurance claims, and planning for the resort reconstruction," said Kidd. "There is absolutely no question that the objective continues to be to re-open the resort to guests."
Prior to Hurricane Irma, Caneel Bay Resort employed nearly 400 people; since the storms, a crew of 19 has kept the premises open to house a limited number of recovery personnel but has remained closed to the public.   A concession at Honeymoon Beach operated by V.I. Ecotours remains open to the public. 
"We are well aware that Caneel Bay is a key economic driver for the USVI and without an operating resort, economic recovery for St. John and the Virgin Islands is significantly hampered," said Kidd.  "Unfortunately, at the moment, CBIA is impacted by significant resort variable expenses and thus the decision has been taken to suspend resort operations until we extend the RUE and resolve our insurance claim…. Our efforts are full-force to make that happen"
In addition to providing housing for FEMA workers, BBC crew members, law enforcement units from off island, and National Park Service emergency crews, the resort has allowed a team of relief workers from the organization All Hearts and Hands to camp out on their property since the spring.  Kidd said, "We are currently discussing with All Hearts and  Hands as to how best we can continue to support their presence on St. John, following this development."
Kidd added, CBIA hopes to be announcing a timeline towards re-opening in the not too distant future.
Shared content for Virgin Islands Source and St. John Tradewinds.