Captain Fatty with his wife Carolyn and their daughter Roma aboard their boat Carlotta. All photos courtesy of the Goodlanders. 
The St. John community is getting ready to welcome back Capt. Fatty Goodlander and his wife Carolyn at a potluck party at Pickles in Coral Bay on Saturday, April 22 from 3pm to 6pm, and all are invited.
Fatty and Carolyn returned to St. John early April after sailing around the world for the third time.
Capt. Fatty made a name for himself in the 1980's writing about the marine community in the Virgin Islands and then expanded his horizons to encompass the Caribbean and eventually the entire planet.  An editor-at-large at Cruising World, he's also published seven books, written countless articles, hosted a radio show, and assembled a huge fan base on social media.
[adrotate group="6"]
The Goodlanders have returned to St. John, what he calls his "terra firma home," after spending five years at sea during this most recent circumnavigation. "I love St. John, not because it is the most beautiful island, or the best sailing, but because it has most of the people I love," said Fatty.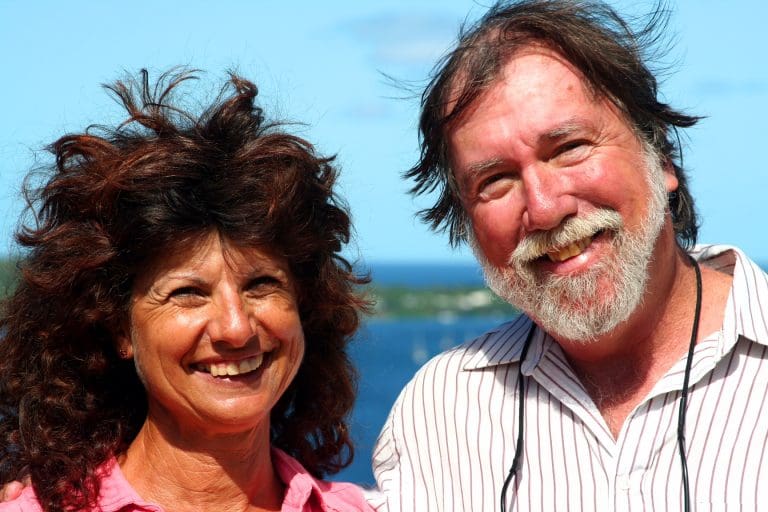 It will soon have even more when daughter Roma, who grew up on St. John but now lives in Singapore, arrives for a visit in June with her two daughters.
Fatty and Carolyn first sailed into Coral Bay aboard their homemade boat Carlotta in 1979.  For a while, theirs was the only cruising boat in the harbor.
Calling himself an "ink-slinger," Fatty set out to become a writer and vowed to collect one hundred rejections before he gave up on his goal. In the process, he got enough work published to justify continuing as a writer.
His first book, Chasing the Horizon, recounts his life starting out as a child growing up aboard a sailboat with his deeply unconventional family.  "That is the book I always tell people to read first," he said.  "It sold better each year for its first 23 years," said Fatty.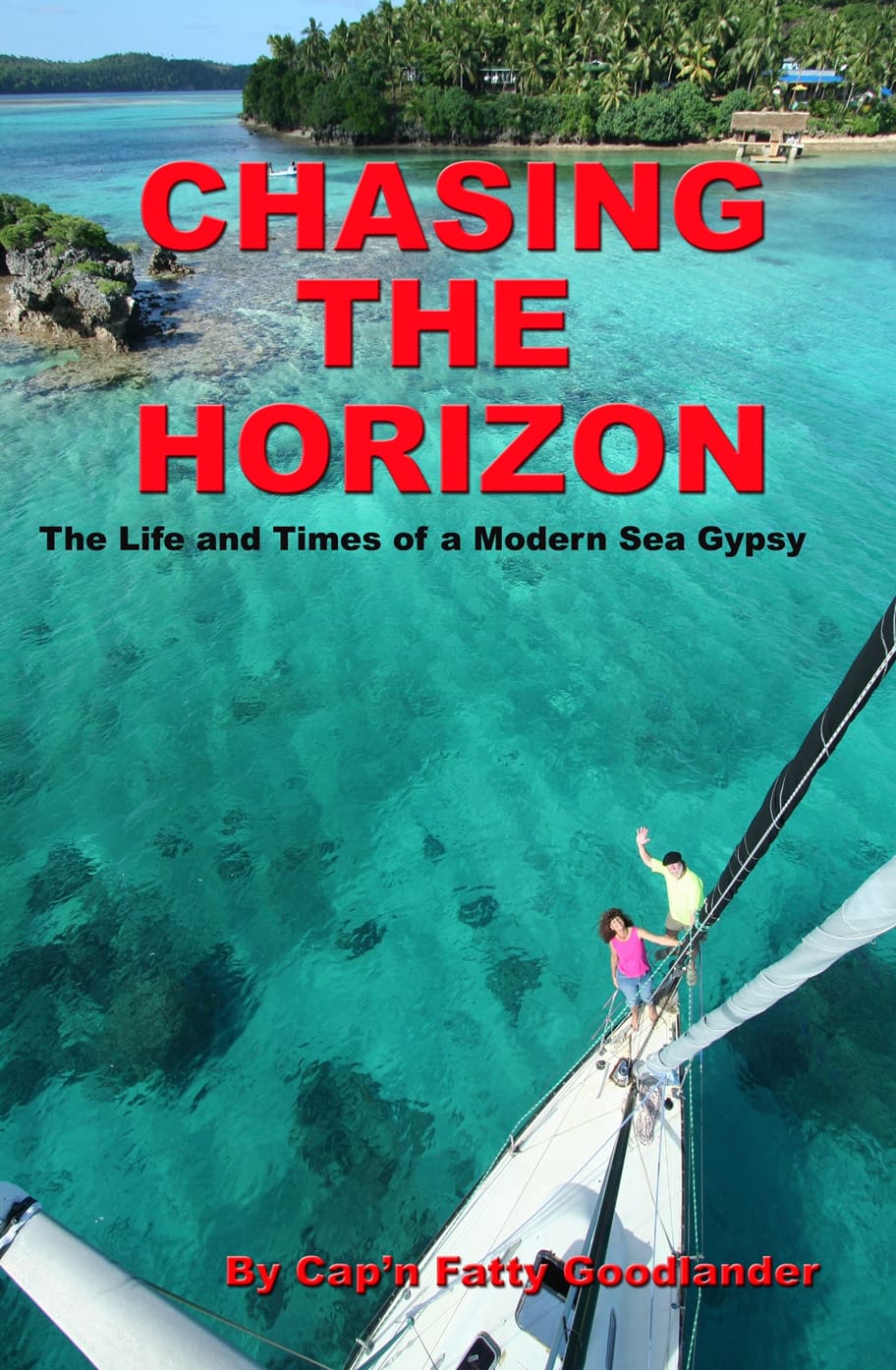 When he first completed the manuscript and sent it off to his "dream" publishing company, Fatty was thrilled when the editor said yes.  But Fatty was crushed when the editor said he couldn't publish it "as it was written, with sex, drugs and stupid jokes," Fatty recounted.  "I walked away from the offer.  You can't be funny with vanilla words."
"I was 28 when I wrote it, and I completed it in a few months.  I'm a better writer now, but not a better person.  It has a zest I don't have now as a 65-year-old."
To make sure his voice wouldn't be stifled, Fatty launched American Paradise Publishing Company. His second book, Seadogs, Clowns and Gypsies, celebrated the wild life—meaning "the people"—in the boating community on St. John and in the Caribbean.
After building his reputation by writing rollicking tales of his adventures and misadventure, Fatty has set his sights on mastering the art of serious fiction.  "I spent so many years making people laugh, I decided to spend two years learning how to make people cry," he said.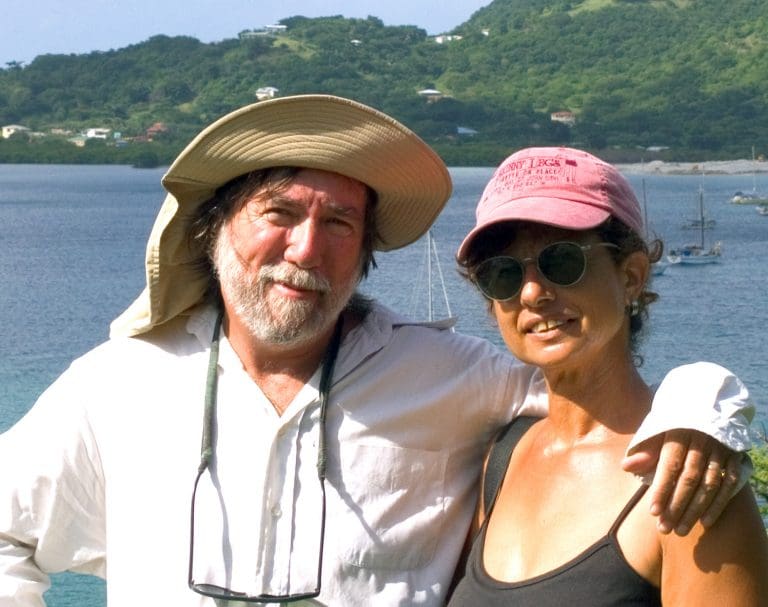 So far he's been dissatisfied with his efforts.  "I've written seven novels, none of them good, but each is better than the last." He's not giving up and plans to spend the bulk of his time on his next circumnavigation honing his craft. "I want my grandchildren to read Chasing the Horizon and say, 'He was one crazy screwball,' but then I want them to have a different appreciation of me and my work."
His more recent books include the highly technical Storm Proofing Your Boat, Gear and Crew and How to Inexpensively and Safely Buy, Outfit, and Sail a Small Vessel Around the World, which draw upon his years of experience at sea.
He continues to make his living as a writer, faithfully writing four hours a day for five days a week, penning 40 articles a year for marine publications from wherever he happens to be.
An early adopter of new technology, he was quick to figure out how to upload his stories to the internet. He gives credit to his wife Carolyn, who manages the business aspect of his career, for surprising him by marketing his books online.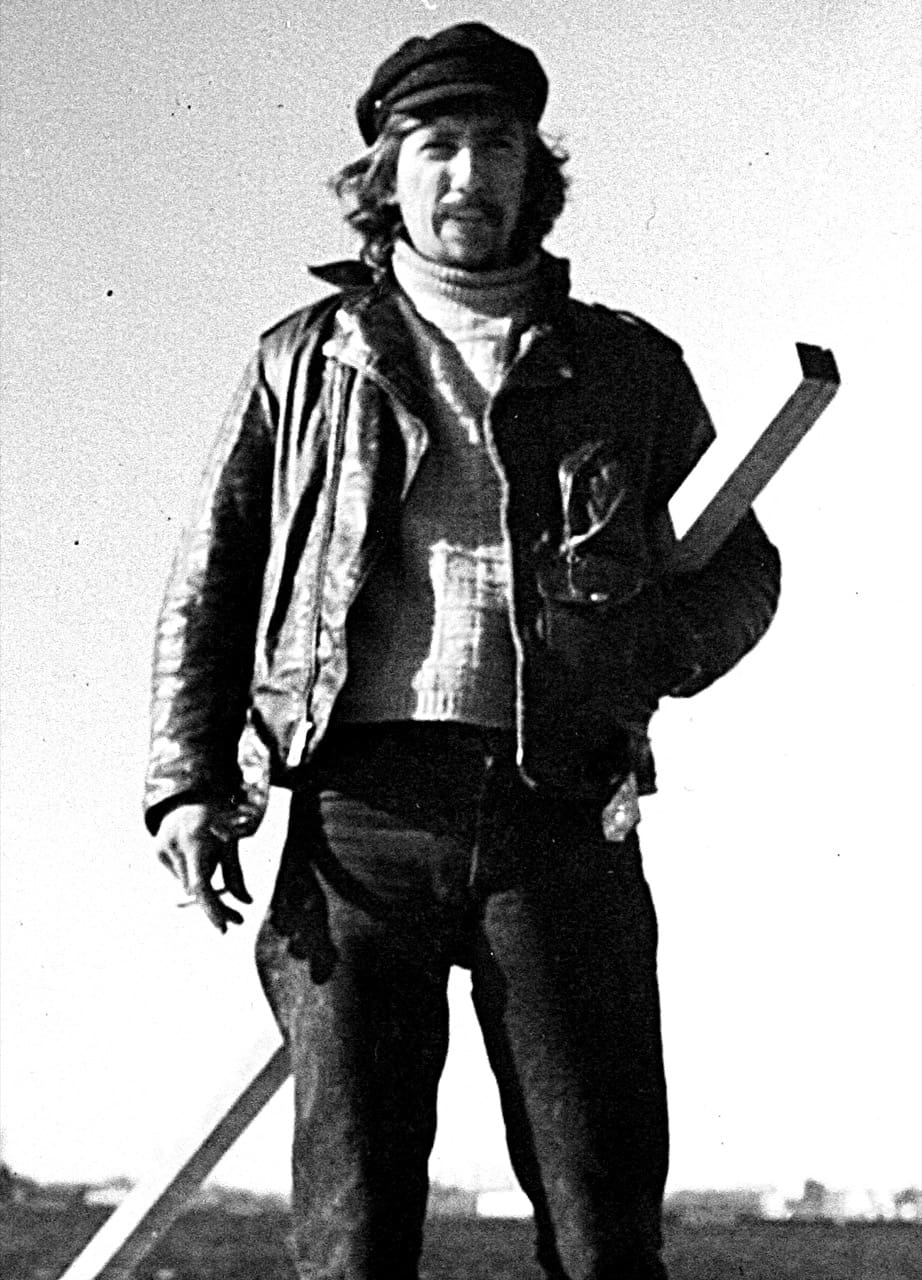 He found out about his books' online success when he was in the Philippines in 2007. Fatty said he had made a phone call to his bank to try to straighten out his confusing bank statements.
"You're cruising the Amazon?" asked the banker.
"No, I'm in the Philippines," Fatty said, frustrated.
"Well, a Mr. Kindle is sending deposits to you in the Amazon," replied the banker.  Then he remembered Carolyn saying to him, "Jeff Bezos at Amazon has developed an MP3 player for books."  That was the beginning of the Kindle editions of his work.
Fatty met Carolyn when they were in high school in Chicago, and Fatty had just acquired his first boat.  "Carolyn sewed doll clothes for Barbie dolls to make money, and I needed to find someone to sew curtains for my boat.  She came aboard and was amazed.  We made curtains all summer. When I see curtains now, I still get an erotic twinge.  She's sewn happiness into my life ever since."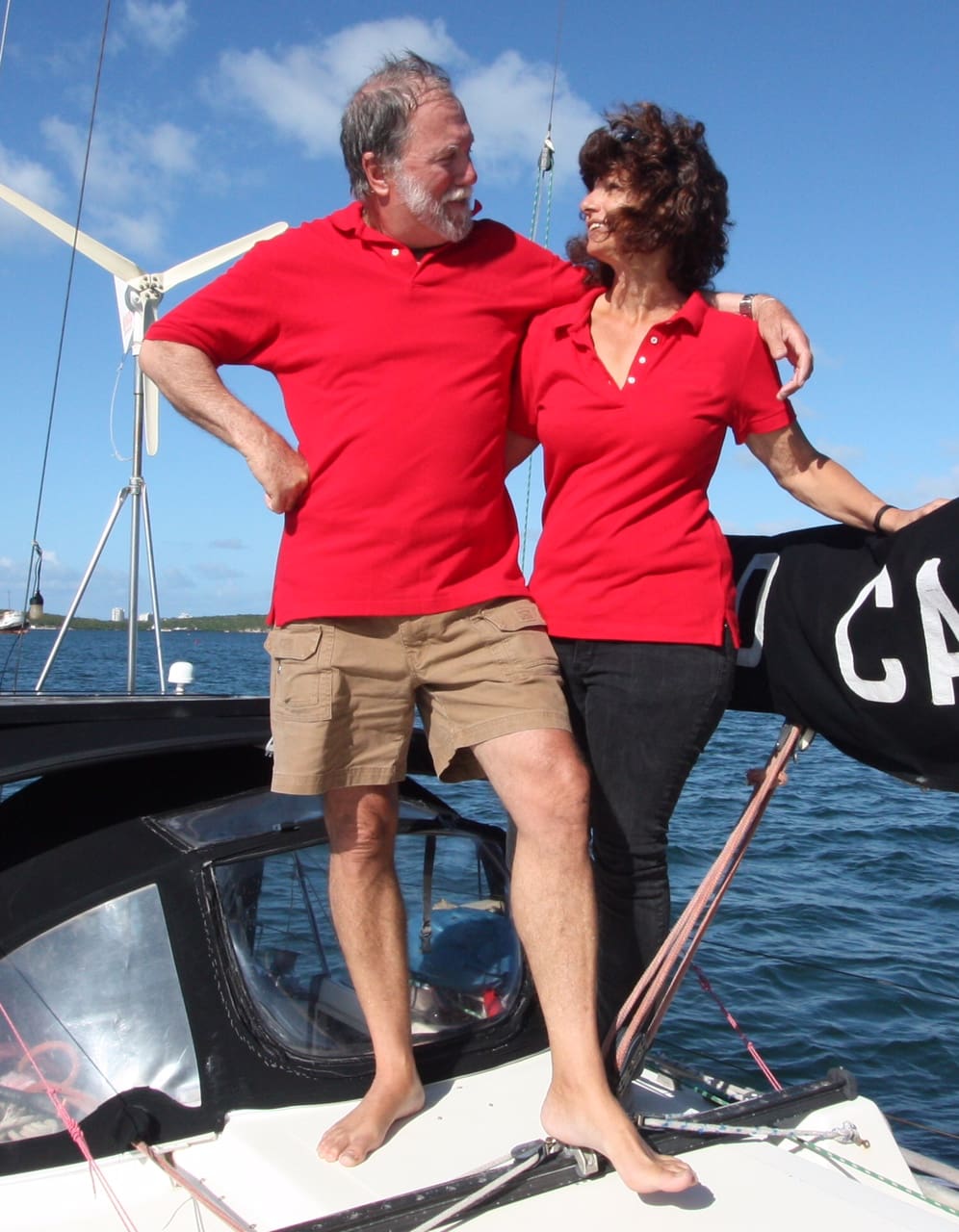 Capt. Fatty and Carolyn plan to stay in the Virgin Islands until Hurricane Season and then take their boat Ganesh to Grenada until November.  They'll return to St. John then and decide when to head out on their next circumnavigation.
"You'd think that after 100,000 miles, 57 years, and three circumnavigations I'd say, 'Phew, I'm home; I'm here to stay.'  But instead I'm thinking of the next circumnavigation," he said.
"Part of the beauty is that it's a perfect journey.  It's a circle.  It's celestial.  The ports of the world are now my backyard."
The Goodlanders also enjoy being part of the community of 30 to 40 boats that are also on that journey at the same time.  "Everyone gets through the Panama Canal and just waits until the weather is right.  You all meet each other.  Then you shotgun across the South Pacific and spread out to various places. At a certain time, you all coalesce in a place in Tonga and wait for the next weather window to New Zealand, and you hear all the stories."
They also enjoy being the only boat anchored in the sunken middle of an atoll for months at a time, and meeting islanders in a remote village where a single pair of reading glasses is shared among the entire community.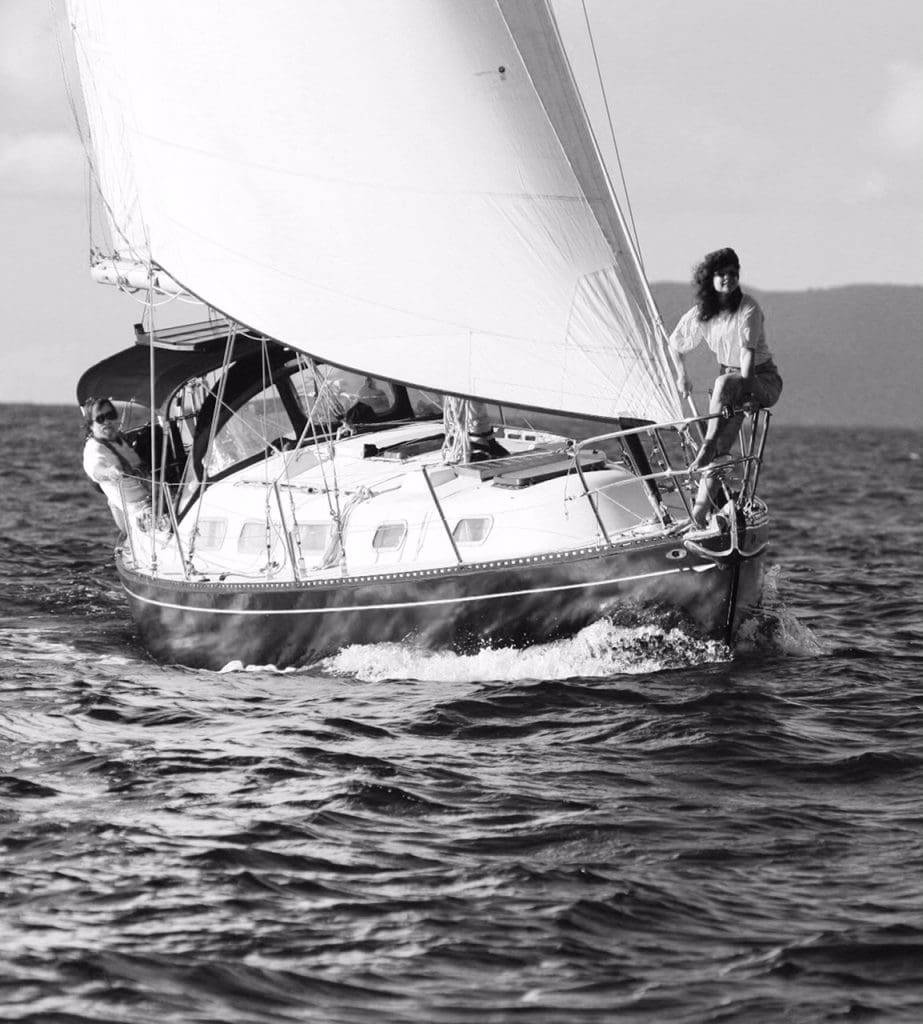 The experiences he lives and people he meets become the tales he tells–and sells.
"It doesn't matter what part I go to; it only matters that I go.  I find the magic when I stub my toe in the bathroom or give a banana to a child," he said.
If the boat life has its deprivations, it doesn't bother the Goodlanders.  "We can all stand a higher level of discomfort, so we can have a higher level of freedom," he said.
"My goal is to continue to live my life as self-actualized as I can possibly be and not go by anybody's rules," said Fatty.  I try to wake up and live my passion each day. I'm an unapologetic hedonist."
Perhaps Fatty's popularity stems from the fact that his philosophy is infectious.  He tells the tale of his earlier more impoverished days when he nursed a cup of coffee in a Starbucks in Langkawi, Malaysia for six hours in order to use the WIFI.
A waitress named Amanda took pity on him and gave him a second cup for free.  Soon, they were talking, and she confessed her dream was owning her own café someday, but as a single mother, with no extra money, it seemed impossible. Fatty asked her, "Is there anything preventing you?" At every obstacle she presented, Fatty kept urging her on.  Nine months later, she opened her own café.
At the opening of the café, Fatty played guitar and sang Bob Dylan songs and an Imam gave a traditional blessing.  Fatty delights in adding that Amanda's first employee was a snake charmer.
One day when he was helping Amanda by carrying out some trash, he found a painting she had done with coffee grounds since real paint was a luxury she couldn't afford. Once again, Fatty started encouraging her to pursue her art.  A year later her work was shown in a gallery Paris, and then another in Rome.  "This is the magic; this is why I'm here," said Fatty.