Last week I had the pleasure of meeting Julie Swartz, managing director of Green & Clean VI, Ltd. They are a recycling company located in Virgin Gorda, BVI.
Julie is doing what needs to be done here in the US Virgin Islands — and she is doing it right now. Her company has signed agreements with the BVI Government to take all the trash that is hauled to the Virgin Gorda landfill and recycle it, just about all of it!
Green & Clean VI crushes glass and washes it so it can be used for concrete aggregate and asphalt. They also compact and bundle aluminum cans for recycling. They bundle up paper products and plastics for recycling, and they use organic waste for composting.
They got started about 6 months ago and have been moving forward since.
The crushed glass is used locally on Virgin Gorda for use in the islands concrete plant. Aluminum, paper and plastic are bundled up and shipped in containers to Florida to professional recyclers.
They are just getting started in composting.
To keep pests and critters away while the compost is composting, local dirt is added and the compost is watered down daily and also turned over daily to get maximum heating through out the compost pile, which helps to break everything down and make it safe of all parthenogenesis.
Green and Clean has the Government of the BVI's blessing to get started and to keep it running. Something that is missing here in the USVI.
Our local Island Green Living Association is working hard to get recycling started here on St John and across the US Virgin Islands.
They need help though. Just this week there was a Government meeting about leasing Island Green Living an old warehouse at the Susannaberg Transfer Facility to set up a recycling center.
The Legislators pushed back signing the necessary paperwork to a later date, claiming that they needed more information and more clarity on the lease.
Please call our Senators and ask them to support the Island Green Living Recycling Center at the Susannaberg Transfer Station. The time to act is NOW !
Green and Clean has made it very clear that if we all join in on the recycling endeavor together we can not only help more islands environmental problems it can also be more lucrative for all.
In the meantime, our landfill gets taller and taller!
What our government says can't be done, CAN BE DONE!
Green & Clean VI is making money recycling Virgin Gorda's trash. No, it is not a huge amount of money, but they are making payroll and buying equipment. It helps the environment, helps the economy and also creates jobs!
Julie will be over here to visit around the first week of June if you would like to sit down and discuss what can be done here. If you are interested, contact me at dbusvi@yahoo.com.
For a cleaner tomorrow,
Dan Boyd
Lovango Cay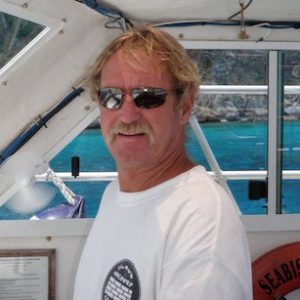 Dan Boyd of Island Solar is a Virgin Islands Energy Office authorized vendor. For more information, call Boyd on his cell phone at 340-626-9685 or by email at islandsolarvi@gmail.com.