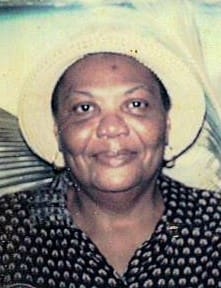 Carmen I. Carter of Estate Diamond Ruby died on Oct. 24. She was 79 years old.
She was preceded in death by her mother, Nancy Southwell; and father, Fredrick Harley.
She is survived her daughters: Wendy Glinton and Wryllis Carter; son, Campbell A. Carter; and grandchildren: Janai Carter, Jamel Ross, Shenel Etheridge, Ras. Judah Selassie Carter, Keemanee Carter, Anijah Lovell, Tafari Carter and Eric Gordy;
She is also survived by great-grandchildren: Zamir Carter, Bryson Carter, Khole Ross and Happer Etheridge; sisters: Rosemary Williams and Juliet Harley; brothers: Lionel Browne, Herzley Browne and Meanwell Browne; nieces: Mary Flemming, Dinah Browne, Cathrine Browne, Bridget Lightbourne, Janet Browne and Sherry Browne;
Other survivors include nephews: Curtis Browne, Charlesworth Williams, Robert Browne, Richard Browne and Wesley Browne Jr.; godchild, Glendina  Mathews; special friends: Phylis Blackman, St. Clair Williams, The Reef Broadcasting family, caregiver and good friend Angela Tineo de Perez, and Genevieve Browne;  cousin and other relatives: Tuckey Harley and Jane Harley; as well as other relatives and friends too numerous to mention.
Tributes will begin at 9 a.m. followed by a funeral service at 10 a.m., Tuesday, Nov. 9, at Friedensthal Moravian Church. Interment will be at Friedensthal Moravian Private Cemetery.
Due to the COVID-19 pandemic and public health regulations, all attendees must wear a mask and adhere to social distancing guidelines.