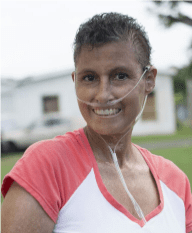 Carmen Navarro Ramos of Christiansted, St. Croix, passed away on Friday, Feb. 25 after a long battle with Scleroderma and COPD. She was 54 years old.
Preceding her in death are her parents: Dominga Ramos and Agapito Ramos; and sister, Yolanda Laurent Ramos.
She is survived by her son and stepson: Javier Navarro and Ruben Navarro Jr.; brother, Agapito "Papo" Ramos Jr.; sister, Paulina "Lina" Croskey; grandchildren: Allajah Navarro and Ahmari Navarro; brother-in-law, Rameek H. Croskey; sister-in-law, Rosario Cavero Ramos; nephews: Conrad S. Laurent aka CJ, Keemar E. H. Croskey, Kiyoshi E.H. Croskey, Allan Agapito Ramos,  Bryan Agapito Ramos, Angel Luis Class, Ricardo Class, Davian Navarro, Maelo Gerena and Daniel Gerena; and nieces: Precious Laurent, Christabelle Ramos, Gladys E. Ramos, Sarai Aroche (Ramos), Yanitza Class and Nitza Marie Navarro.
She is also survived by great nephews and great nieces: Uzzielo Yener Aroche, Lioni Lesziel Aroche, Anais Isabelle Adams and Valentina Ramos; uncles: Wilfredo Rivera, Carlos Ramos, Eulogio Ramos, Francisco Ramos, Adriel Garcia and Isaias Orengo; aunts: Paulina Rivera Brache, Carmen Rivera, Petra Rivera, Patria Rivera, Andrea Gomez, Angelita Orengo, Candida Ramos, Rosa Rivera and Zulma Ramos; and cousins: Rosa Valoy, Carmen I. Rivera, Sonia Serrano, Luisa Thomas, Liz Y. Brache, Carmen M. Quiñones, Beatrice Rivera, Natividad Rosa, Mariela Garcia, Marisol Garcia, Zolymar Garcia, Anita Gomez.
Other survivors include more cousins: Juanita Gomez, Ana L. Gomez, Marybeth Gomez, Ana M. Javier, Rosita Ramos, Maria Nieves, Maricela Rivera, Elena Ramos, Linda Ramos, Mindy Ramos, Francisco Brache Jr., Alex R. Brache, Hector L. Rivera, Carlos J. Rivera, Paulino Rivera  Jr., Wilfredo Rivera  Jr., Alfredo Rivera, Luis E. Rivera Jr., Jesus A. Torres, Ulyses J. Quiñones, Victor L. Rosa, Victor Rosa Jr., Isaias Orengo Jr., Fernando Rivera, Jorge Rivera, Carlos Ramos Jr., Roberto Ramos, Miguel Ramos, Angel L. Gomez  Jr. and Ricardo Ramos.
Special thanks to the following awesome friends and family members for texting, conversing and visiting Carmen: Yajaira Flores, Rosa (Lisa) Valoy, Jenell Willis, Francisco Jr., Paulina Brache Rivera, Carlos Ramos Jr., Maria L. Martinez, Carmen Milagro, Maria del Mar Quiñones, Lynne George Burley, Frances George, Erika R. Barnes, Tamisha Dawn Navarro, Ana Castillo, Rachel Kinney, Robert Charles Sr., Pascuala Saldana, Pastor Chris and Barbara Rosebrough.
Thank you also to Dr. Jewel Owen, Continuum Care, Scleroderma and COPD Facebook Friends and Support Groups; as well as other friends and family too numerous to mention.
A Memorial Service will be held virtually via Zoom, at 3:30 p.m. (AST), Monday, March 7. Please email Paulina Croskey if you would like to attend Carmen's Virtual Zoom Memorial: paulinacroskey@gmail.com
In lieu of flowers, please give a one-time donation in Carmen Navarro's name to Open Arms Home for Children: https://openarmshome.com/ or Lutheran Services of the Virgin Islands: https://lssvi.org/
Cremation arrangements are entrusted to Schuster's Crematorium LLC.