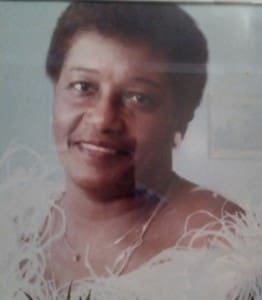 It is with profound sadness that relatives and friends are advised of the passing of Loretta Lizana Corraspé who transitioned home on Feb. 21 at the age of 86, in Jacksonville, Florida. Loretta was born in Newton Ground Village on the island of St. Kitts on March 13, 1936.
Loretta Lizana Corraspé made her home in Jacksonville, Fla., after her retirement on St. Thomas. She lived a fulfilling life as a mother, sister, wife and friend.
She was preceded in death by her parents: Maria Bradshaw-Lake and Albon Ross of Newton Ground Village, St. Kitts; and granddaughter, Sherrice Richardson-Lopéz.
She is survived by her son and caregiver, Dennis "Texx" Richardson; daughter, Mayretta "Toni" Evans of Fort Lauderdale, Fla.; son, Clement Richardson (wife Cheryl) of Jacksonville, Fla.; brothers: Charles (wife Rehena) Lake and Venrick Lake of Fort Lauderdale, Fla., Elkanah and Reuben "Turkey" Lake of St. Kitts;
She is also survived by grandchildren: Maurice, Michael and Fabriise Richardson, Amelia Corraspé, Devante Crooke, Jehoshua Evans, Melissa Richardson, Sedette Richardson-Hunt and Aldecio Richardson; and great-grandchildren: Vanisha Richardson, Jaiyla Zuo, Michael Richardson Jr., Cherrice Richardson, Tyriise Richardson, Gavin Hunt and Maxamillian Richardson; and great-great-grandchild: Zy'aira Gaurreau.
Also left to mourn are Stacy Lake, Suzette Matthew, Hudson Liburd, John "Bullman" Glasgow, Verona Green, Myrtle Peters, Henry "Bo" Thomas, Gwenette Hodge, Bill and Beverly Horne, Leroy and Cheryl Brantley, ShaSharon Baker, Peggy Ford, Abegaelle Laveille, and the Bloyce, Francis, Lake, Ottley and Gumbs families; and other relatives and friends too numerous to mention on St. Thomas, Virgin Islands, Florida, St. Kitts, Anguilla and throughout the Caribbean.
The viewing will be held at 10 a.m. followed by a funeral service at 11 a.m., Saturday, March 5, at CL Page Mortuary, 3031 Moncrief, Jacksonville, FL, 32209 (904-353-4434), with cremation following. Respects/tributes can be given during the funeral service.