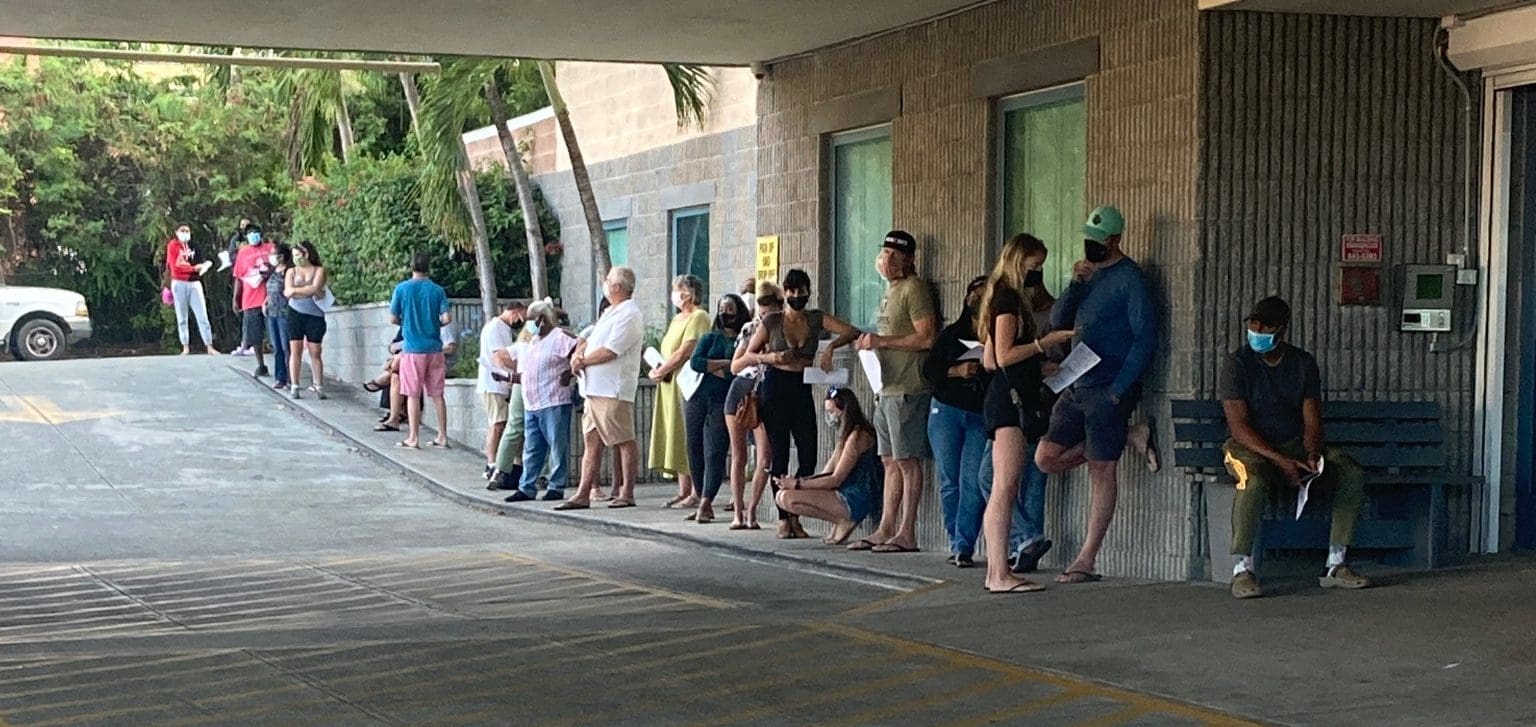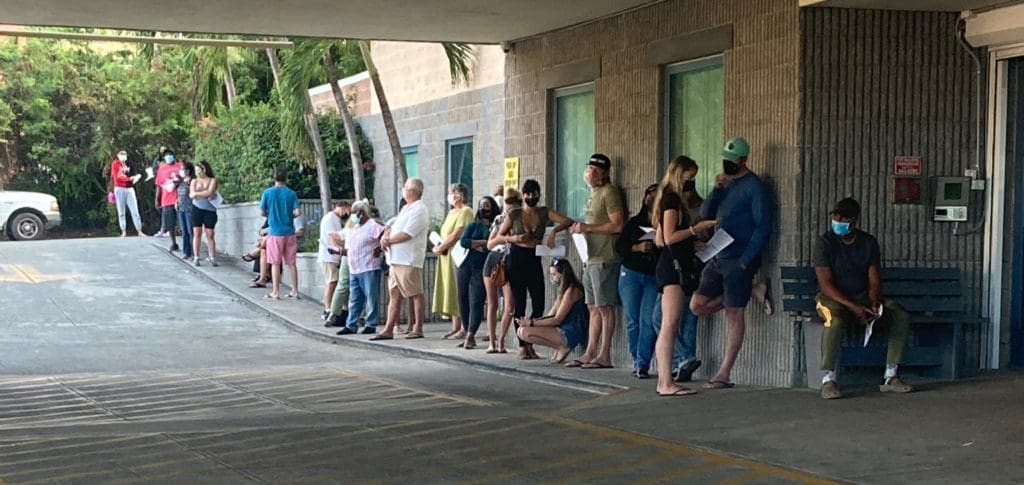 The V.I. Health Department is urging residents to follow all COVID-19 protocols as it battles a surge in cases amid the likelihood that the highly contagious Omicron variant has arrived in the territory. In response, Schneider Regional Medical Center announced Friday that it has closed to visitors.
"With 544 active COVID-19 cases reported, it is more crucial than ever for Virgin Islanders and visitors to practice social distancing, wash hands frequently, wear a mask, and avoid mass gatherings. Anyone 5 years old and up can get the COVID-19 vaccine too. Visit covid19usvi.com/vaccines. We encourage you to take advantage of this life-saving tool," the Health Department said Sunday in a Facebook post.
There are now 240 active cases on St. Croix, an increase of 67 since Dec. 23; 296 cases on St. Thomas, up by 136 since Dec. 23; and 8 cases on St. John, compared to 3 on Dec. 23.
According to the Health Department, close contact remains the main source of transmission in the territory, followed by community transmission, with travel a distant third. Of the positive cases since the start of the pandemic, 854 have no idea how they got COVID, according to the statistics.
The number of fatalities remains unchanged, at 88, since the start of the pandemic in March 2020. Schneider Regional Medical Center reports having three COVID patients in-house, and on Friday announced it was changing its visitation policy.
"Based on the rapid increase in COVID-19 cases on St. Thomas, Schneider Regional Medical Center will immediately restrict visitation to virtual visits only to protect its vulnerable patients and its staff, who are working tirelessly to provide care," the hospital stated in a news release.
"The public is hereby advised that the previous visitation restrictions have been reinstated, and some previously approved in-person visitations are now suspended based on the current environment. There will be limited exceptions to these restrictions," according to the release. "SRMC has enhanced its virtual visits program and will make every effort to connect our patients to their loved ones upon request."
On Dec. 21, when Gov. Albert Bryan Jr. made a special plea to residents – businesses, in particular – to keep following health protocols, active cases stood at 72 territorywide, and the weekly positivity rate at 1.6 percent.
As of Sunday, the 7-day positivity rate was at 11.60 percent, according to the Health Department.
At the last Government House COVID-19 press briefing on Dec. 21, the Omicron variant had not been detected locally, but it's only a matter of "when," according to Health Deputy Commissioner Renan Steele, who said the department does expect to see Omicron cases within the territory and urged the community to mask up, social distance and follow the regular protocols.
Asked about the impact of recent positives detected on the Symphony of the Seas, which called on St. Thomas last week, Bryan said at the press briefing that the risk of public transmission is low given that those individuals tested negative upon embarkment, but that the Health Department will also continue to monitor.
On Sunday, the Queen Mary, Queen Victoria, and Wind Surf cruise ship visits to the British Virgin Islands were canceled due to rising numbers of COVID-19 cases aboard these vessels.
"Cruise ships are part of a mandatory reporting system which include the U.S. Centers for Disease Control (CDC), the Caribbean Public Health Agency (CARPHA), and regional ministries of health," BVI public health communications specialist Natasha Lettsome said in a news release.
"Once the COVID-19 cases onboard among guests and staff reach certain thresholds, cruise lines often make voluntary decisions not to call at ports until the situation is under control. Countries also have the option to deny pratique or landing in these instances," according to Lettsome.
The Amsterdam Windstar and Star Legend Windstar were cleared and allowed to call on the BVI, she said.
The cancelations came as BVI Premier and Minister of Finance Andrew A. Fahie and Deputy Premier Dr. Natalio Wheatley recover after becoming infected with the COVID-19 virus, according to Lettsome. "Out of an abundance of caution, the Ministry of Health is asking all persons who may have been in contact with the Premier and Deputy Premier in the past week without a mask to self-isolate and be tested," the release stated.
"Persons who think they may have been exposed are asked to submit their names and contact numbers to PHU@gov.vg with the caption 'Possible Exposure to Premier or Deputy Premier' or call the office at 284-468 2274 from Wednesday, Dec. 29," according to the release.
Testing will be on Thursday and Friday at the white tent outside the Dr. D. Orlando Smith Hospital Emergency Room.
Meanwhile, the Centers for Disease Control and Prevention said it is working with state and local public health officials to monitor the spread of Omicron, including the USVI, which regularly sends samples for sequencing to determine variants. As of Dec. 20, Omicron has been detected in most states and territories and is rapidly increasing the proportion of COVID-19 cases it is causing, the CDC stated.
"CDC is expecting a surge of COVID-19 cases in the coming days to weeks," the agency said.
The New York Times reported Monday that the highly contagious Omicron variant has led to soaring caseloads across parts of the U.S., with a 65 percent jump in the national average over the past 14 days. The new variant also is being blamed for the cancelation of thousands of holiday flights as the virus struck down flight crews.
Health officials, both in the territory and nationally, have said that vaccination remains the best defense against serious illness and death from COVID-19. However, just 62 percent of eligible adults are vaccinated in the U.S. According to the New York Times database, that figure is 50 percent in the U.S. Virgin Islands.
To report a suspected COVID-19 case, call 340-712-6299 or 340-776-1519. These phone numbers are not for general information. For more information on COVID-19, visit covid19usvi.com or text COVID19USVI to 888777.