Zoe, Murray, Abby and Elmot are all ready for adoption!
Photo provided by the Animal Care Center of St. John.  [hr gap="0.5″]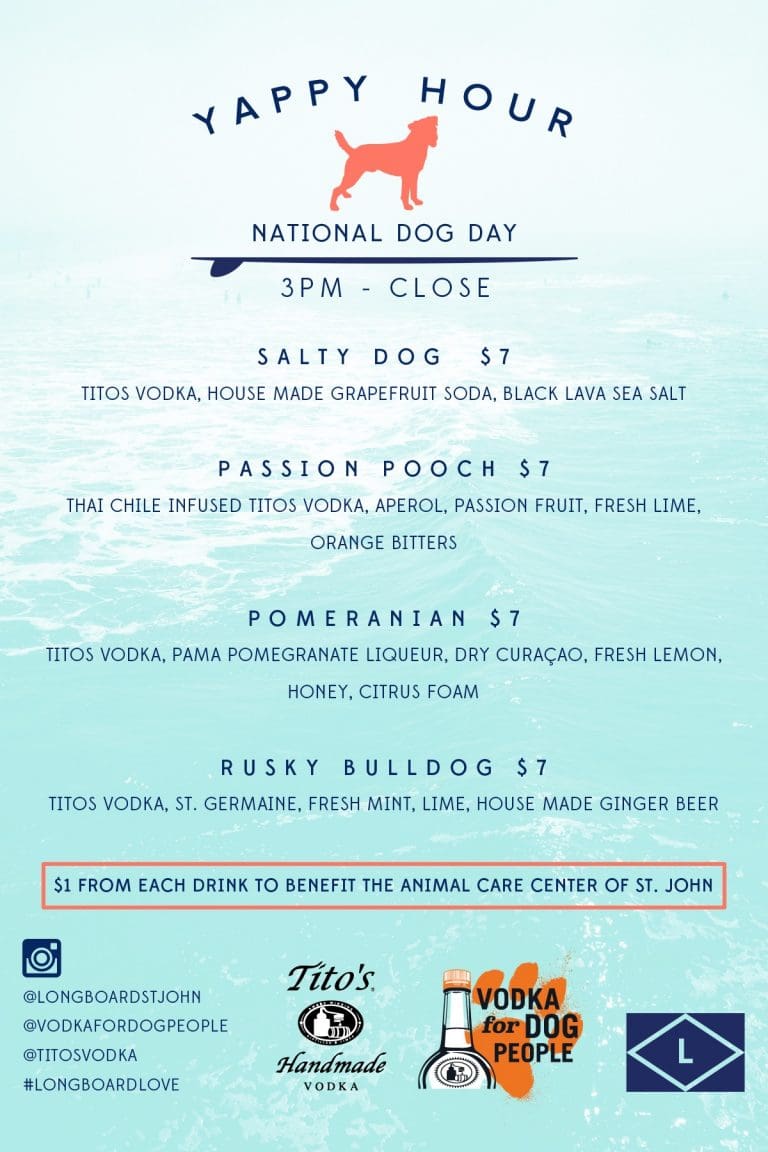 The Animal Care Center of St. John has some fun events this weekend, with today's National Dog Day "Yappy Hour" celebration at The Longboard and Saturday's "Dog Days of Summer" cookout at the shelter.
The Longboard, in conjunction with Tito's Vodka and Glazer's Premier Distributors, LLC, will be hosting a "Yappy Hour" from 3pm-close on Friday, August 26. Tito's has an initiative called Vodka for Dog People, where Tito's Vodka partners with local area businesses to help raise money and awareness for local area animal shelters.
The Longboard has created 4 signature cocktails with Tito's Vodka and $1 from each drink sold will go to the St. John Animal Care Center.  The Longboard also has an existing "Longboard Love" program to help sponsor one shelter dog per month to bring awareness, find them a home and assist with the costs of that pet.
The St. John Animal Care Center's festivities continue with a "Dog Days of Summer" cookout on Saturday, August 27 from 6-8pm at the animal shelter.  This event is an open house for guests to say hello to the 60+ animals looking to be adopted. Burgers, hot dogs or veggie burgers and a beer/wine/soda are available with a $5 donation, and mixed drinks, beer, wine and other non-alcoholic drinks will be available for purchase at the bar.  Guests are encouraged to bring small dishes to share and the shelter will also be accepting donations for future efforts.
With two fun opportunities to support our local animal shelter this week, Love City will undoubtedly come together to participate and continue to raise money and awareness to support such an important organization on St. John!