Photos courtesy of the St. John Experience App. [hr gap="1″]
When I first saw a flamingo silhouetted against the glare of the afternoon light at Cinnamon Bay on Monday, August 22, I thought, "Is this a joke?  Did someone plant a lawn ornament here?"  Then I remembered the sightings posted on Facebook several days earlier and realized I had just gotten lucky.
Since the flamingo was first sighted at Dennis Bay by boat captain Steve Thornton on August 19, bird lovers have been hoping to catch a glimpse of this stately visitor.  The solitary flamingo has been seen at Trunk, Cinnamon, Maho and Francis bays, according to Laurel Brannick, a ranger with the Virgin Islands National Park who specializes in birds.
Brannick, however, has not yet managed to spot the bird although she's been trying. She and Heidi Stought, who works in Dr. Laura Palminteri's veterinarian office, went out looking for the bird on Tuesday, August 23, concerned that the bird may be in trouble.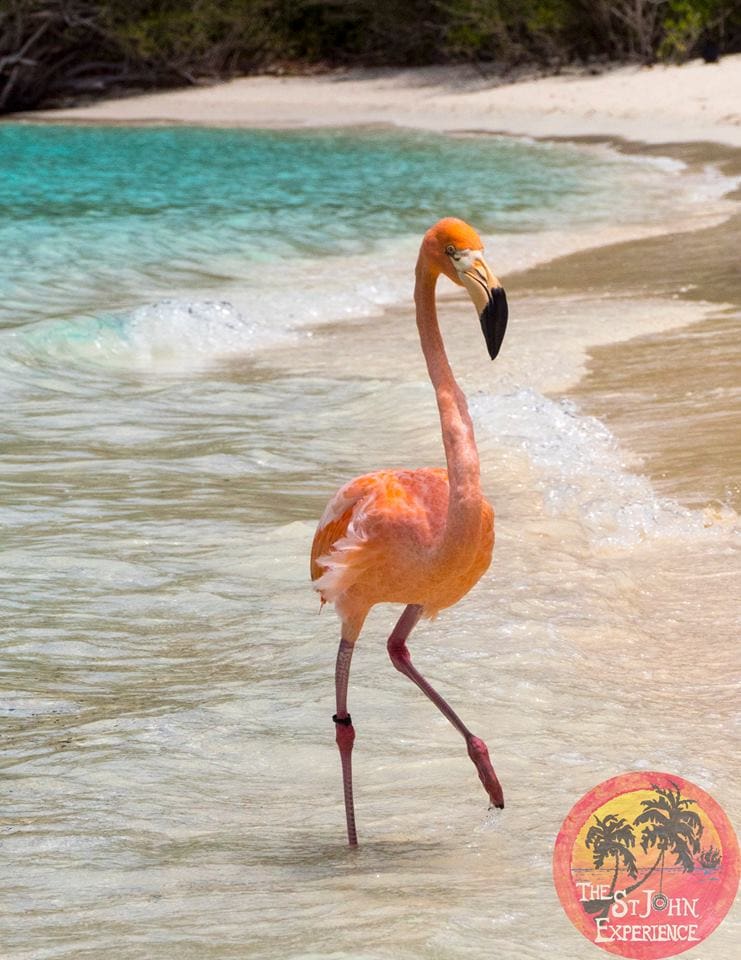 Brannick believes the bird is one of 400 flamingos that live on Necker Island, a private island resort in the North Sound of Virgin Gorda owned by Richard Branson.  Branson has been doing what he can to revive the population of flamingos which reportedly once thrived in the Virgin Islands.  (Common lore has it that indigenous flamingos were very tasty, and the last one was eaten in the early 1960's.)
The flamingo has a black cable tie around its leg, indicating that it was a bird hatched at Necker Island in 2011.  Wildlife experts in the BVI first attempted a breeding program in 1992, introducing eight birds to Guana Island and 22 birds to Anegada, according to Michaeline Moloney, author of Flamingos at Necker Island.
Necker Island flamingos dine mostly on the larvae of fiddler crabs, each about the size of a pencil eraser, which thrive in salt ponds, according to Moloney. The crab larvae attach themselves to sticks of grass in the pond.  In order to feed, the flamingo holds down a stick of grass with its feet and runs it through its bill, scraping off the crab larvae.
The problem is that all of the salt ponds on the North Shore of St. John have run dry, said Brannick.  "In the winter, you can kayak on the pond at Francis Bay. They change constantly."  That pond is the home of many birds with long bills that probe the water with their bills for food, including herons, stilts, ducks, and marsh hens, but Brannick hasn't seen any there since the pond dried out in the past couple of weeks.
Flamingo keepers on Necker Island supplement the flocks' food as well as maintain a constant supply of water in the ponds through man-made plumbing systems
The bird may have found itself roughly 25 miles from home with no steady food source and may be weak, said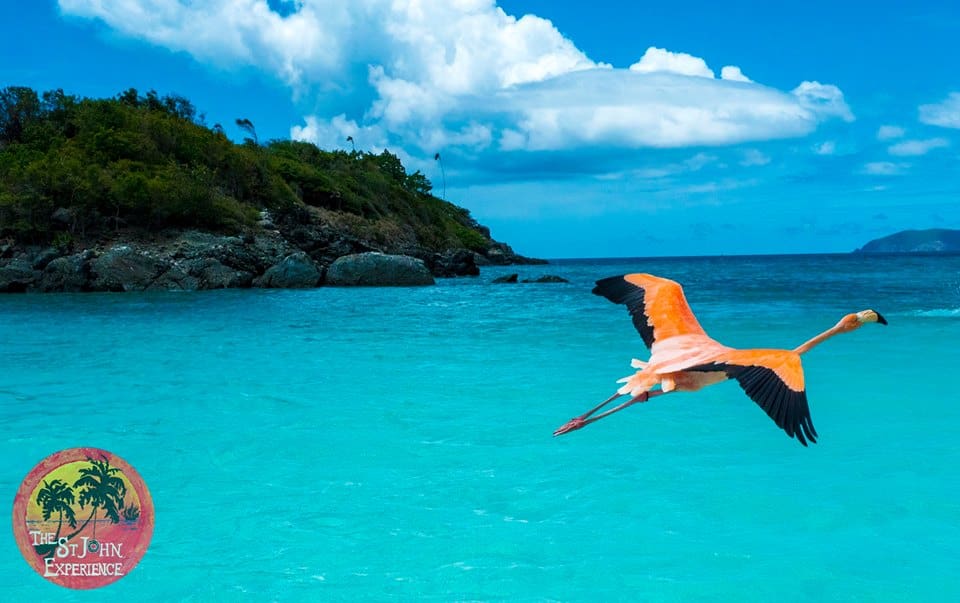 Brannick.  "We're hoping it realizes a storm is coming, and it needs to go home," she said.  Maybe with the rain on August 24, the flamingo with find enough food and decide to stay around.  Flamingos have been spotted on St. John and on St. Croix in the past several years, though their sightings are rare.
It's possible that this flamingo is a return visitor.  Flamingos live long lives, 20 to 30 years in the wild, and as much as 50 in zoos.