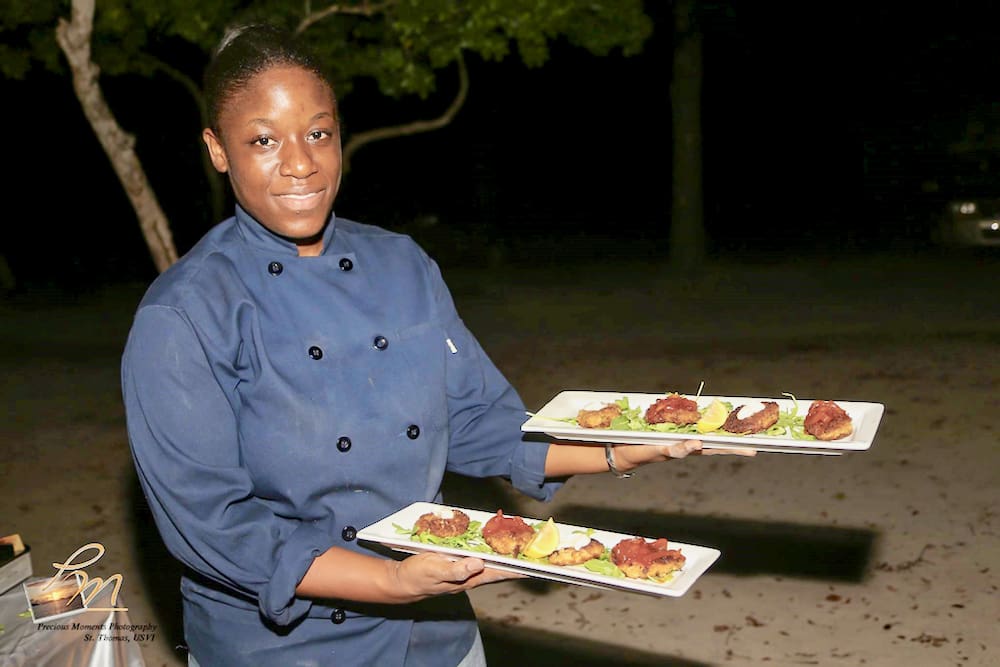 The University of the Virgin Islands is instituting a culinary arts program, and to spearhead the effort they have turned to a native Virgin Islander whose professional life has been in education and the food industry.
Kerish Robles will be the program manager of UVI's culinary arts program, which is set to launch in the spring, as well as executive chef in the soon-to-be on-campus restaurant that will be housed at the former West Bay supermarket on St. Thomas.
Robles is creating the culinary arts program from scratch.
She graduated from the International Culinary Institute at the Art Institute of Atlanta with a degree in culinary management and said she is excited to pass on her knowledge and experiences to others.
"Starting this program has definitely been a top-tier dream of mine, and this is just the beginning," said Robles. "I'm literally putting pen to paper on every detail of the program because it hasn't been created before."
Growing up, Robles attended the Seventh-day Adventist School, Kirwan Terrace Elementary School, Addelita Cancryn Junior High School, and the Charlotte Amalie High School, where she graduated with the class of 2007. She involved herself in many activities to include starting her own student organization and bringing the BET Rap It Up campaign to the territory.
In 2007, she also became one of the first junior chefs on the USVI Culinary Team, along with Jamal Miranda of St. Croix.
"Initially I wanted to be a judge and then I changed to education because I realized that wow, I actually like passing on knowledge," said Robles. "Somewhere during high school, I switched from education to culinary and by the time I was done with college I realized I really wanted to do both. I wanted to educate. I'm elated to do both."
For seven years, the ambitious chef worked at the Ivanna Eudora Kean High School and created the school's culinary arts program. She was in the initial stages of starting up a culinary program at the Bertha C. Boschulte Middle School, since a program had been absent for a few years at the institution, and collaborated with the Charlotte Amalie High School to allow both high school programs to mirror each other. As a result, in 2019, IEKHS was the only school to have graduates with National Academy Foundation industry-standard certificates in hospitality and tourism and business on St. Thomas.
Of the IEKHS program, Robles said that "The program allowed for culinary students to be able to certify by the time they graduate with a SERVSAFE-based certification. So, they left my program with an industry certification."
Robles provided the high school students with the proper academic knowledge for a career in culinary arts and even gave students the opportunity to travel to St. Croix and engage with farmers in the agriculture industry.
"My students were well known in St. Croix every year during the ag-fest to do farm tours. But they also met with local chefs while we were there, and they also tag-teamed with local farmers," Robles said.
Robles grew up farming with her dad and wanted to make sure her students got the experience of "farm to table."
When asked about some key aspects Robles wants to bring to the collegiate program, she mentioned American Culinary Federation certificates and internships as a start.
"There's so much more that we are looking to do but this is just the start," said Robles. "I am so happy to be in this position where I can create a program that's well in need, and hopefully we can offer a wide variety of options, and allow for the culinary world to become better through education."
Anyone interested in the program can check out UVI's CELL Center website.
Editor's Note: This story has been corrected to say that Ivanna Eudora Kean High School students were the only ones to receive National Academy Foundation industry-standard certificates in 2019. They graduated with SERVSAFE certifications.