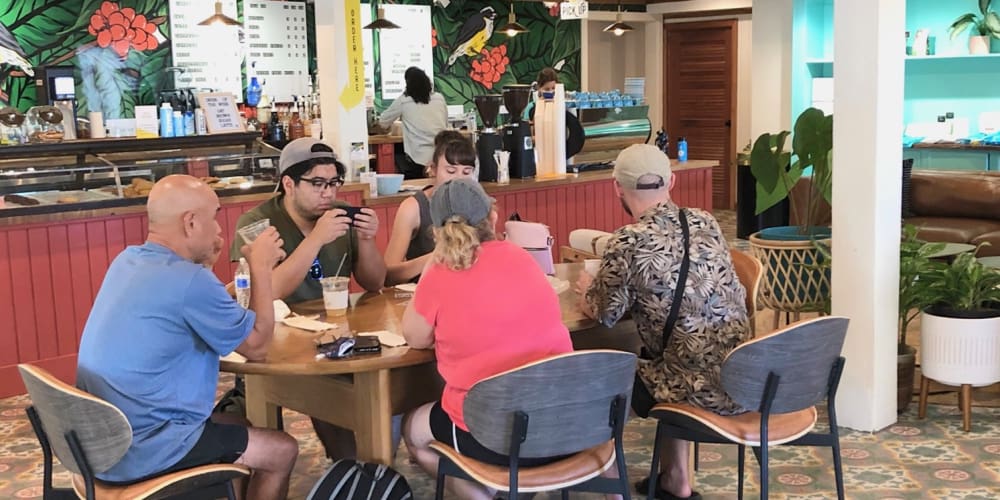 As the territory takes steps to reopen, brave entrepreneurs are opening eateries with optimism about the coming tourist season and residents who are growing tired of staying home and eating their own cooking.
In Christiansted, three new establishments offer Crucians a variety of options and flavors from morning coffee to midday vegan fare to late-night pub food.
Virgin Islands Coffee Roasters
Virgin Islands Coffee Roasters, which opened in June, sells coffee brewed from beans roasted on St. Thomas and concocted in a wide variety of caffeinated beverages by baristas. Soon, when the lobby is remodeled, a four-foot-tall coffee roaster is planned, making even fresher coffee possible.
Manager Mia Kendrick said the goal is to become a meeting place in downtown Christiansted. The shop has tables with comfortable chairs spaced enough apart to maintain privacy, free, no-password-wi-fi, and more tables outdoors.
"We want to be a very chill place for people to come and have meetings," she said.
The comfortable coffee shop, near the taxi stop in Christiansted, opens its doors at 7 a.m. seven days a week, and closes at 6 p.m. except for Sunday when it closes at 4 p.m. Patrons can enjoy a pastry or bagel with a cold brew coffee, latte or an adult coffee with Baileys or Kahlua. Canned Truly beverages are the only other alcoholic drinks for sale.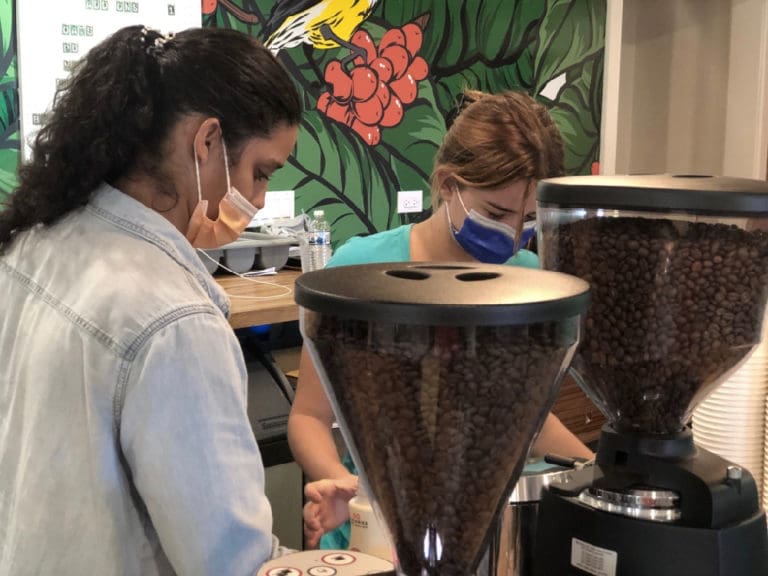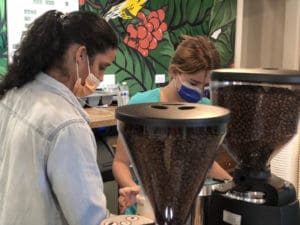 The coffee beans also are available for purchase in 12-ounce and five-pound bags. There are also branded ball caps, T-shirts, totes and travel mugs for sale.
The cafe is owned by Chris Pardo, who also owns the King Christian Hotel, the ice cream shop Creme & Co., and Carolines Restaurants, which specializes in breakfast and lunch. St. Thomas-based V.I. Coffee Roasters is owned by Cathy and Ramsey Smith. Kendrick said a Mexican restaurant is being planned for the historic complex.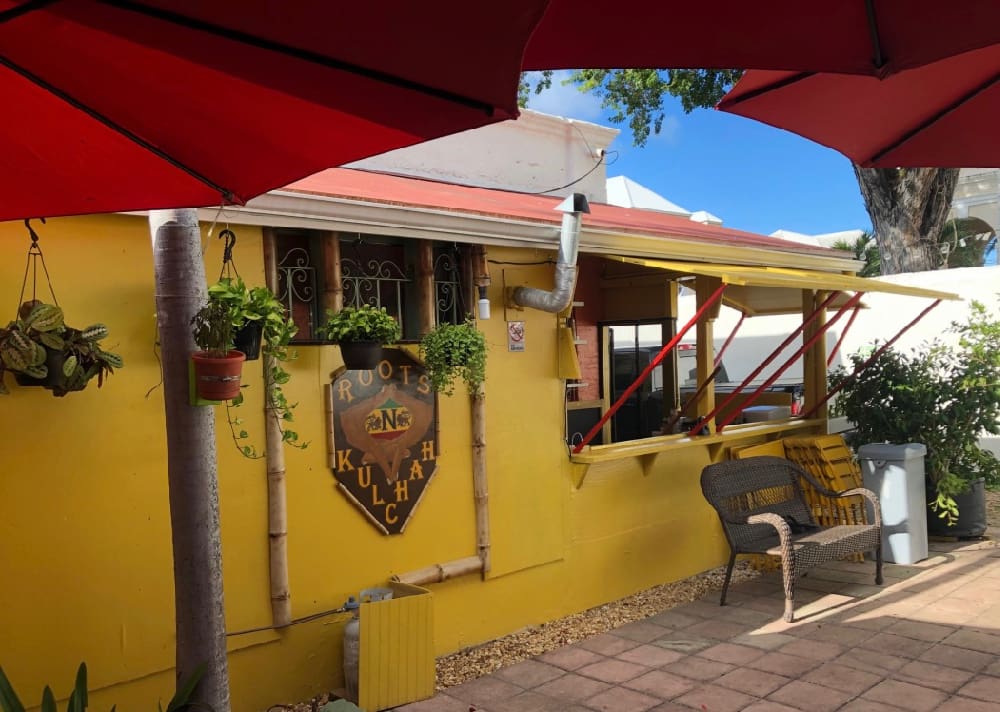 Roots-N-Kulchah
Roots-N-Kulchah, originally a Frederiksted eatery offering a rich lunch or weekend dinner, just relocated to Christiansted between the Lord God of Sabaoth Lutheran Church and the Bombay Club.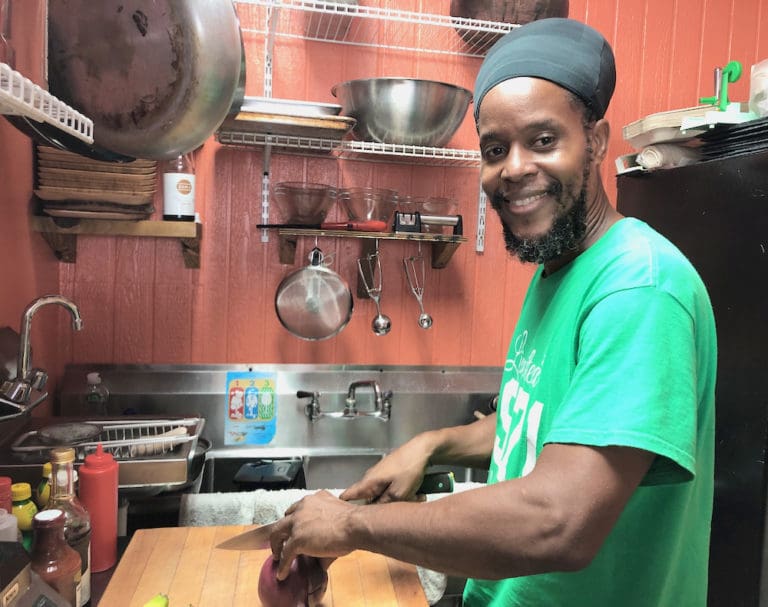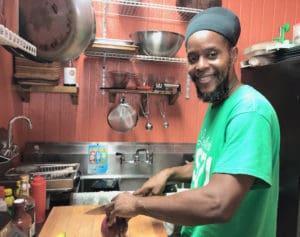 The secluded courtyard seats about 20 people served from a one-man kitchen. Kimba Kabaka creates exotic vegan and plant-based dishes. Amazingly, he can produce the flavor of tuna from ground almonds, and saltfish with hearts of palm. Kabaka said he grows 35 percent of the greens he uses in his recipes.
Asian noodles stir fry, biryani, smoked plantain with vegan chili and pates are popular items. The vegan pates are most popular and are served only on Thursdays. Kabaka said Emeril Lagasse asked for his recipe but he did not share it with the famous New Orleans chef.
"I'm always trying to out-do myself," he said of his recipes. "When you know what you want, you slowly bring it."
Kabaka attended culinary school in Ft. Bragg, California and earned his Master's in horticulture at the University of California Davis. He learned to cook from his father but culinary school taught him technique and how to put things together, he said.
Roots-N-Kulchah is open 11:30 a.m. to 6 p.m. Tuesday through Thursday, 11:30 a.m. to 2 p.m. Friday, and again from 6 p.m. to 10 p.m. Saturday. Organic vegan wine is the only alcohol served – white, red and rosette.
The name of the restaurant is not just about culture, or his culture, Kabaka said, but all cultures, and the roots are holding them all together.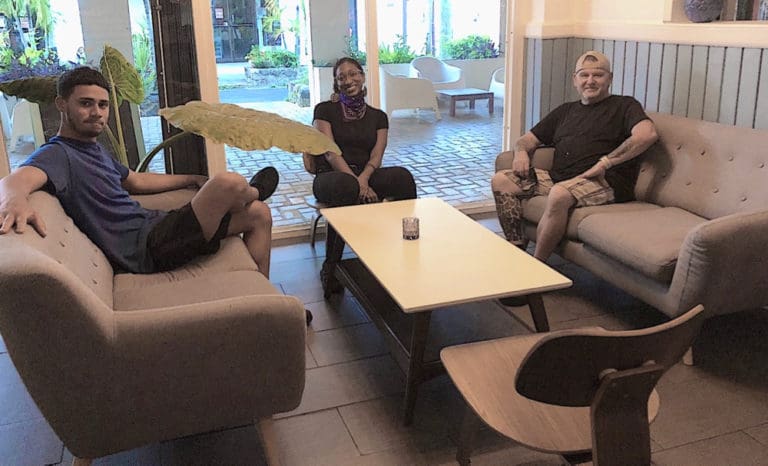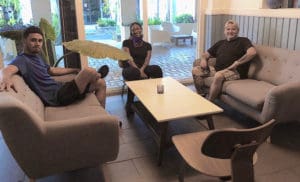 ParrotFish
On Strand Street, ParrotFish is Charles Mereday's second restaurant since he moved to St. Croix in April 2020 to rebrand and open The Galleon at the Tamarind Reef Hotel and Green Cay Marina.
ParrotFish is a sports wine bar with wall-mounted flat-screen televisions in the modern, clean dining room and bar. There is a comfortable seating area for easy conversation just inside the front door. Mereday said the location has been associated with fine dining recently but changes will be made so the relaxing appearance promotes a casual, lounge-style ambiance.
The new restaurant features gourmet pub food. Appetizers include juicy meatballs in marinara sauce topped with melted Parmesan cheese, and fat, spicy, mango chicken wings and tuna nachos with sriracha and unagi sauce.
There is a Mexican section on the menu with mahi tacos, a salt-fish tostada and seafood salad. Other salads include a mixed greens Caesar with the option to add chicken or mahi.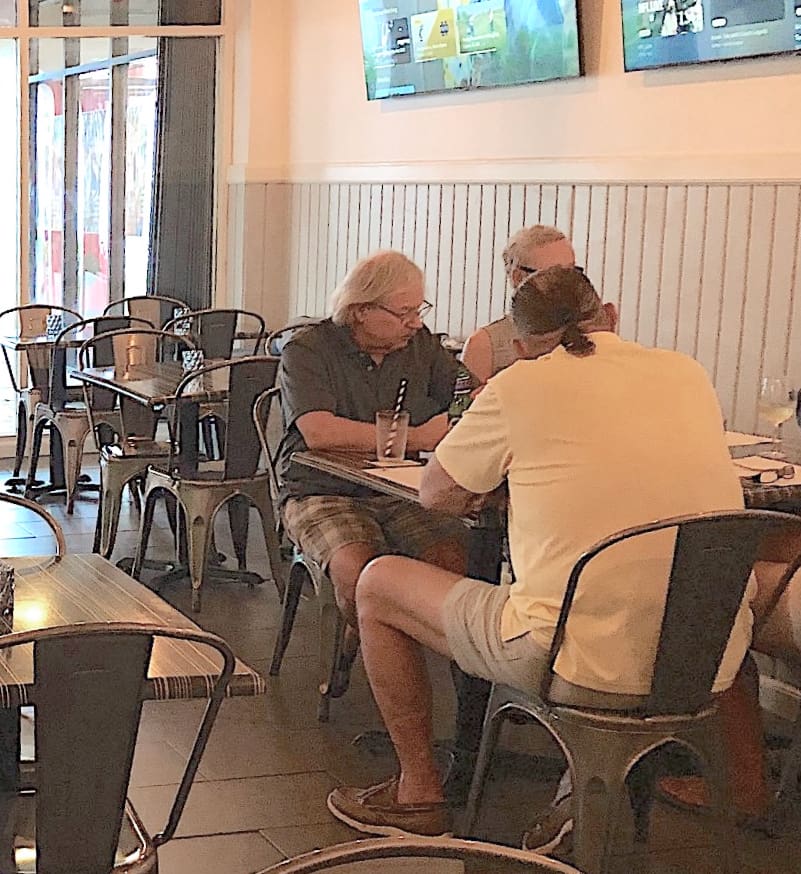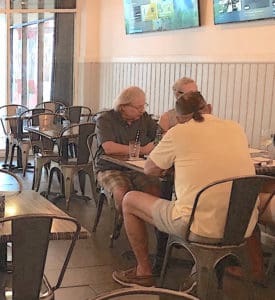 Already, there are favorite items on the menu of the one-month-old restaurant. A spicy chicken sandwich and the French onion soup burger are consumed with gusto by many, and the fries are unlike anywhere else.
For a bigger appetite, there are tamarind BBQ ribs, grilled pork chops with pineapple pico and a New York strip steak with blue cheese butter. Bailey's creme brûlée or flourless chocolate cake with blueberries and mascarpone are samples of the dessert specials.
Adult beverages include craft cocktails, an extensive wine selection and local draft beer. Customers are seated on a first-come, first-served basis. The restaurant opens at 5 p.m. and closes at 11 p.m. At some point the hours will be extended until midnight, Mereday said.
ParrotFish is closed Tuesdays and Wednesdays. Mereday hopes the schedule will allow other restaurant workers to gather on Mondays – the day most are closed.
Mereday has just taken on the rebranding of a third restaurant. Tamarind Reef and the Deep End Restaurant have a new owner. Under Mereday's direction, the Deep End open-air restaurant will be redecorated. Mereday will also create a new menu. When everything is completed, the restaurant will be open from 7 a.m. to 10 p.m., seven days a week.
Editor's Note: This story has been corrected to state that St. Thomas-based V.I. Coffee Roasters is owned by Cathy and Ramsey Smith.