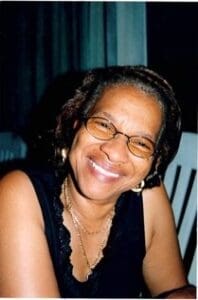 Cheryl Anita Harley of Kingshill, St. Croix, V.I., died on Monday, May 1. She was 73 years old.
She was preceded in death by her mother, Iris Wells Harley; and father, Frederick Lambert Harley.
She is survived by her son, Corbin Jerome Webster; sister, Mary L. Harley; adopted sister, Angelita "Nitty" Gautier; brothers: Raymond A. Harley and John A. Harley sisters-in-law: Barbara Harley and Lorna Prosper Harley; nieces: Nicole L. George, Cheré Harley, Gabrielle Harley and Tai Moneé Harley; nephews: Jacques Harley and Raymond Harley Jr.; great-nephews: Malik O. Harris and Christian Fletcher; and godchildren: Kishma Pickering and Milton Payne II,
She is also survived by cousins: Lawrence Benjamin, Liston and Ackie Harley, Aubrey Harley, Roselin Thompson, Laurel Harley, Lucinda "Tiny" Todman,  Lorraine Harley Schuster, Lauris Harley Lawrence, Holman Harley Jr., Laverne Harley Matthias, Julien Harley, Hilda Harley, Daphne Harley, Lawrence Benjamin Jr., Sean Benjamin, Anthony and Cathy Harley, René Harley Mosley, Lorena Harley, Ewart "Boo" Harley Jr., Vivian Harley Furet, Julice Harley Holder, Jaurel Harley, Ali Harley, Yvette Gumbs, William Wade Sr., William "Junie" Wade Jr., Kenneth and Aileen Marsh, Travis Harley, Trevor Harley, Dwayne "Fruddy" Harley, Micah Harley, Honoré Kirkland-Smith, Aaron Hodge, Doug and Don Marsh, Ruby Amey, Eldra Drew and Dolores Nibbs.
Other surviving cousins include: Rita Wheatley, Edris Callwood, Jacqueline Callwood, Charlene Bastian Chinnery, Doreen Lewis, Carol Smith Powell, Carla Todman, Raphael Edwards, Gerry Simon, Rudy Harley, Antonio Steele, Yvonne Wells, Warren Wells Jr., Margaret Wells, Dionne Wells Hedrington, Maurice Wells, Alecia Wells, DeJongh Wells, Clarence Stephenson, Cassandra Foy, Maria Wesselhoft; special friends, Everilda Hodge, Paulinda Noel Moore, Milagros "Millie" Cruz, Victorino "Junie" Cruz, Gordon Finch, Alicia "Aggie" Wallace, Beatrice Pemberton,  Monica Emanuel, Ellerton M., the Gallows Bay family, and the Harrigan family from Contant; as well as other families: Harley, Wells, Sewer, Sprauve, Dalmida, Matthias, Meyers, Wesselhoft, Marsh, Battiste, Hydnman and Bastian.
A memorial service will be held on Friday, June 24, at The Way of Cross Baptist Church in Catherine's Rest, St Croix. Tributes can be sent to cherylharleytributes22@gmail.com no later than June 3.  Colorful attire or madras may be worn at the memorial service.
Cremation arrangements are entrusted to Schuster's Crematorium LLC.