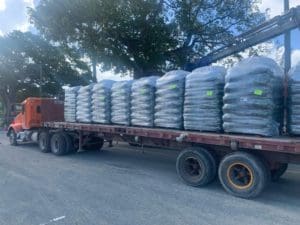 Volunteers are needed to spread mulch, spread the word and spread the mulch at Midre Cummings Park, according to the Children First St. Croix project.
The last of the mulch, nine pallets, have finally been delivered to the Midre Cummings Park Playground Project, and the organizers are asking for volunteers to help spread it the morning of Saturday, Dec. 11.
The nine pallets of mulch were generously delivered by O'Neale's Transport on Thursday.
According to the organizing committee, Children First St. Croix, this delivery of mulch was delayed due to the shipping crisis, so it was not available during the build week.
[adrotate group="6"]
"We are asking for those who so generously donated their time during the build to come back Saturday morning between 8 a.m. to noon if they can,' said Brian O'Reilly, project manager.  "We are working with Department of Sports, Parks and Recreation to get the last items completed so we can formally open the park very soon."
Volunteers are asked to bring shovels, rakes and/or wheel barrows.  Students that need community service hours need to make sure they bring their form so Children First can sign for their hours.
"The park is so close to completion, we need to finish the mulch, pour the concrete to complete the sidewalk, get some electrical work done and some other items, and the park will be ready for our children to enjoy.  With help on Saturday, we are so much closer to opening day," said O'Reilly.
To volunteer, people can just come to the park, email childrenfirststx@gmail.com or visit www.stxplayground.com.