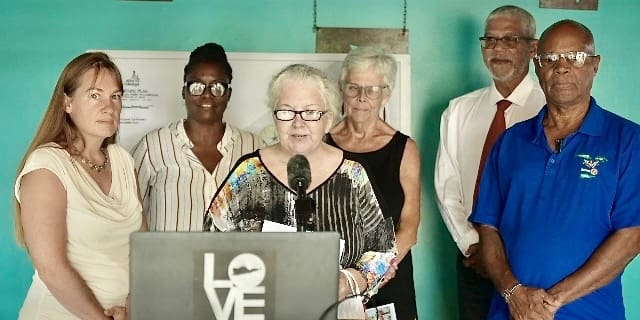 Children First St. Croix on Thursday revealed plans for a new look for the Midre Cummings Playground in Frederiksted. The announcement was made at a news conference at Leatherback Brewery that was presented on Zoom.
Team coordinator Christina McPherson presented the plans by the Ithaca, New York-based company Play By Design, which custom designs community-built playgrounds. She said the group could begin the build in November if the U.S. Virgin Islands government signs off.
Children, parents and grandparents came together for the June 12 "Design Day" event, suggesting ideas and drawings for the playground's redesign.
McPherson said it was important that the design was a community effort, including the underserved children on the island. Design considerations were given for children wanting a safe space to ride bikes and tricycles. A walking track with working traffic signs was suggested for children to learn what the signs stand for.
"A bit of culture would be added as children and adults walk between the legs of a huge moko jumbie at the entrance," McPherson said.
McPherson said design plans were respectful of all individuals.
"Smiley face signs will be added to greet and show accessibility for children of all abilities: those with wheelchairs and others who are autistic," McPherson said.
According to McPherson, a zipline was one of the ideas presented at the design meeting, but the group decided against it for safety reasons.
The group's original name was "Kids First St. Croix," but it was changed to "Children First St. Croix" out of respect for the children of the island, because of the cultural connotation that kids refer to goats, McPherson added.
Volunteer coordinators Linda Garvin and Dawn O'Brien work with McPherson in all aspects of the endeavor. Our Town Frederiksted Board Chair Ronnie Russell and Willard John of the Guardians of Culture Moko Jumbies are strong supporters of the team.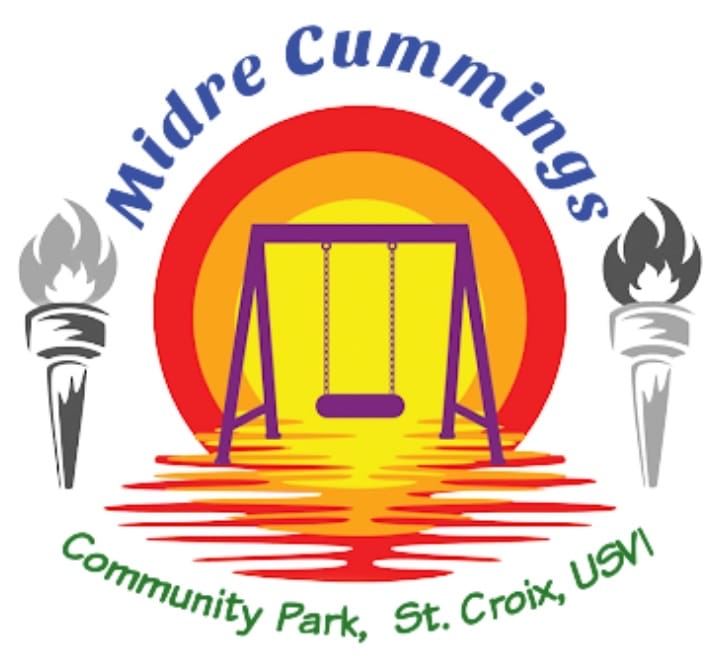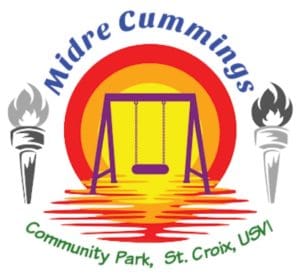 McPherson introduced Hana Bronstein and displayed her artistic submission, which was chosen as the official logo for the playground. The 11-year-old's artwork represents the cultural aspects of Frederiksted, with the sunset on the west end of the island, the swing in the center to signify the playground, and the torches on either side to represent the Fireburn of 1848 and the strength of the Frederiksted community.
Russell spoke about the diverse community of St. Croix and the recognition that, "children don't have distinctions. Children will always play with each other." He also noted that the Olympic flames bring people together for a common cause.
"In unity, anything is possible. This is a beacon for St. Croix and all people all over the world," he added. He concluded by thanking McPherson for her vision.
Rashidi Clenance introduced Midre Cummings, the park's namesake, a St. Croix native who played for 11 years in Major League Baseball. According to Clenance, he worked very hard to get to where he has gotten and is an inspiration to the island.
Cummings spoke briefly, thanking all for what is being done with the park.
"My family and friends have all used the park," he said. "Thank you for this opportunity."
He offered his help if there was anything he could do.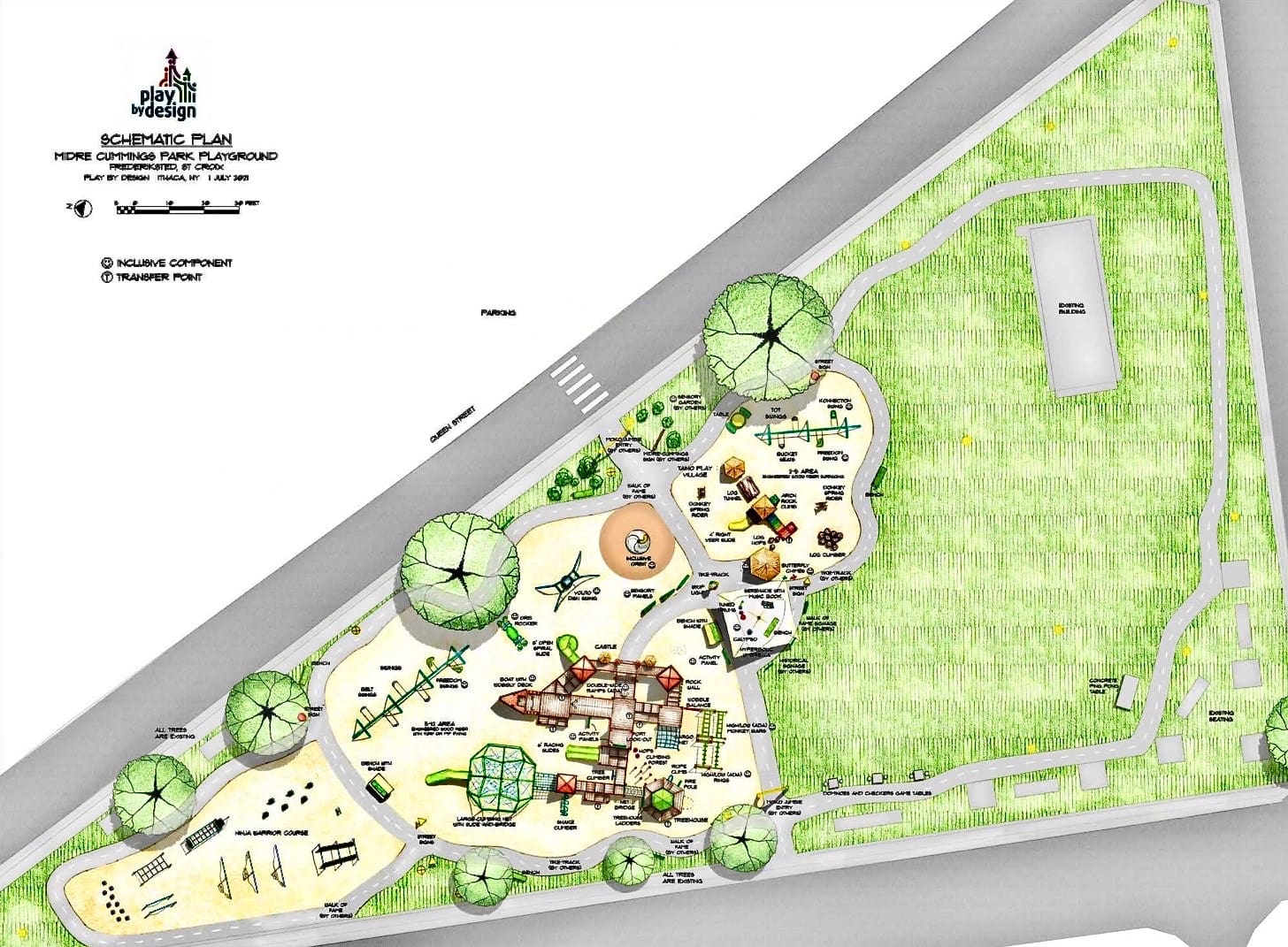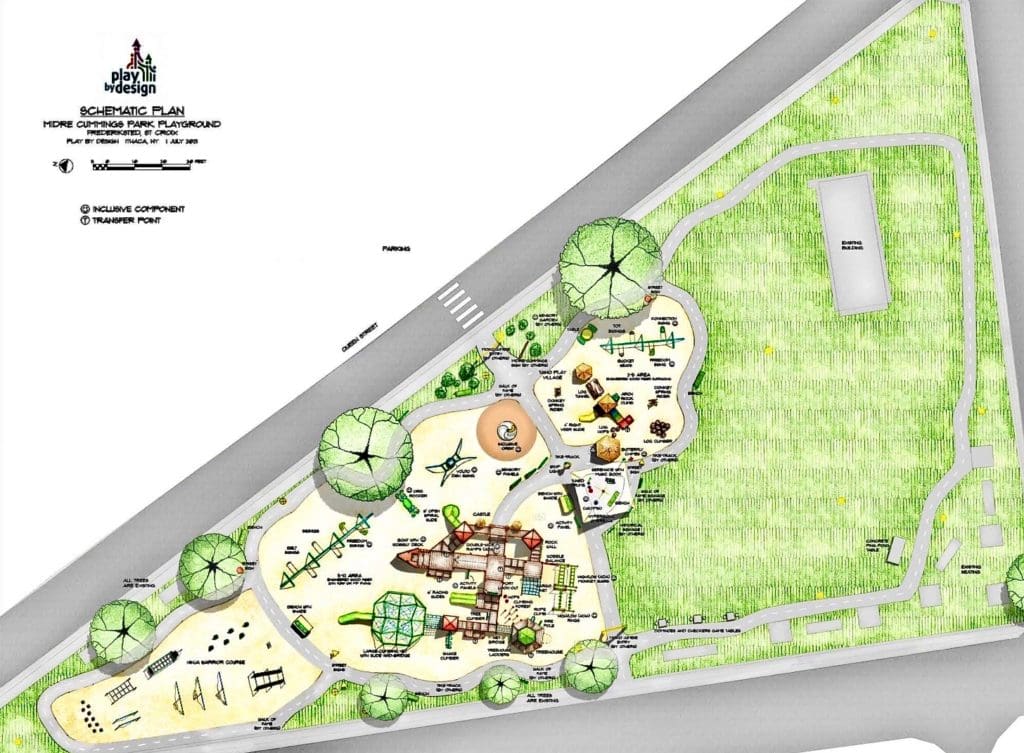 McPherson assured those present that, "we take safety very seriously." She said Play By Design structures are built to meet the American Society for Testing and Materials standards and said both Americans with Disabilities Act and COVID-19 guidelines will be implemented.
John announced a Family Fun Day will be held from noon to 5 p.m. on Aug. 14 at Leatherback Brewery. Activities will include a silent auction, games and live music.
"You can judge a community by the way it treats its elders and its children. This is all about the children," he said.
The overall cost for the playground project is $550,000, with $140,000 raised as of Thursday, McPherson said. Island Therapy donated $30,000. The V.I. government said it will contribute a significant amount, McPherson added.
According to McPherson, if money runs short before the project is completed, the design can be changed by delaying areas that are not funded. Those areas can be added at a later date when additional funding comes in.
Gov. Albert Bryan Jr. and Sports, Parks and Recreation Commissioner Calvert White sat down with Play by Design and gave them the green light to go ahead with the project. McPherson said a memorandum of understanding has been agreed to, and there will be no Coastal Zone Management issues because it is a Tier II project.
McPherson encouraged the community to join the robust pool of volunteers already signed up to build the park. The park's Facebook page has more than 400 likes, and 130 individuals have signed up to work.
Garvin's idea of team building included sororities, fraternities, nonprofits, churches, businesses and residents of five to 30 people on a team.
Garvin said the project needs a total of about 1,200 volunteers, a minimum of 270 people per day, during the eight-day build.
No special skills are needed to help, she said, and the work will be done in four-hour shifts of 8 a.m. to noon, noon to 4 p.m. and 4 p.m. to 8 p.m.
"This is a wonderful opportunity to build community on St. Croix," Garvin said.
"This project will garnish the energy of the community, it will bring attention to Frederiksted and bring more traffic to Frederiksted," said McPherson.
Committee members are Liz Goggins, public relations; McPherson; Garvin; John; Dawn O'Brien; Ronnie Russel; and artist Bronstein.
People can volunteer or get additional information by sending an email to childrenfirststx@gmail.com.