It's that time of year again — St. John Festival Village vendors are open for business, offering a wide array of food and drinks, local bands are playing into the night and limin' is required.
But, what about the kids? Well, the St. John Community Foundation (SJCF) has once again come through for Love City youth, transforming part of the V.I. National Park Visitors Center grounds into Children's Village.
"The Children's Village has been going on during Festival for a long time, I would say about 10 to 12 years," said SJCF Executive Director Carole DeSenne. "We didn't do it one year and we just got telephone calls like you wouldn't believe. We'll never not do it again."
A lack of volunteers was the problem that fateful year when there was not a Children's Village, DeSenne explained.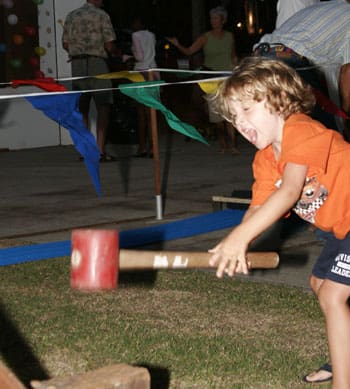 "We used to have trouble finding volunteers to run the games and things," she said. "So we hired Lori Barlas to run the Village and she has been doing a wonderful job. We've had no problems with volunteers since Lori has helped out."
Barlas is proving her worth to all of the children in Love City.
"There is a full roster for every night," said Barlas. St. John Rotary members have been annual volunteers and, not just anyone handed out sno-cones and ran the games this year.
"Friday night was V.I. Senate Night at the Children's Village," said Barlas. "Senator at Large Craig Barshinger made an announcement on the V.I. Senate floor and got senators to volunteer."
Barlas has also helped expand the Village.
"There are a lot of fun things for the kids to do and some pretty cool prizes," she said. "We have a new electronic bowling game this year that has all the bells and whistles and even talks to you."
Although the island youth enjoyed the numerous treats, games and prizes, safety is the real importance of Children's Village, according to Barlas.
"It's a good, safe, clean place for children to come to," she said. "The area is well-lit and we do not allow alcohol, cigarettes or drugs."
"Everyone in the Children's Village is sober and we are open until 10 p.m., so kids can stay here while their parents are in the adult village," Barlas added.