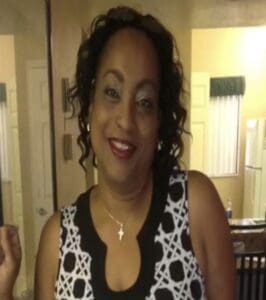 It is with heavy hearts that the family of Cindy C. Barry announces her passing on March 8 at the age of 60 after a brief illness.
Cindy worked for the Virgin Islands Government for over 35 years, the last 20 plus years with the Department of Finance. She received many accolades for her years in service and will be remembered for her compassion, dedication and excellent disposition.
Cindy was preceded in death by her grandmothers: Francisca Barry and Eglantine Matthews; and grandfathers: John Henry Barry and John Berry.
She is survived by her parents: Reuben Barry and Pearlina Barry; daughter, Charisma DeFreitas; grandchildren: De'Vaunte Ledee, DeJanique Ledee and Sole Chinnery; life partner, Angel Christian; great-grandson, De'Ante Campbell; sisters: Carolyn C. Barry-Duncan and Coral C. Barry-Guerrero; nephew, Michael LeBron; brothers-in-law: Carlton D. Duncan Jr. and Santo Guerrero; uncle, Melvin "Malcom" Hodge; and aunts: Mavis Hodge-Smith, Rita Magras-Parker and Essetta Barry.
She is also survived by cousins: Cheryl Potter, Alicia Potter, Culvette Potter, Claudette Potter; Denise Magras-Grant, Monique Magras, Rene Magras, Kirk "Bundy" Magras, Melise Smith, Liston Denzel Barry, Maxime Barry, Lorelei Barry, April Michelle Barry-Samuel, Roxanne Barry-Gleeson, Tamisha Smith, Seon "Andy" Sommersall-Barry, Simone "Nicky" Sommersall-Barry, Shawn Perez, Shane Perez, Malcolm Hodge, Monique Hodge, Celina Hodge, UK: Debbie Matthews, Carla Matthews, Carol Matthews, Ashworth Matthews, Leon Matthews, Steadman Matthews, Tony Matthews and Joan Matthews.
Other survivors include cousins: Robert Richards, Gregory Richards, Jennifer Richards-Blake and Elaine-Dale-Darity (Atlanta); special friend, Dan Hurley; as well as many other second cousins, family and friends too numerous to mention.
Relatives and friends are respectfully invited to attend the first viewing from 5-7 p.m., Thursday, March 31, at Celestial Chapel of Dan Hurley Home for Funerals. The second viewing will be held at 9:30 a.m. followed by a service at 10:30 a.m., Friday, April 1, at Christ Church Methodist Church. Interment will be at Western Cemetery No. 2.
Funeral arrangements are under the care of Dan Hurley Home for Funerals and Cremation Center of St. Thomas, St. John and St. Croix.
To share a special memory or tribute, please visit our website at www.hurleydavisfuneralhome.com