In his second visit to the territory following the 2017 hurricanes, former President Bill Clinton toured St. Thomas and St. John Friday to announce the Clinton Global Initiative-led solarization of two St. John schools and the Family Resource Center on St. Thomas.
The program is part of an effort to ensure these community facilities stay open in the event of another catastrophic natural disaster.
"We all know we're here today because some of the significant hurricane damage manifested in the loss of power," Clinton told a small audience at the Family Resource Center, where the announcement was made. "It shut down community pillars, like this community center, schools, led to reductions in health care services, and left few safe havens for people. And that's why this commitment was made."
"These critical sites will now be more prepared to handle the aftermath of future storms, while making their long-term power sources more resilient, more sustainable, and lower cost," he said.
The solarization project, done in collaboration with the Bloomberg Philanthropies and the Expedia Group, saw solar systems installed at the Family Resource Center on St. Thomas, St. John Christian Academy and Gifft Hill School, also on St. John. According to the Clinton Foundation, the solar panels, batteries and cost of installation are funded by the Expedia Group in partnership with Bloomberg Philanthropies, Construction for Change and the Sextant Foundation.
"All of us at Expedia Group watched heartbroken last year as hurricane after hurricane slammed into the Caribbean," said Mark Okerstrom in a statement through the Clinton Foundation. "Expedia Group's work with the Clinton Foundation and Bloomberg Philanthropies aims to strengthen and create more resilient communities throughout the Caribbean by building or retrofitting safe spaces that will serve as critical gathering points during disasters."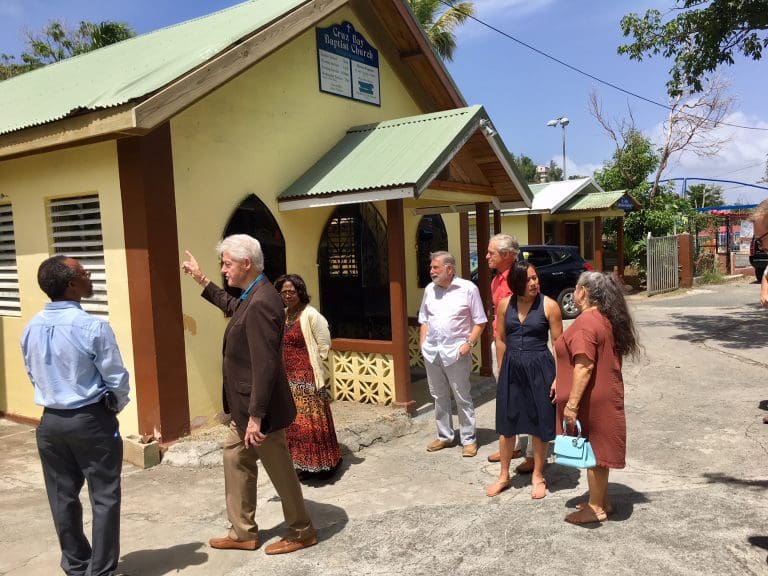 Bloomberg co-founder and St. John resident Tom Secunda, who toured the newly solarized sites with Clinton and other Bloomberg associates, said the U.S. Virgin islands is showing the rest of the region "a clear pathway" to rebuilding its energy grid in a cleaner, stronger way after a natural disaster like the 2017 hurricanes. The use of solar energy in the Virgin Islands, he said, is a blueprint and an opportunity to accelerate the region's transition into renewable energy.
"It's exciting work because you can imagine how much better the islands are going to be as the years go by, said Secunda. "So it's painful now, but we are moving."
Family Resource Center Director Vivian St. Juste was ecstatic about the new solar power system. She said she found out about the former president's upcoming visit four days earlier, when Secret Service paid the facility a visit, looking for her. She said the solar panels will significantly reduce their power bill, which ranges between $1,500 and $1,900 a month.
"With the funds that we save, we can help victims of crime by working with victims directly and by working closely with rehabbing, so to speak, their perpetrators," said St. Juste.
"Vivian, thank you for the work you do here," Clinton said to St. Juste during the announcement. "More than half my lifetime ago, when I was elected governor of my native state, Hillary had been involved, since I met her in law school, in issues affecting women and children."
Clinton said he and Hillary Clinton adopted as their cause a large center, just a few blocks from the governor's mansion in Arkansas, for women and children who suffered abuse.
"I'm especially proud to be here and grateful for the important work you do in the Family Resource Center," he said.
Earlier on Friday morning, Clinton, Secunda, and Expedia principals visited the two St. John sites. They arrived around 10:30 a.m. at the St. John Christian Academy, which opened its doors to students from other schools in the wake of Hurricane Irma and has never before utilized solar panels. Part of the Cruz Bay Baptist Church, the academy lost its roof during Hurricane Irma and was rebuilt by Kenny Chesney's foundation.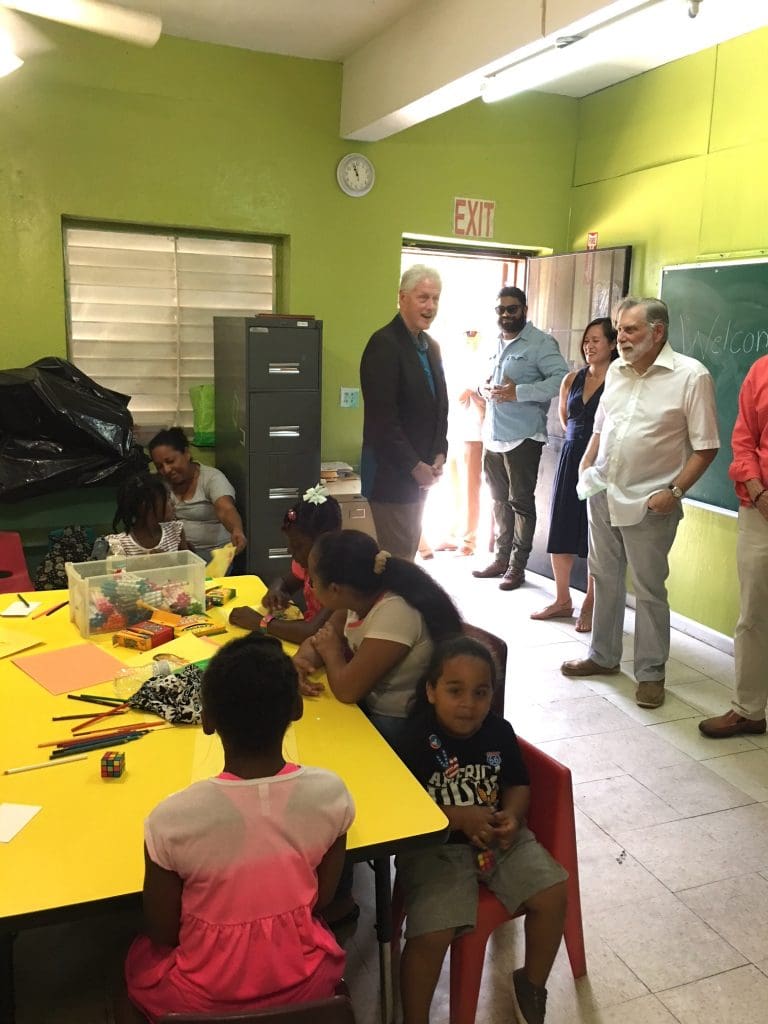 Reflecting on how much progress had been made, Julie Joseph, wife of Cruz Bay Baptist Church pastor Reginald Joseph, said, "After the storm, it became awesome. It was a time of devastation, but it was also a time of 'We can do this!' A sleeping giant woke up.'"
The Gifft Hill School utilized solar power until Hurricane Irma, according to board member Miles Stair. When their solar system was operational, the school's monthly electricity bill was around $1,500. After they lost their solar panels this past school year, their monthly bill went up to $4,000. The panels now being donated to the GHS will replace and augment what was there prior to the hurricanes.
"It's wonderful," said Stair about the solar system donation. "It will put more children into seats in the classroom because we'll have more funds for scholarship aid."
"The Clinton Foundation is key in bringing people together," said Catherine Cheng, the head of global corporate social responsibility and community relations for Expedia.
This was Cheng's second trip to St. John, her first one in June was to do an assessment. Cheng said Expedia is continuing to look for ways to help on other islands. She said Expedia is assisting six schools in Dominica.
"We're looking at health care centers and schools," she said. "That's where people gather." Cheng said, "We do a lot of business in the islands. Being that we're a travel company, the obvious choice would be to promote travel, but if a community doesn't recover, tourism doesn't recover. We're glad to play a small part."
Cheng could not provide a figure yet for the cost of the projects on St. John.
Gregory Milne, the chief metrics and impact officer for the Clinton Foundation, said the project's value was not simply a matter of how much money can be saved on electricity bills.
"We also look at how many kilowatt hours of electricity they're producing, and what does this mean in terms of reducing greenhouse gasses."
And then there's the educational component.
"Kids can see the solar panels," Milne said. "There's a lot of storytelling can help educate people to do other things."
Adam Freed, principal at Bloomberg Philanthropies, gave assurances on the durability of the solar panel installations in light of the fact that many solar panels in the territory went airborne during the 2017 hurricanes. The Federal Emergency Management Agency has issued new standards for solar panels, he said, to ensure they can withstand hurricanes that are likely to strike the Virgin Islands.
"Solar panels can actually add to the resilience and durability of rooftops if they're installed correctly," said Freed. "As you saw, some solar farms were destroyed and damaged in the Virgin Islands. Others were actually able to withstand the winds. How they're designed and how they're installed really makes a difference."
According to the Clinton Foundation, the Friday announcement concluded this week's stops in Miami and the Caribbean by Clinton, who aims to promote sustainability and resiliency in the region. On Thursday, Clinton officially opened a three-megawatt solar farm on St. Lucia that the Clinton Climate Initiative helped to facilitate.
Mapp, meanwhile, said his administration is working with VIWAPA and the Public Services Commission to adopt new regulations that will allow residents and property owners to install renewable energy sources and still remain connected to the grid for redundancy.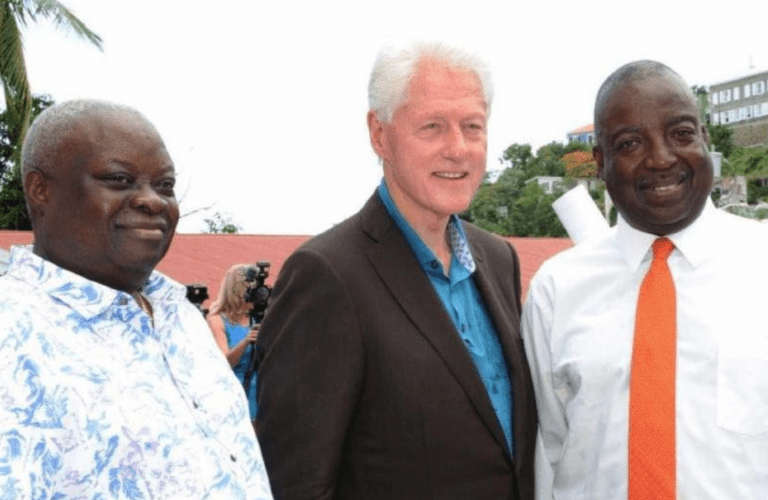 "Ultimately, we want resilient and cost-effective power-producing source in our community," said Mapp. "Regulatory reforms will give us choices and flexibility for USVI businesses and resident and we will encourage more renewable energy use."
According to Mapp, Friday's announcement represent "a larger goal and vision to build a stronger and smarter Virgin Islands."
Some 90 percent of the Virgin Islands Water and Power Authority's energy come from fossil fuels and more than 50 percent of operating expenses are consumed by fuel costs. Friday's cadre of philanthropic organizations hinted at larger renewable energy projects in the works that would turn the territory away from primarily using fossil fuels.
"We're taking action … to make sure that 100 percent of Saint John's energy needs will be met on island with renewables, while allowing them to remain connected to the grid so that all Virgin Islanders and ratepayers can benefit from those investments," said Freed.
"I look forward to these projects being completed and working with the team to identify a site on St. Croix," Mapp stated.
Amy Roberts contributed to this story.
Shared content for Virgin Islands Source and St. John Tradewinds.