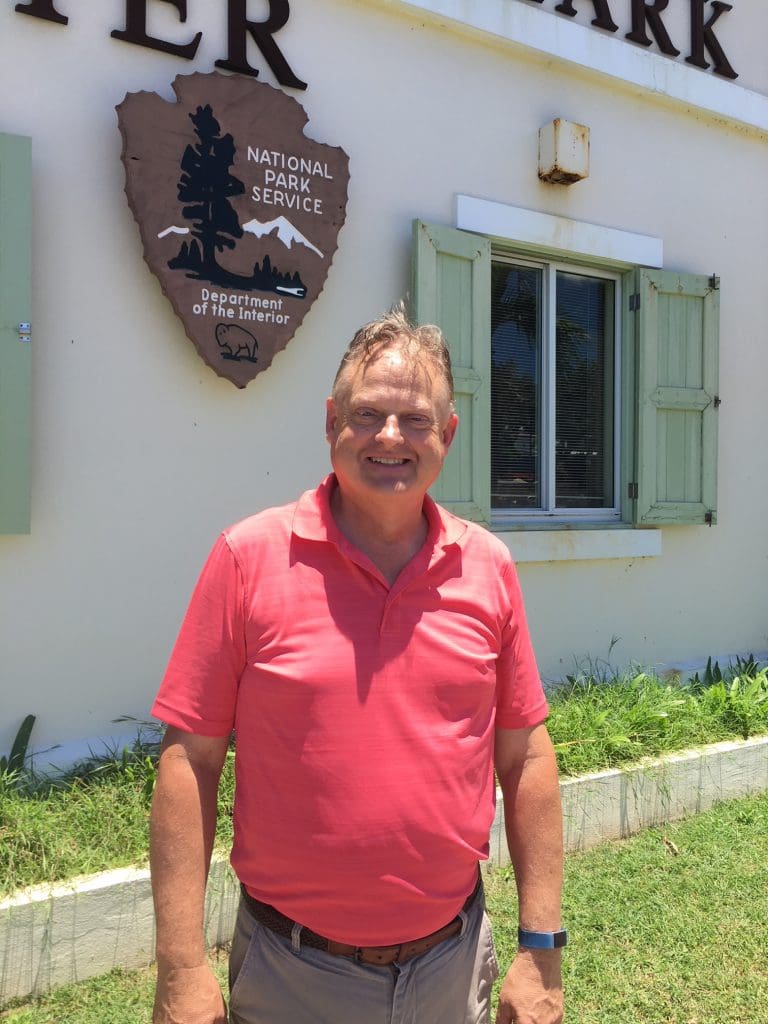 The new director of the Southeast Region of the National Park Service has been touring St. John and the Virgin Islands National Park since Sunday, seeing for himself the places he's been briefed about since moving into his new position on July 9.
"My number one marching orders are to figure out how do we help the park to recover, and the community to recover," said Bob Vogel. "Also, to give encouragement to the staff, to let them know we care and will continue to nourish them."
Vogel's visit coincided with the arrival of newly-appointed VINP Superintendent Steve Black.  Black, who was temporarily assigned to the VINP soon after Hurricane Irma and again this past spring, is back now serving as superintendent for up to a year.
Caribbean Parks Superintendent Randolph "Randy" Lavasseur has been accompanying Vogel and Black as they've viewed the devastation from Hurricane Irma on St. John. "Hearing what people on the ground say is important," said Vogel.
[adrotate group="6"]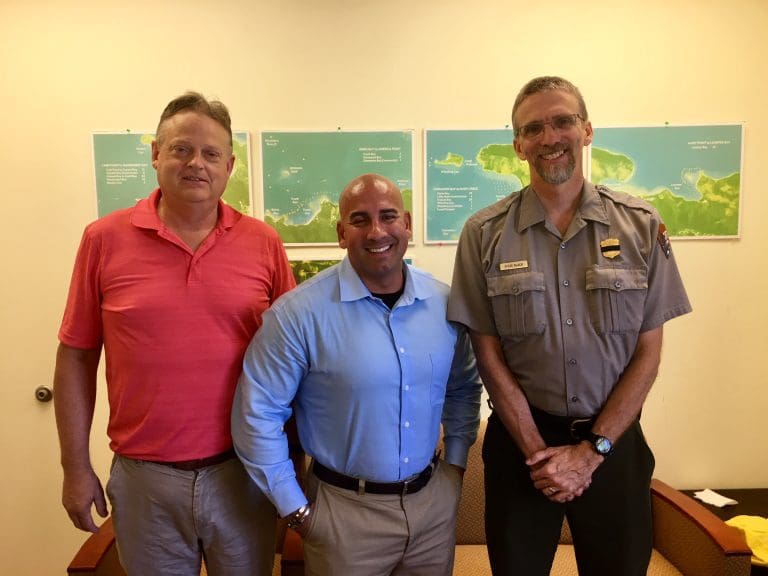 Vogel and Lavasseur were scheduled to fly to St. Croix Thursday afternoon to see conditions on that island. Before they left, the three officials shared news affecting park sites throughout the territory.
St. John Resorts Still Languish
"I've read the briefings on Cinnamon Bay Campground and Caneel Bay Resort," said Vogel, referring to the two facilities for overnight guests within the park that have been closed since Hurricane Irma. "NPS is asking, Can we do things to get them open? Can we get basic services at Trunk Bay and Cinnamon? We know how important they are to the economy. I think there are some things we can do. We're going back to Washington and engaging with our leadership on these issues."
Vogel said he could not comment on H.R. 4731, legislation introduced in the House of Representatives by V.I. Delegate to Congress Stacey Plaskett. That bill would allow CBI Acquisitions, which owns the lease for Caneel Bay Resort, to maintain control of the property for 60 years beginning in 2023 when the present agreement expires.
The bill cleared the House Committee on Natural Resources in March but has generated controversy since then. Lavasseur said officials at the regional level are not involved in discussions about Caneel Bay, which are taking place at the national level.
Vogel said, however, that the situations at Cinnamon Bay and Trunk Bay have been discussed on a weekly basis by park officials at the regional level and above. The concession for managing Cinnamon Bay Campground and the ever-popular Trunk Bay beach was taken over by Redwood Parks Co. in 2016. Since the storm, Redwood Parks has done little to improve conditions at either facility, citing contractual and insurance issues.
"It's a top priority," said Vogel.  "We do have some money that's been appropriated."
Park Receives Additional Funding
Congress granted the Southeast Region of the NPS a special appropriation of $207 million for storm recovery and mitigation. The funds are meant to address damage caused in Texas, Florida, and the Caribbean by Hurricanes Harvey, Irma, and Maria.
Lavasseur said local officials are still trying to figure out the cost of hurricane damage to each of the parks within the Caribbean. He added that $207 million may sound like a lot of money, but many other parks in the region, including Everglades National Park, also suffered substantial damage and are in line to receive funding.
The regular operating budget for the Virgin Islands National Park and the nearby Virgin Islands Coral Reef Monument is $5.5 million, said Vogel. That budget does not include sites on St. Croix — Salt River National Historic Site and Ecological Preserve, Buck Island National Monument,  and Christiansted National Historic Site.
Parks may apply for funding for special projects, said Black, and in the past the VINP has received that "in the millions." Since Irma, the VINP has received an additional $500,000,  Black said.
Boat Removal Begins Sunday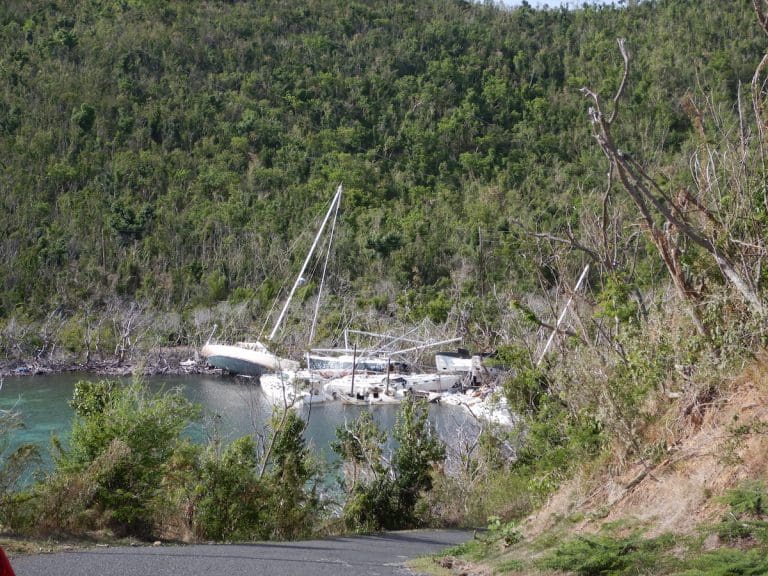 Black was happy to report that funding has gone through to allow the U.S. Navy to begin to remove the estimated 50 boats stranded in the park since Hurricane Irma. Boat removals will begin on Sunday, August 12, and Black said he expects the operation to end fairly quickly.  "It's quite an armada," he said.
Under federal law, FEMA was able to pay for the removal of boats in territorial waters, an operation that was coordinated by the Coast Guard. But FEMA cannot pay for the removal of boats within the park because the waters are managed by another federal agency. "We [NPS] paid for the Navy to come," said Vogel.
Vogel said the NPS has never dealt with the issue of sunken and beached vessels to this degree. "There's a great deal of complexity. We're beginning to learn from this experience and put policies in place — should something happen again."
Staffing and Programs Have Been Reduced
"Across the National Park Service, we've seen a substantial reduction in our staffing levels over the past 20 years," said Vogel.  "It does pose challenges for us. We continue to work with our partners, communities, and volunteers to do critical work."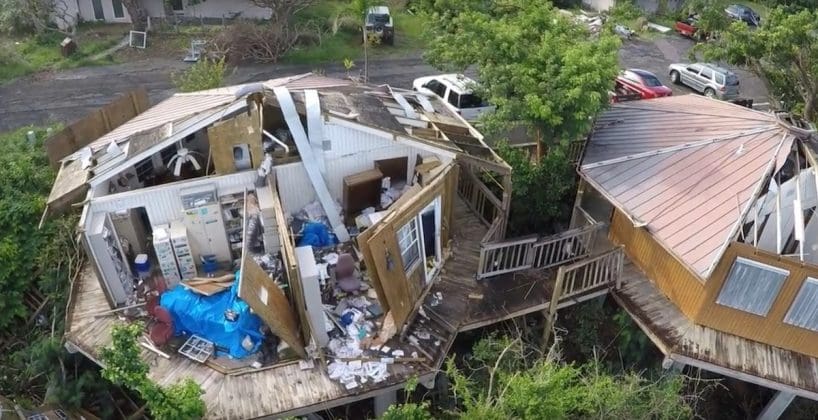 The number of staff members currently working at the VINP is 38, said Black, down from more than 50 prior to Hurricane Irma, and more than 70 in the 1980's. A number of VINP employees have relocated to the States since the storm, Lavasseur added. Overall, the NPS employs about 20,000 people, including permanent, seasonal, and temporary employees.
Storm damage to park housing is slowing the return of some employees, said Lavasseur.  The park held a town meeting on July 24 to discuss plans to construct new housing for employees at Lind Point. Lavasseur said a number of "beautiful" designs have been proposed, but selection will depend on costs.
Repairs Underway at Creque Railway on St. Thomas
Black said the Creque Marine Railway at Hassel Island near St. Thomas suffered damage from the recent storms, and repairs to the sea wall are now underway. "The storm water was not kind to the 'head house' where the railway was," he added. Although Hassel Island is owned by the National Park Service, the St. Thomas Historic Trust has traditionally conducted tours of the site.
Repairs Begin at Christiansted Wharf
Lavasseur said that $6.1 million is being contracted to repair the wharf in Christiansted, St. Croix. It is the first phase of a project totaling $9 million over three years. "We're starting to look for concession operators to conduct boat tours," he said.
The Park Service recently conducted workshops on St. Croix titled "Demystifying Doing Business with the Park Service."
"We had awesome attendance and response," said Lavasseur.  "We plan to do a lot of local hires. We'd like to do the same type of class on St. Thomas."
Vogel announced that Felix Lopez was recently appointed as superintendent of the parks on St. Croix. Like Steve Black, his counterpart on St. John, Lopez will serve for a year while officials search for "someone who fits the park well," said Vogel.
Evacuation Plans for an "Incident within an Incident"
"We still haven't had full recovery from Hurricane Irma," Lavasseur said, noting that the storm was still being classified as "an incident" by the NPS. Park officials are planning what to do if another hurricane approaches — an "incident within an incident."
"We have general procedures," said Lavasseur. "We don't have shelters on St. John. We do have an evacuation plan for VINP staff. They will be sheltered in El Morro and San Cristobal," two forts that are historic sites in San Juan, Puerto Rico.
Black Bands on Badges Signal Mourning
National Park rangers are wearing black bands around their badges to show their solidarity in mourning for Capt. Brian Hughes, who died battling the Ferguson Fire near Yosemite National Park. Hughes led an elite team of firefighters known as the Arrowhead Hotshots, who spent 21 days on St. John clearing roads and beaches immediately after Hurricane Irma.
"There are some incredible people who put their lives on the line," said Vogel. A GoFundMe page has been set up to assist his family.
Shared content for St. John Tradewinds and Virgin Islands Source.