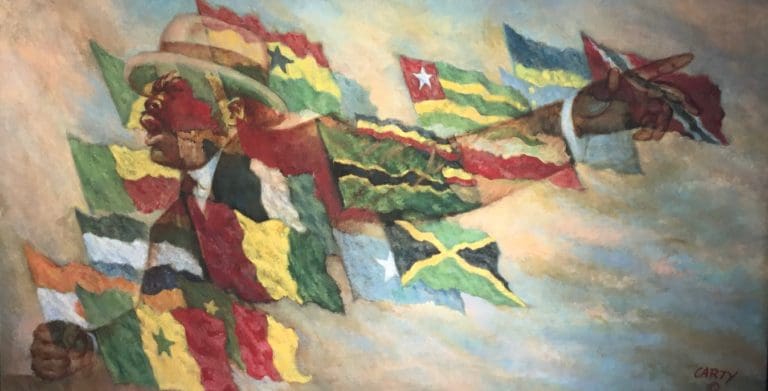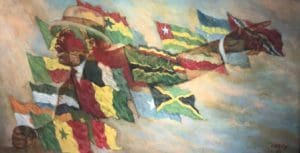 The late St. Croix artist Leo Carty's exhibit "Remembrance" opened in late July to the delight of his patrons and friends. "Remembrance" showcases the genius of Carty's use of paints, brushes and canvases and evokes recollections, memories and reminisces. Friday will be the last day of the magic when the show closes at 7 p.m.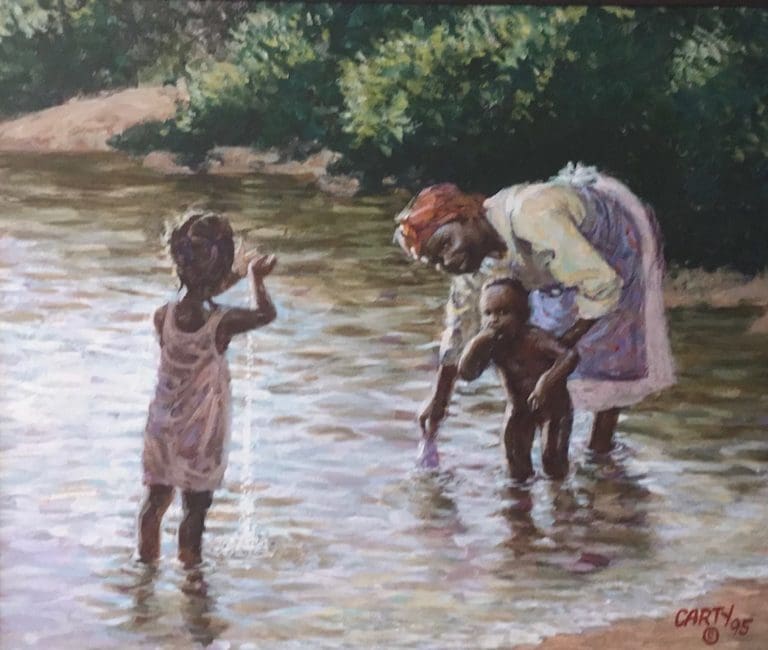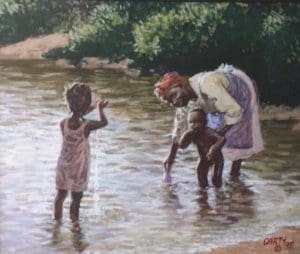 The impressionist painter shared his love of the U.S. Virgin Islands community through his teachings and his works of art. Cane Roots Art Gallery on Company Street in downtown Christiansted displays an exclusive collection of Carty's work, which is still available for purchase.
Carty's youngest son Stefan made it all possible when he took on the responsibility of bringing the exhibit to life on St. Croix to ensure the legacy of his father lives on. "It is a challenge that is an honor and a project dear to my heart," Stefan said.
Stefan founded the Carty Fine Arts Studios in 2020 in commemoration of the 10th anniversary of his father's passing. The studio is instrumental in awarding the Leo Carty Fine Art Scholarships. The exhibit has been so successful that the proceeds have exceeded the initial four scholarships and is well on the way to adding four more. There is one more painting available for purchase from the Fine Art Scholarship Auction: "The Prophet – Marcus Garvey."
There are five more paintings in the larger collection that are still available for purchase.
Cane Roots Art Gallery owner Sonia Deane commented that those who came to see the exhibit also came to remember, to share, and to exchange thoughts about their interactions with Leo Carty. "I learned about the artist through their relationships; it was an oral exhibit," said Deane.
Mary Dema remembered the Good Hope Fine Art Exhibit in early 2000. Carty's painting, "Drop Home," called to her from across the room. "It drew me in like a magnet," she said. The piece was so beautiful. "Leo was very humble and grateful and did not take his art for granted. He appreciated that Jack and I purchased it. We are still in love with the piece."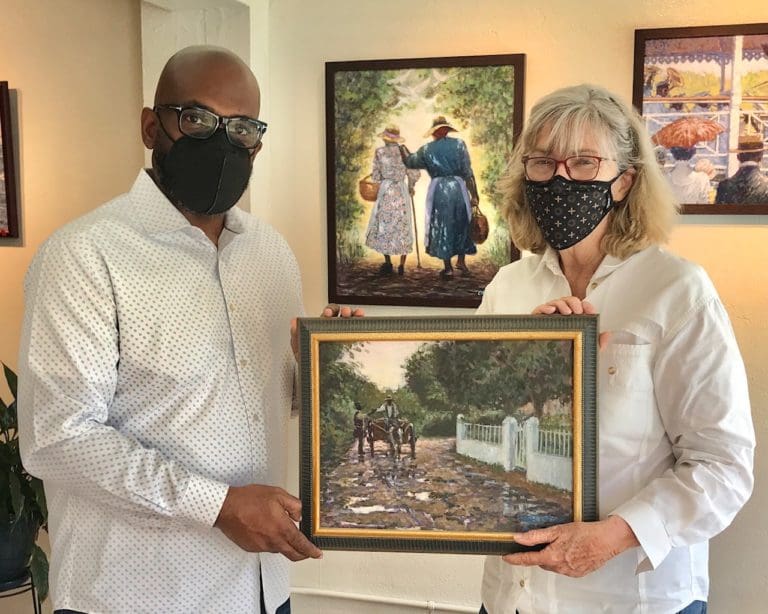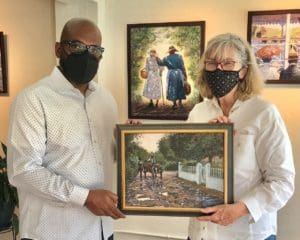 In collaboration with St. Mary's Catholic School's art teacher Tralice Bracy, Deane invites the art students to tour the gallery with each new exhibit. Bracy develops a "scavenger hunt" for the classes and the students get to learn about art through the hunt. They learn about the different genres, the time periods, the mediums, the whole gamut, all about art.
Deane encourages parents and teachers to bring their youngsters on Friday. "It's their last chance to experience the legacy of one of our ancestors and to understand the connection of those who came before us … those whose shoulders we stand upon," she said.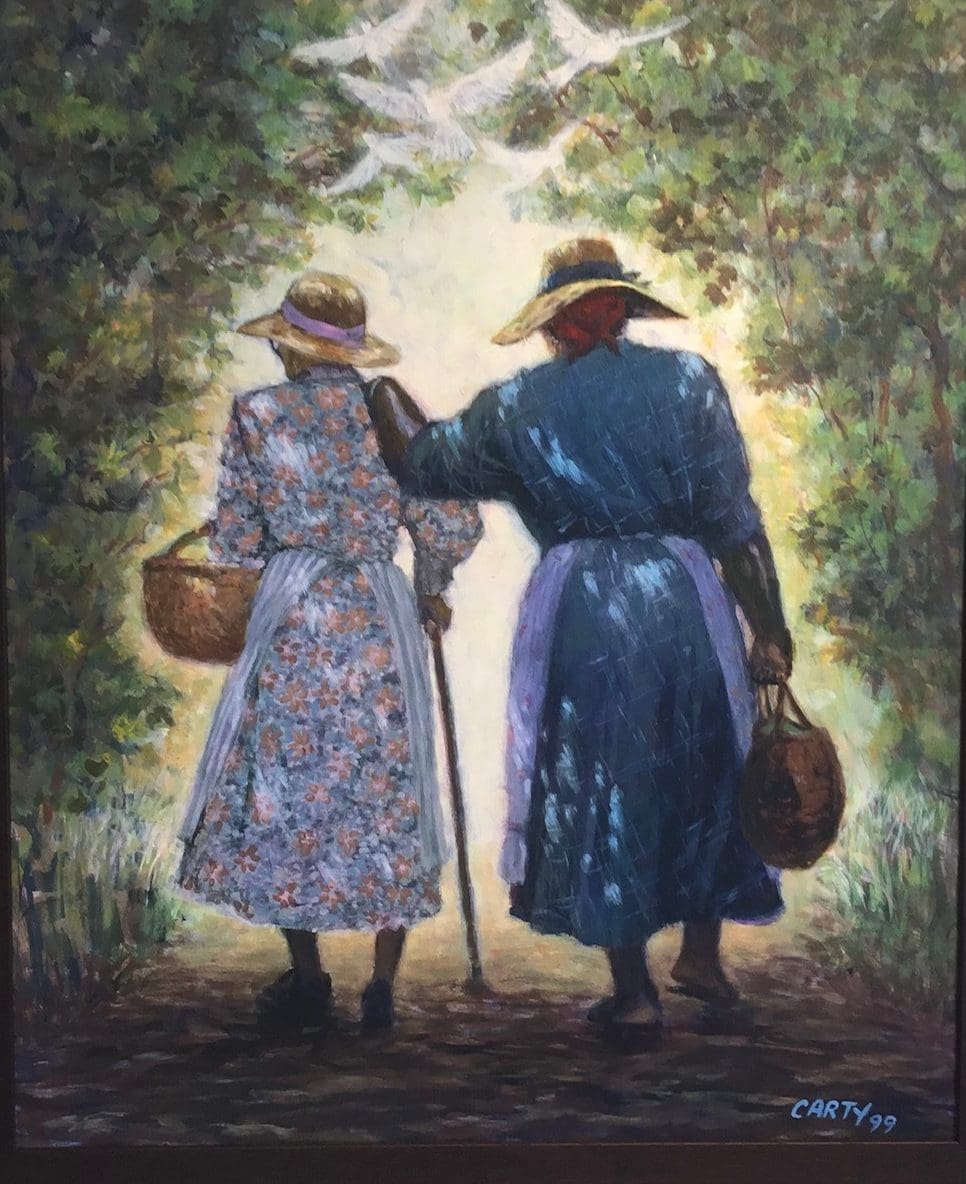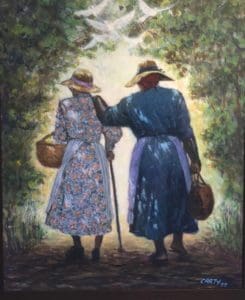 Mary Mingus shared Carty's legacy as a portrait artist when her daughters were very young. "One of my children was a baby and the other was a toddler when I asked Leo to sketch them. He came to our home and was so kind and gentle as he sketched. He really captured them. I had always seen his work with historic churches, and it was great seeing another side of Leo in their portraits."
The "Remembrance" exhibit is like a Carty reunion, Deane said. "Folks walk in and start the dialogue of who Carty was as a person in addition to who he was as a painter," she said.
Jacqueline Smith-Anderson said she met Carty in the early days and their families became friends. "I had the privilege of bonding with his son Stefan in a special way. We shared many holidays and good times together. We even used to go for a dip at Little Bay." Anderson said she witnessed Carty become a man of God and saw his value for mankind as a whole. "I am so grateful that Stefan is continuing to maintain the wonderful gift and legacy of his father."
The title of the exhibit runs through to a deeper level, Deane said. "'Remembrance' is also remembering Leo Carty the man."
For more information go to: cartyfinearts.com and canerootsartgallery.com.