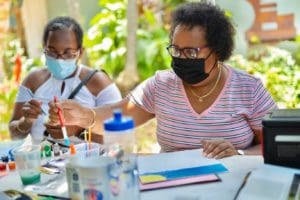 "Sip and Pour" Art Therapy classes were launched on World Cancer Day, Feb. 4. It is the kind of activity designed for a safe and creative way for breast cancer survivors to find their inner artistic voice. The Caribbean Museum Center for the Arts offers a tranquil setting in their courtyard garden Feb. 11 for breast cancer survivors and Feb. 25 for all cancer survivors. Both Friday classes will meet 10 a.m. to noon.
The St. Croix Foundation for Community Development is sponsoring the classes, which are also funded by the CARE Grant and are free for cancer survivors with a cost of $40 for friends and family who wish to participate. Cathleen Cornette, who comes with many years of experience in the arts and a background of classes taught at CMCArts, will be the instructor for both classes. Cornette will treat participants to a cold, refreshing drink that can be sipped during the paint-pouring class.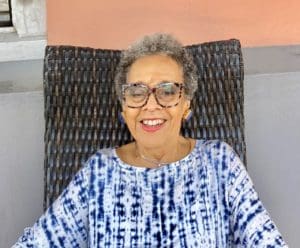 The Breast Cancer Project program was co-founded by Project Director Diane Hampton, who has a master's in fine arts, and Associate Professor of Anthropology and Public Health Bernhard Bierlich, in 2015.
The Breast Cancer Project began a series of Art Therapy classes in 2021. Lunch was donated by community restaurants and the Chris Johnson Flower Shop donated a bouquet of fresh flowers for each individual.
"We are aligning ourselves with the same global mission as World Cancer Day by continuing to host 'Art Therapy' classes for all cancer survivors," Hampton said. The global organization has a three-year campaign for more impact and Hampton was able to submit a proposal to Gov. Albert Bryan Jr.'s office to join in on the global campaign, she said.
Government House was lit up on Feb. 4 with the brand colors of blue and orange, used for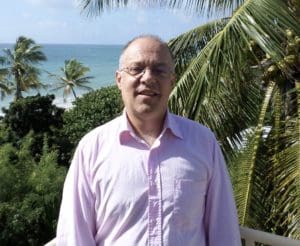 all organizations and governments around the world. Now U.S. Virgin Islanders living with cancer and everyone else affected by or involved with cancer care will have time to plan events centered on the common goal of finding a cure for cancer, Hampton said.
"The Breast Cancer Project recognizes that World Cancer Day is more than a day on the calendar. The same holds true for October being recognized for Breast Cancer Awareness Month." Hampton said she thought "it would be a great idea to join the global mission by letting the world know that we, too, in the USVI are greatly impacted by cancer and want to be involved in finding a cure."
"A multi-year campaign means more exposure and engagement, more opportunities to build global awareness, and ultimately, more impact. We want to 'Close the Gap' too, by coming together for an Art Therapy class that will engage more cancer survivors in conversations that bring ideas and shared experiences to life," Hampton said.
The 10-month series of Art Therapy classes is funded by the CARE 2021 Grant and sponsored by the St. Croix Foundation for Community Development.
Classes are filmed by the project's photographer Kevin Faktor. "It is so important to capture the moment. Filming real-life activities in the arts is an act of creativity and love," Hampton said.
For more information, email vibreastcancerproject@gmail.com or visit: cmcarts.org