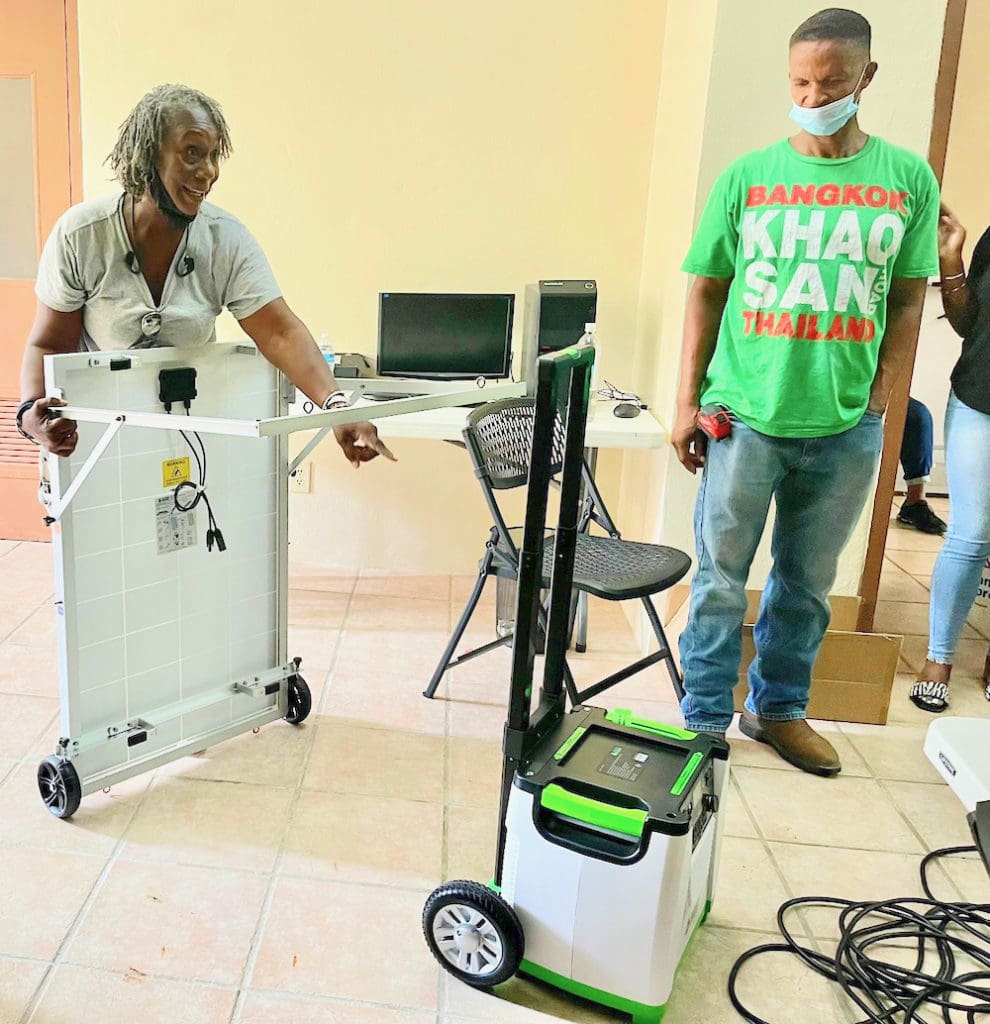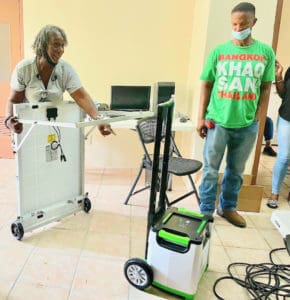 Community Action Now teamed up with the Coalition for Solar Affordability Partnership on Saturday to distribute 20 portable solar powered generator units at the Romeo Malone Community Center in Savan.
St. Thomas residents who signed up for the Solarize St. Thomas "Share the Sun" campaign were able to save more than $1,000 by paying $350 for a solar panel and portable generator unit.
"It's a qualification. They have to meet a qualification, income-based qualification, to receive these systems," said Gwendolyn Hodge, the center's community coordinator.
The Share the Sun Affordable Solar Program is part of the Solarize St. Thomas campaign that works to reduce the high energy burden and provide resiliency during hurricanes and grid outrages for St. Thomas families and businesses. Customers of Solarize St. Thomas receive discounted rates through their group purchasing program. Grant funds are also available through the Share the Sun program.
[adrotate group="6"]
Most residents who picked up their solar units Saturday said they need them because of WAPA's expensive power rates and as a backup for the utility's inconsistent power.
"I decided to purchase the solar panel because I had the opportunity and it would benefit me in my household when the power goes off," Jacqueline Francis said. "I have medical equipment that I utilize, and this will help me to use the product when power goes off for long hours."
"WAPA went out [a few days ago] for a whole day," Zelma Lettsome said. "If I had [the generator] I would've been able to cook, I wouldn't have been hot, and I would've been able to do things I need electricity for."
Yvonne Warner said that she signed up to receive the units "first and foremost because of WAPA. They don't know what they're doing." And Monica Prosper said "They're [WAPA] completely unreliable."
Kai Frett works for Silver Sun Solar, the company that purchased the systems, and was present to instruct customers on how to properly install and use the solar units.
"It's a simple plug and play," Frett said. "It's a 100-watt panel and a 1800 watt generator. They can set it up anywhere that has sun."
According to the coalition, benefits of using solar power include lower electricity bills, predictable cost of electricity, no harmful emissions or pollutants, and an available tax credit of 26 percent.
The Coalition for Solar Affordability is a local public-private coalition that involves the Rotary Club of St. Thomas east ECO, Environmental Association of St. Thomas-St. John, Virgin Islands Conservation Society, the University of the Virgin Islands' Caribbean Green Technology Center, Virgin Islands Energy Office, VI Electric Vehicle Association-North, and Solar Crowdsource. The coalition received $150,000 in funding from local civic philanthropic sources $50,000 from Brad and Juli Camrud and $100,000 from the Community Foundation of the Virgin Islands.
More information on Solarize St. Thomas is online at solarizestt.com.