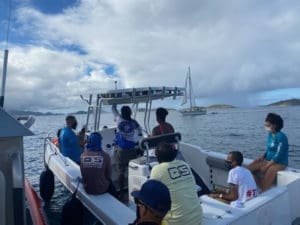 The Coast Guard terminated an illegal charter for the 29-foot small passenger vessel Alternate Attitude just outside Cruz Bay, St. John, on Sunday. The vessel was reportedly overcrowded.
The Coast Guard reports one of their 33-foot boats carrying a law enforcement team boarded the Alternate Attitude and found 11 people on board, including the vessel operator. The Alternate Attitude, reportedly operating as a charter voyage out of St. Thomas for Alliance Point Charters, may only carry up to six passengers, according to the Coast Guard.
The Coast Guard boarding team cited the vessel operator with not having a valid Certificate of Inspection.
"The Coast Guard wants to ensure the safety of vessel operators, crew members and passengers when engaging on charters," Lt. j.g. Lloyd Banks said in a Coast Guard release. Banks is a senior investigating officer and assistant supervisor of the St. Thomas Marine Safety Detachment.
"We want to support legal operations and assist non-compliant charters to come into compliance with applicable laws and regulations. Our ultimate goal is to facilitate commerce and prevent accidents at sea. We encourage vessel operators to reach out with their questions or concerns so that we can further enable industry partnerships in conducting safe and legal charter operations," Banks said.
According to the Coast Guard, in the U.S. Virgin Islands, vessels less than 79 feet in overall length may carry a maximum of 12 passengers only if the vessel complies with the requirements established by the United Kingdom Code of Practice for the Safety of Small Commercial Motor or Sailing Vessels commonly known as the Yellow Code (for motor vessels) or the Blue Code (for sailing vessels). If it does not comply with one of those codes, it may only carry a maximum of six passengers.
Owners and operators of illegal passenger vessels can face civil penalties of $60,000 or over for illegal passenger-for-hire-operations. Charters that violate a Captain of the Port Order can face over $95,000. Some potential civil penalties for illegally operating a passenger vessel are:
– Up to $4,888 for failure to provide a Coast Guard Certificate of Inspection for vessels carrying more than six passengers for hire.
– Up to $16,687 for failure to produce a valid Certificate of Documentation for vessels over five net tons. (In lieu of a Certificate of Documentation, vessels over five net tons must have Virgin Islands Registration)
– Up to $12,219 for failure to have been issued a valid Stability Letter prior to placing the vessel in service with more than six passengers for hire.
– Up to $95,881 for every day of failure to comply with a Captain of the Port Order.
Anyone wishing to report illegal passenger vessel operations in the U.S. Virgin Islands may contact the Marine Safety Detachment on St. Thomas at 340-776-3497 or Resident Inspection Office on St. Croix at 340-201-4099.