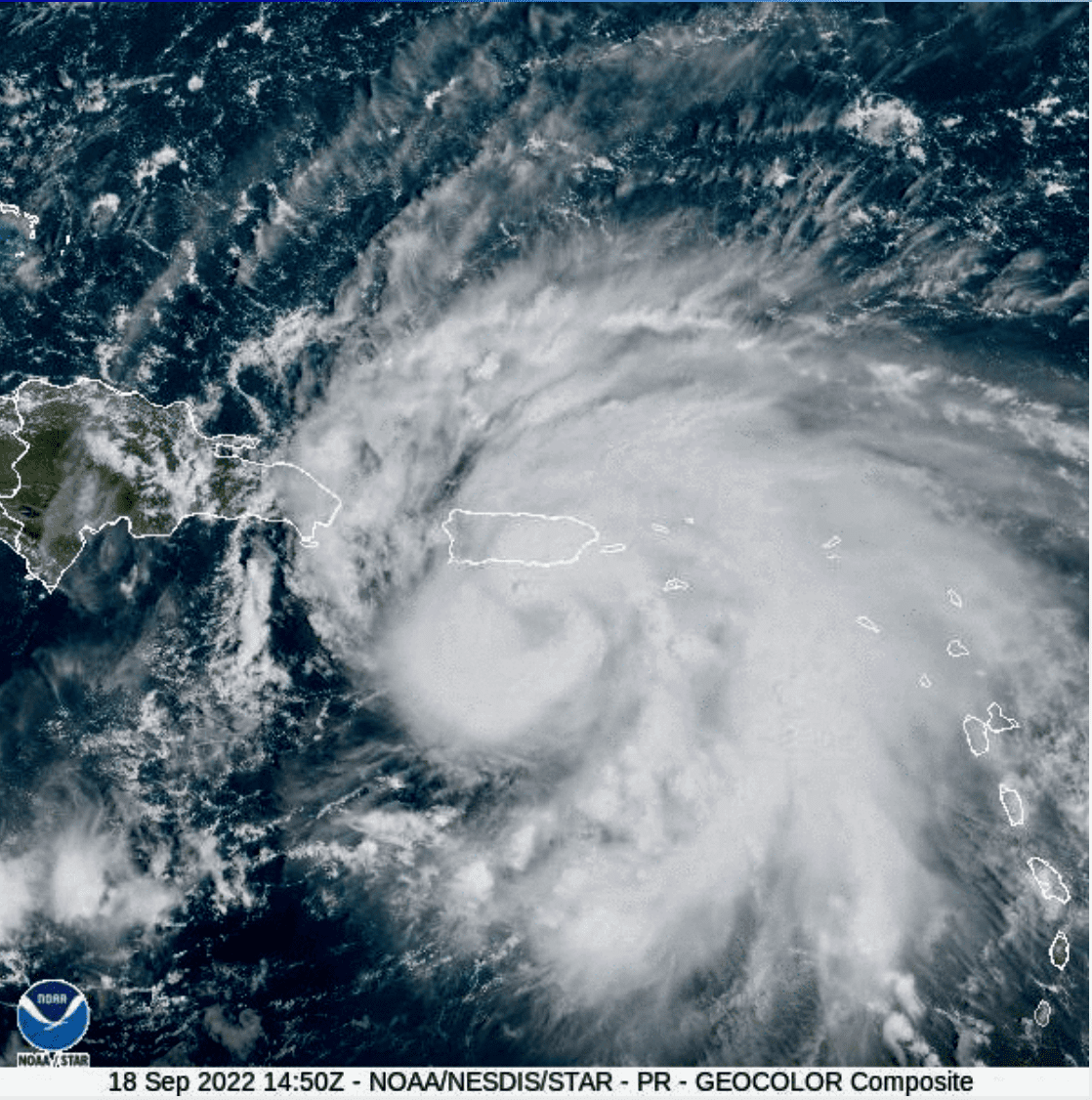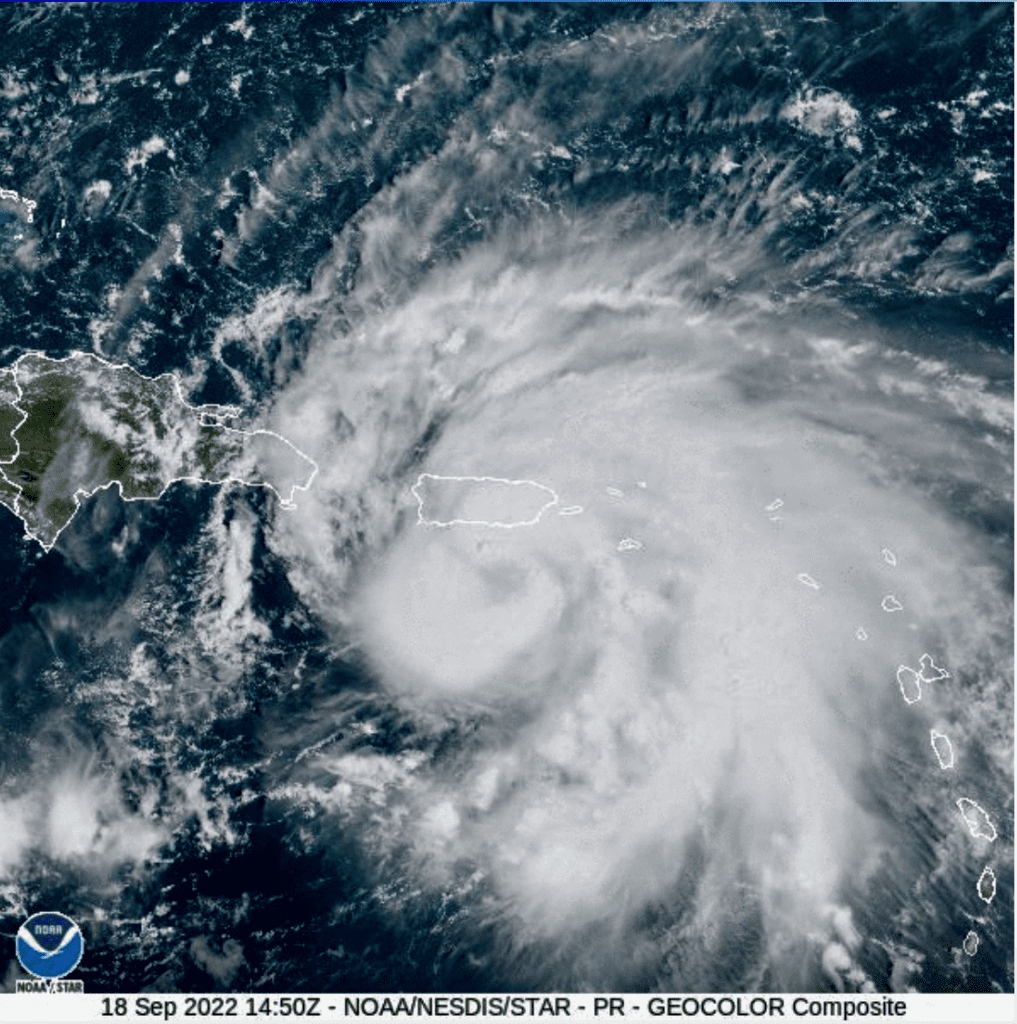 The 2022 Atlantic hurricane season officially ended on Wednesday, and Colorado State University has released its annual review of the tropical weather events that occurred during the active season.
The 2022 season was expected to be above average in terms of tropical activity and the number of storms. However, it ended with the number of cyclones lower than anticipated. Still, the season spawned tremendously destructive cyclones (which are called hurricanes in the Atlantic Ocean).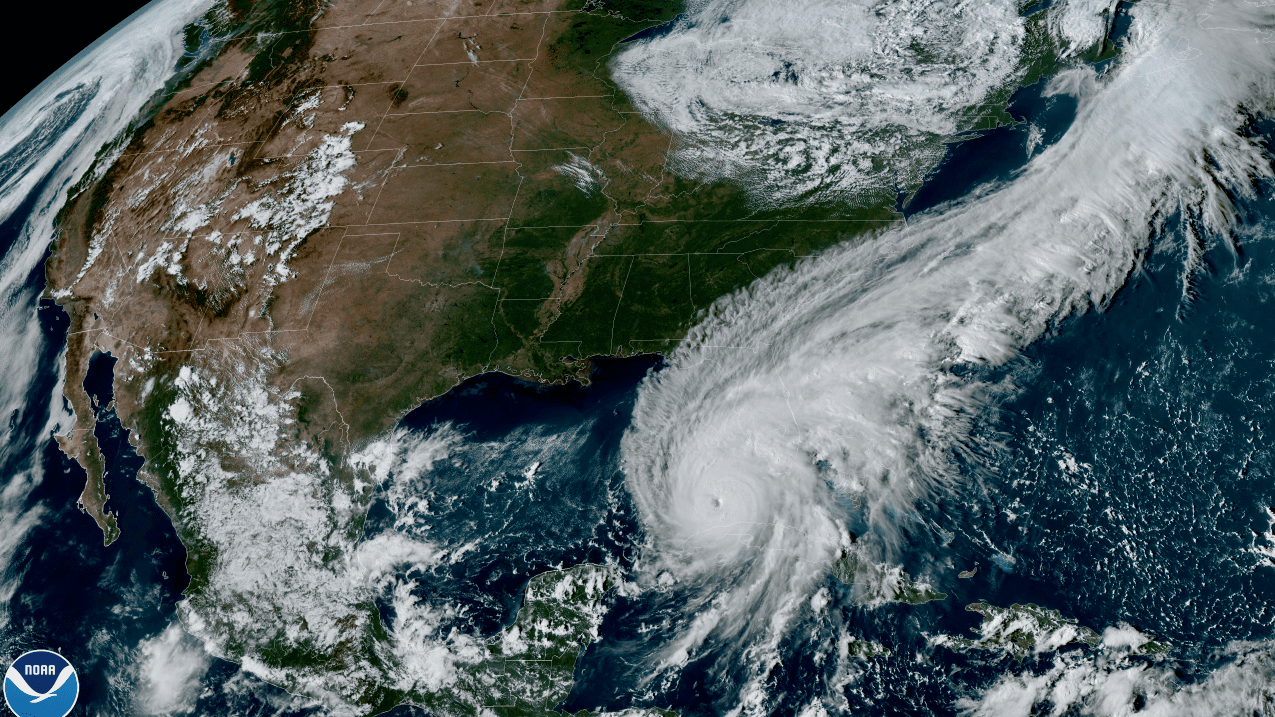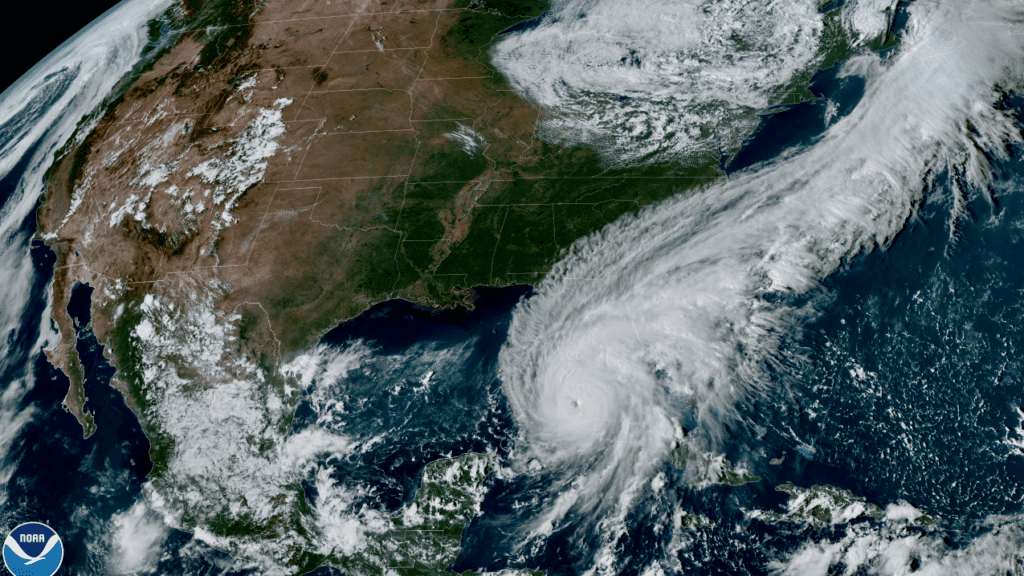 There were 14 named storms during the active season, and eight reached hurricane status. Two — Hurricane Ian and Hurricane Fiona — were designated as "major hurricanes," defined as Category 3 or higher storms, packing winds of at least 111 mph.
Fiona caused significant damage to areas in the Caribbean, including Puerto Rico. And on Sept. 24, Fiona made landfall farther north near Nova Scotia, Canada, as a powerful post-tropical cyclone. Ian made landfall on the west coast of Florida on Sept. 28 as one of the strongest storms ever impacting the continental United States.
CSU's Tropical Weather Analysis
Alex DesRosiers, a Ph.D. candidate in the Department of Atmospheric Science and member of the Tropical Meteorology Project at CSU, spoke to the Source about this year's hurricane season analysis and the research occurring at the university.
In addition to an annual review after-season, the university publishes tropical weather predictions for an upcoming hurricane season beginning in April. And while the state of Colorado is thousands of miles away from the tropics, the tropical studies are groundbreaking.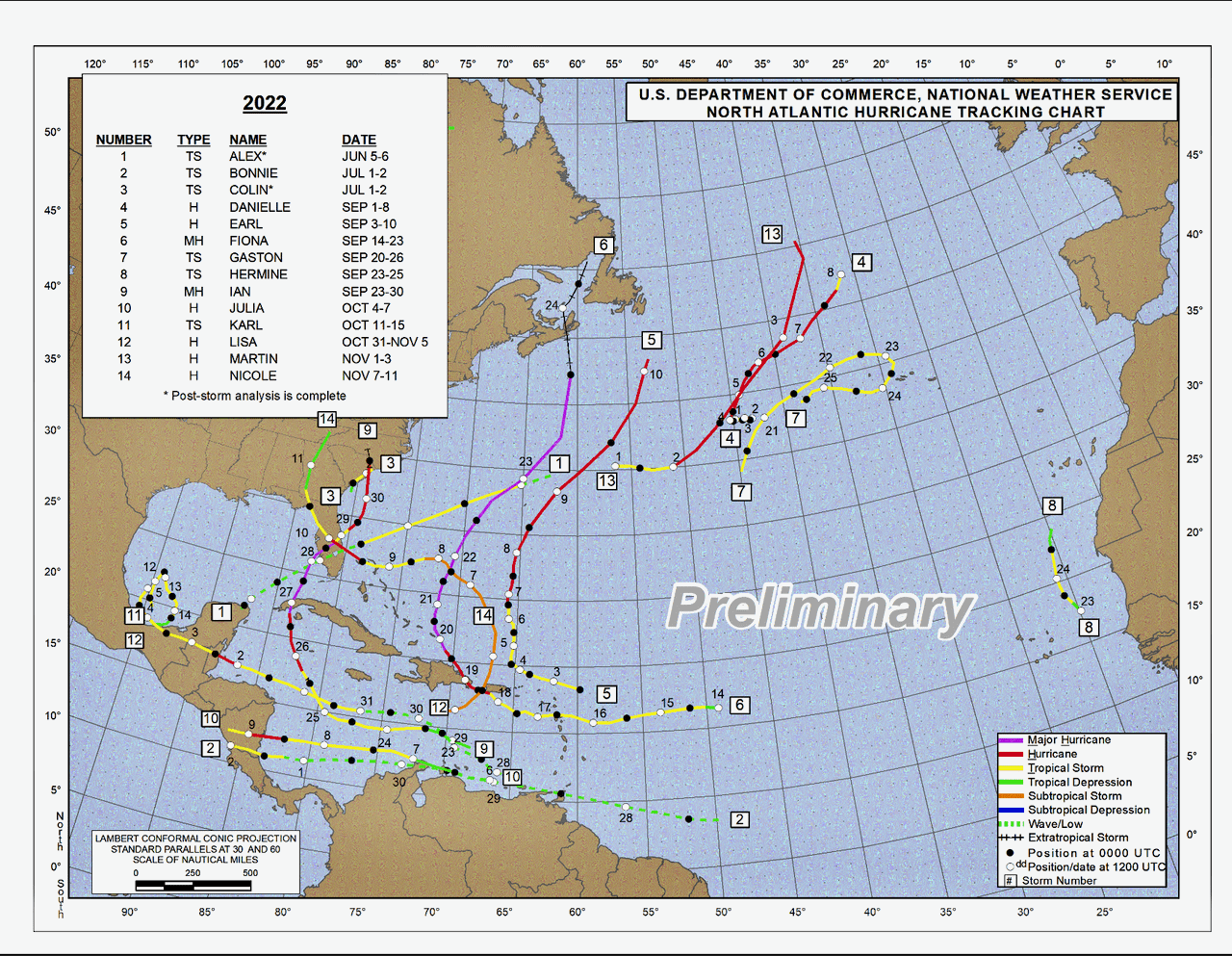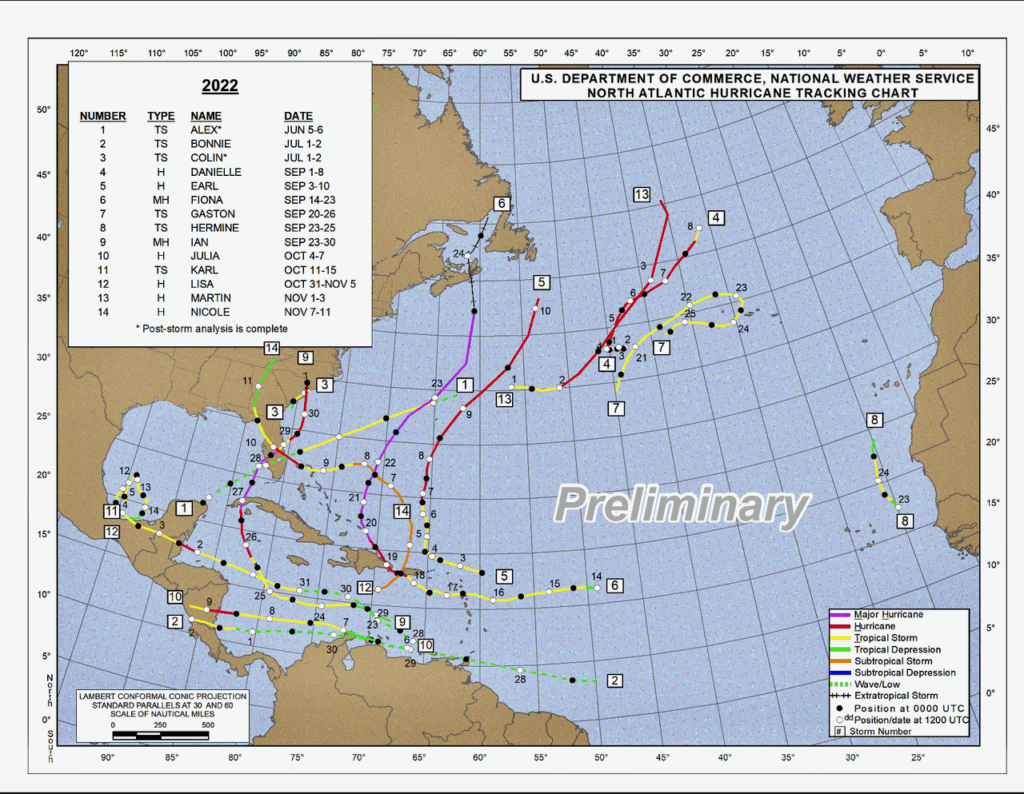 "These seasonal forecasts were developed by the late Dr. William Gray, who pioneered the seasonal hurricane forecasting effort at CSU and issued the first-ever operational seasonal forecast for the Atlantic in 1984. Dr. Gray was the lead author on these predictions for over 20 years and continued as a co-author until his death in 2016. Additionally, Dr. Gray conducted trailblazing research on a wide variety of other topics, including hurricane genesis, hurricane structure, and cumulus convection," according to information from CSU's report.
"The forecast is based on the idea that atmospheric conditions leading up to hurricane season can tell us more about the activity to expect in a coming season than just taking the historical average can," DesRosiers explained.
"The forecasting effort has grown more sophisticated over the years. The forecast now uses current observations, analog years with similar conditions, and statistical/dynamical models to predict the conditions during the peak season to arrive at our numbers," said DesRosiers. "A more traditional weather forecast focuses on more exact and short-term questions, while a seasonal forecast takes a far wider-angle lens. It's hard to tell in April where hurricanes may form and make landfall, but large-scale predictors can give us an idea of how many there may be that year with skill!"
Why Are Atlantic Hurricanes Born in Africa? 
Readers who may not be familiar with tropical meteorology may wonder why tropical waves emerge off the West Coast of Africa.
According to DesRosiers, tropical waves are "kinks in the airflow" over Africa north of the Equator in the tropics. This area is called the Main Development Region because the MDR is characterized by favorable conditions such as warm water. Storms that develop in a favorable MDR have plenty of time to harness the ocean's energy and become the intense, long-lived major hurricanes that coastal residents of the Atlantic basin fear.
2022 Hurricane Season Predictions and Lessons Learned
Tropical activity in 2022 was within the range of a typical season. However, as DesRosiers describes, just one very intense storm can cause catastrophic damage, and it's essential to be prepared.
"Although it was an average season, Ian packed a formidable punch and is a storm the state of Florida will not soon forget. Storms of this magnitude can happen in any season, especially near the peak of activity in September," explained DesRosiers. "We always stress that it only takes one storm to make it an active season for you. Predicting activity for the whole season is a topic of scientific and public curiosity, but coastal residents should prepare for every hurricane season regardless of the forecasted activity."
Regarding information and lessons learned this year, the month of August may provide certain clues.
"Most lessons from hurricane season in the realm of science take time, effort, and peer review to determine. However, I think there will be a lot to learn from this August. The large-scale predictors seemed favorable for another above-average Atlantic hurricane season, and we were not alone in predicting one. The total lack of activity from early July through the end of August is likely why this season ended up average," DesRosiers said.
"Plenty of wind shear and dry air from further north worked their way into the tropics and put the brakes on activity at a time we expected the basin to wake up. This year offers an opportunity to dig into the mechanisms that allow these intrusions of unfavorable conditions to occur," said DesRosiers.
"The other lesson is that there is always room for improvement in messaging forecast uncertainty to the public for storms as they occur. Although Ian's landfall location remained in the cone of uncertainty for days prior to landfall, some were surprised when severe impacts were felt well outside the cone, which does not capture the full storm, just its center," DesRosiers noted.
"The community will certainly put increased focus on ways to make messaging for public safety clearer going forward, so this disconnect does not happen again," added DesRosiers.
Impacts of Climate Change on the Tropics
When asked about the role of climate change impacting tropical systems, including the development of powerful cyclones such as Hurricane Ian, DesRosiers said that a warming climate may be a factor. However, more time and further data analysis will be necessary to fully understand how much climate change affects our current weather.
"Climate change likely plays some role, but it's still hard to tease that role out completely. Weather is what is happening now, and climate describes the weather over longer periods of time. For this reason, it's hard to attribute a single storm to longer-term changes," DesRosiers explained.
"Furthermore, our ability to observe hurricanes improved drastically when we entered the satellite era in the 1960s and has continued to improve since. Despite these challenges, consistent high-quality data from 1990 to 2021 provided our group an opportunity to investigate global changes in tropical cyclone activity as our planet warms," said DesRosiers.
"Ian may be a sign of the dangers a warming climate offers, but regardless of what the future holds, these high-end hazards have always been present, and people should prepare for them," DesRosiers added.
CSU will issue its first 2023 Hurricane Season prediction next April. In the meantime, residents and visitors in the USVI can always stay updated on weather systems and alerts on the V.I. Source Weather page and sign up for alerts from the National Weather Service and the Virgin Islands Territorial Emergency Management Agency.