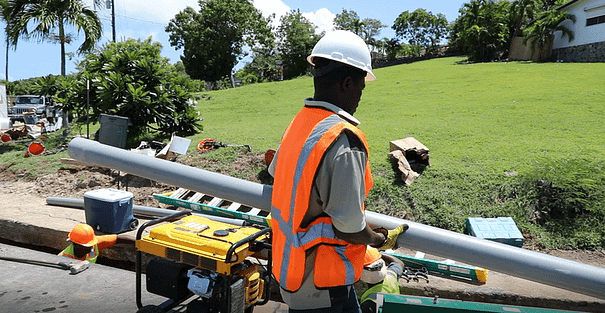 The months-long effort to create a more resilient electrical system for St. John is nearing completion, according to a spokesperson for the Water and Power Authority. The utility recently updated the status of its underground power line project after an area where the work was stopped was cleared to resume.
On Wednesday, a utility spokesperson said most of the work to bury power lines in and around Cruz Bay was done. One section near Frank Bay, where work was put on hold, should be completed by the end of the year, they said.
Efforts to bury power lines in Cruz Bay began in July 2021. The project was designed to allow for faster restoration of electrical service after a natural disaster. It took six weeks for the island to resume service after the passage of Hurricanes Irma and Maria in 2017.
The project was funded by the Federal Emergency Management Agency and the U.S. Department of Housing and Urban Development.
Work stopped on the project where crews started digging, to prepare underground conduits near Frank Bay in October 2021. The discovery of disturbed burial sites in a portion of the line running adjacent to the Cruz Bay Cemetery caused the delay.
Frank Bay is one of two sites where WAPA's undersea power cable connects with St. John's electrical distribution grid.
A team of archaeologists was called in by the Department of Planning and Natural Resources State Historic Preservation Office. On Thursday, lead archaeologist Brooke Persons said the fieldwork wrapped up at the end of October, and the site was handed back over to WAPA contractors.
Persons and her team are affiliated with the University of Tennessee at Chattanooga. "We are still in the process of finalizing the report," Persons said.
Four more disturbed burial sites were found under the roadway running through the public cemetery in the course of the investigation, according to UTC forensic archaeologist Mary Davis. Three contained human remains.
The damage is believed to have been caused by roadway construction in the 1950s and roadway expansion that took place a few years later, Persons said.
Investigators say they plan to present their findings at a public hearing sometime in early 2023. Meanwhile, permit requests have been filed with Public Works to allow for reburial of the remains, Persons said.