The Coral Bay Labor Day parade drew a good-sized group of onlookers and more than 20 floats which followed the short route from Love City Mini Mart to Skinny Legs Restaurant.
"There are more people in the parade than watching it," quipped a number of people on Monday afternoon, September 4.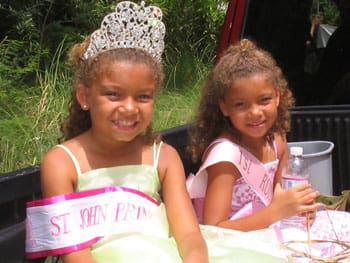 "That's how we like it," pointed out a long-time Coral Bay resident. "The best would be if everyone was in the parade and no one was watching."
That community spirit was alive and well on Labor Day in Coral Bay. From Harley David-son drivers to horseback riders, a diverse group of parade participants came out in support of the famously quaint parade.
Getting Involved and Getting Involved
"I thought it was a really successful day," said Bonny Cor-beil, who organized the Animal Care Center's float for the parade. "This is the spirit of Coral Bay – everyone just showing up and getting involved."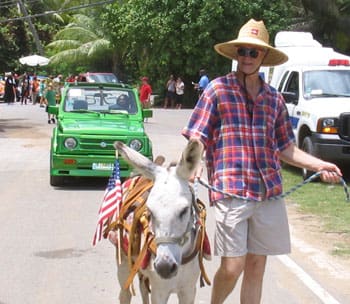 With the general election fast approaching, political candidates didn't miss out on the chance for publicity.
The Democratic team of John deJongh and Gregory Francis handed out rulers and pencils while Senator at Large Craig Barshinger walked a donkey down the parade route.
No Love City parade would be complete without the Middle Aged Majorettes, who strutted their stuff to the infectious tunes of Bob Marley. The employees from Skinny Legs got into the spirit of the day, handing out rum punches for adults and candy for children.
Carolina Corral Horses
Other highlights included the Juvenile Delinquency Preven-tion Program Jammerz and Dana Bartlett, owner of Carolina Corral, with her array of donkeys and horses.
Members of the Epiphany Theater Company donned elaborate costumes for the tromp and Doug Benton of Crabby's paddled his kayak from the back of a pickup truck.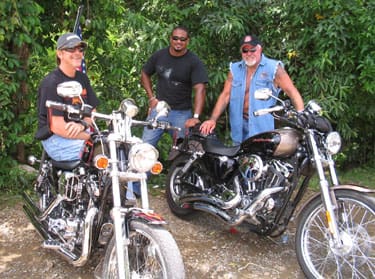 After the parade, Koko and the Sunshine Band played in the Moravian Church ball field to the delight of the crowd who were mostly munching on local goodies like pate and stewed chicken. A rousing game of flag football rounded out the afternoon's festivities.
As increased development in the Coral Bay area continues to transform the small neighborhood, Labor Day was a day that saw the entire community come out and "lime" together.