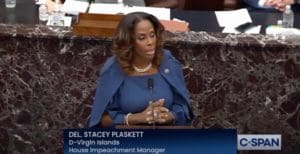 Congresswoman Stacey E. Plaskett, a member of the House Ways and Means Committee, released the following statement after hearing that Royal Caribbean will continue North America sailings in June:
"The cruise industry is an important player in the U.S. tourism sector and the Virgin Islands. The cruise industry in the U.S. had an economic impact of over $52.7 billion in total contributions in 2018 alone, marking an increase of over 10 percent since 2016. Nearly 13 million cruise passengers worldwide embarked from ports in the United States in 2018 — an increase of nearly 9 percent from 2016.
"There is no doubting the enormity of the cruise industry's contributions to the U.S. and global economies. The 2018 Economic Impact Analysis highlights the incredible impact the industry continues to have on American businesses and individuals as well as the growing popularity of cruising amongst passengers of all nationalities and backgrounds. The Virgin Islands has relied on tourism, and in particular the cruise ship industry, as a mainstay in supporting the economy of the Virgin Islands.
"While the announcement that Royal Caribbean will begin cruise operations again is welcome news, it is disappointing that they are presently unable to come to the Virgin Islands. The Centers for Disease Control (CDC) has blocked cruise ships that carry more than 250 people from sailing in U.S. waters since March of 2020 due to the coronavirus pandemic. The agency has not yet announced when cruise lines will be able to restart operations in U.S. waters. I have reached out and been in conversation with the Government Affairs offices of the cruise lines and we will continue to support the Governor in discussion with the CDC to make sure cruise ships can return to the ports of the Virgin Islands safely and as soon as possible.
"With increased embarkations come increased onshore spending. In 2018, cruise lines, their passengers and crews spent a record $23.96 billion in the United States — a 33 percent increase since 2010. Additionally, 2018 saw a new peak in the cruise industry's U.S. expenditures, generating 421,711 jobs across the United States and contributing more than $23.15 billion in wages and salaries, a nearly 13percent increase since 2016.
"Combined, these numbers reflect the growing consensus that cruising has evolved into a mainstream choice for travelers of all means and backgrounds as well as a leader in the tourism sector — especially here in the Virgin Islands. Along with working with stakeholders on the reopening of the Virgin Islands as a cruise ship port, I am eager to support the local government and businesses to ensure that our tourism product continues to be competitive with other destinations."