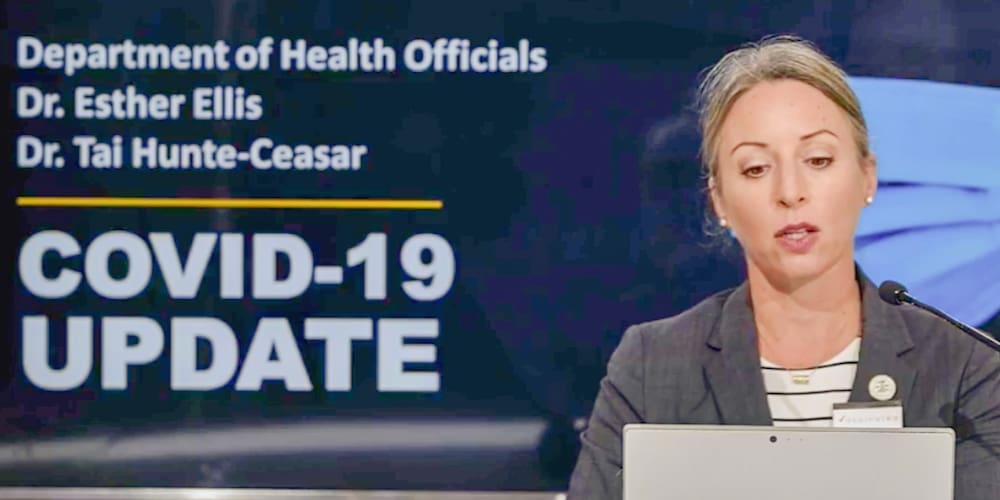 Dr. Esther Ellis, territorial epidemiologist for the territory, called the recent surge of cases of new COVID-19 cases alarming.
Ellis, speaking at a news conference Friday, said in the week from March 12 to March 19 St. Croix had 62 new confirmed cases and St. Thomas had 19. She said the percentage of residents testing positive went to 4 percent from 3.3 percent during the previous week.
Still, she said, she had good news – 6,400 residents have already been vaccinated at Community Vaccine Centers. Overall 33,671 residents have been vaccinated putting the territory on track to meet Gov. Albert Bryan's goal of having 50,000 residents vaccinated by the beginning of July, and more would be vaccinated Saturday.
The Virgin Islands Department of Health will offer COVID-19 vaccinations to residents on St. John from 8 a.m. to noon – beginning March 20 – every Saturday through the end of April at the DeCastro Clinic in Cruz Bay. Residents can register at covid19suvi.com/vaccine or call 340-777-8227.
Dr. Tai Hunte Ceasar, medical director at the Department of Health, said misinformation and lies about the vaccine have been spread. Speaking at the news conference, which was broadcast on Facebook, she said the vaccine had come about through a year of research and testing.
"A virus is a virus. A vaccine is a vaccine. A vaccine stops a virus," she said.
She said the territory might be the only place in the world where vaccinations already are open to anyone over the age of 16. She added that she is "just baffled" that getting residents to get the vaccinations is still a struggle. She said before coming to the news conference she went to see one of the two COVID patients who have had to be put on ventilators to keep breathing. She squeezed the patient's hand, she said, and thought that although it might be too late for the four people in territory hospitals to get the vaccine, it was not too late for most residents of the territory.
Richard Motta, communications director for the governor, said many in the territory government were concerned because, though progress against the virus had been made and some restrictions loosened, all caution should not be abandoned. He said large gatherings for parties and the upcoming Easter week are a concern.
The territory is not the only place where those concerns have been raised. CNN reported Friday that experts are cautioning against going completely back to pre-pandemic behavior. Vaccine hesitancy and virus variances are two potential obstacles to going "back to normal." The article also reported that 10 states have seen increases in the daily averages of new cases in recent days.
The Atlantic magazine reported on its website Friday, "After weeks of falling down, down, down, coronavirus cases are snaking back up in Michigan. The surge there—along with some troubling signs in New York and New Jersey—serves as a reminder that, although the long-term outlook is promising, this pandemic is not yet over."
Dr. Ellis said fully vaccinated people can visit with other fully vaccinated people indoors without wearing masks or staying six feet apart. They can also visit with unvaccinated people from one other household indoors without wearing masks or staying six feet apart if everyone in the other household is at low risk for the disease.
That does not mean, she added, that residents can throw precautions to the wind.
"Everyone – even those who are vaccinated – should continue to adhere to the mitigation strategies when in public settings," she said. Regardless, if you are vaccinated, the CDC and the Virgin Islands continue to recommend avoiding medium or large-sized gatherings, and if you choose to participate in that type of gathering that people should continue to adhere to prevention measures to reduce spread, including a mask, maintaining physical distance from others, and washing hands frequently.
Monifa Marrero Brathwaite, who was listening in on the press conference, commented, "Community, please listen and take heed. GET VACCINATED! The life you save might be your own or someone close to you that you love!"
Editor's note: This story has been edited after posting to clarify information about vaccine statistics. The Source regrets the error.