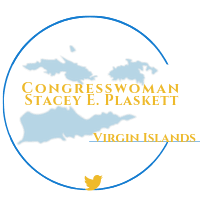 Congresswoman Stacey Plaskett released the following statement regarding millions of dollars in federal grants from the U.S. Department of Homeland Security's Federal Emergency Management Agency (FEMA) for numerous local government agencies including the V.I. Water and Power Authority (WAPA).
"I am very pleased to announce that FEMA is releasing the following funding to various local government agencies, including WAPA:
WAPA – $9 million for management costs to include both direct and indirect administrative expenses
V.I. Department of Public Works (DPW): $1.7 million for permanent repairs on St. John needed as a direct result of Hurricane Maria
V.I. Department of Health (DOH): $1 million for Emergency Protective Measures as a result of Hurricane Maria.
"These funds have been allocated to the government agencies mentioned above specifically because of the damage inflicted on our territory from Hurricane Maria. As we all know, both Irma and Maria caused significant damage to the Virgin Islands and severely exacerbated the already deteriorating conditions within our infrastructure. I am hopeful that these grants will be utilized to help in the rebuilding and hardening of the infrastructure in our territory."