Although there were more people watching than actually marching in the annual Coral Bay Labor Day Parade, the vibrant spirit of the community on the island's quieter eastern side was on full display.
St. John Festival Queen Jenicia Dalmida led the small gathering, followed by long-time belle of the Labor Day ball Jane Johannes.
[adrotate group="6"]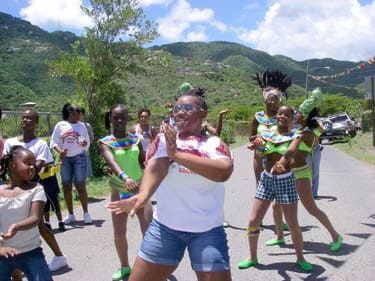 Although Miss Johannes — mother of St. John Administrator Leona Smith — rode in a St. John Rescue vehicle this year instead of her usual sprightly gait at the head of the parade, she was still decked out in traditional madras garb.
The ever-popular Middle Age Majorettes, decked out in all manner of pink feathers and beads, kept the energy high dancing to "I Will Survive" by Gloria Gainer.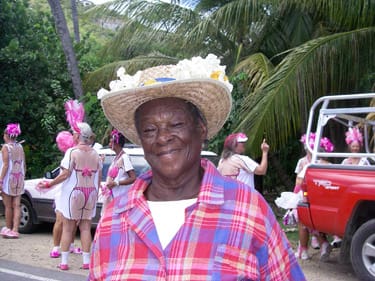 Diamonds and Gems Sparkle
It wasn't all fun and laughs for the Majorettes this year as the troupe, which includes several breast cancer survivors, dedicated their performance to finding a cure for the disease.
Dressed to the nines in bright gold, purple and green ensembles, the Diamonds and Gems troupe brought up the rear of the short parade. Young ladies strutted their stuff and got the crowd roaring.
Despite only consisting of four participants, Coral Bay residents enjoyed their traditional day of festivities.
"I came down because I wanted to support Coral Bay's identity by having a wonderful parade on Labor Day," said former Senator at Large Craig Barshinger. "Although the parade was small, it proves that bigger is not always better."
After the short walk down the block from Domino Gas Station to the Coral Bay Fire Station, residents gathered in the ball field to enjoy local food, drinks and games.
Keeping with Tradition
Life-long Coral Bay resident Barbara Dalmida-Thompson made sure to bring her young daughter to the event she has cherished over the years.
"I had to bring my daughter down to have some scrumptious local food and help support our Labor Day event," said Dalmida-Thompson.
Volunteers with the John's Folly Learning Institute prepared traditional West Indian delicacies like crab and rice with all the fixings and whelks and rice. The Labor Day festivities are something JFLI executive director Alvis Christian wouldn't miss for the world.
"This is a tradition we've been following for a long, long time," said Christian. "It's a great setting and a chance to see great people and we wanted to be a part of this."
Among the local treats were Aldria Harley Wade's superb pates, including beef, salt fish and shell fish.
"I have my little table here," said Wade. "I came out to participate because every year it's different from the fourth of July parade. It's more relaxed out here — everyone just does their own thing."
Back Home with Friends
The parade is also a great excuse for old friends to reunite, Wade explained.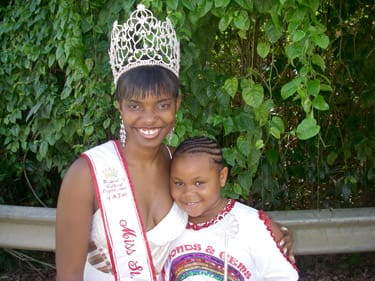 "Coral Bay is my home," she said. "I grew up all around here. So I'm back home with my friends I grew up with."
Wade also sent greetings on behalf of Delegate to Congress Donna Christensen, for whom she is an assistant.
"The delegate was really trying to be here, but she's on so many committees and has so many responsibilities, she just couldn't make it," said Wade. "But, she does send her best to everyone."
After filling up on all the food available, children enjoyed games of potato sack races and softball. The Love City Pan Dragons and Koko and the Sunshine Band kept the crowd entertained throughout the hot afternoon.
The party went on peacefully in Coral Bay — with beefed up cars racing each other and lively music helping create a road march feel — until gunshots rang out just before midnight (see related story).
Despite the late night shooting, residents predicted next year's parade would be even larger.
"I came out this year to show support for the community and basically to have fun," said Heidi Arnold, who set up a stationary troupe of sorts along the parade route. "We have a stationary float here, but next year we'll make it mobile and I bet there will be a lot more people out."