Hundreds of residents and visitors came out to Miss Vie's Campground on April 1 to dance to the soulful rhythms of Inner Visions, cheer for crab races and support the Guy H. Benjamin School at the Coral Bay Yacht Club (CBYC) annual flotilla and beach party.
The CBYC raised more than $15,000 for the elementary school in Coral Bay, and the money will be used to finish the playground renovations, according to CBYC Commodore Dave Conro.
"We reached our goal," he said. "We needed $15,000 to finish the playground and we got it."
Enough Funds to Finish Playground
Last year's flotilla fund raiser raked in about $8,000 which went towards starting the playground project. This year's funds will pay for additional ground cover and more equipment to complete the project.
[adrotate group="6"]
"We are really looking forward to finishing this project for the kids," said Conro. "We all did a fabulous job of getting the word out that Guy Benjamin School kids are just as important as everyone else. They deserve a nice playground."
Additional publicity and the launching of the first Annual Coral Bay Spring Regatta helped to increase the amount of funds raised this year, according to Conro.
"With everyone's support, we did a lot more publicity this year," he said. "Getting more involved with the community and making people aware of this important fund raiser brought a lot of support. The regatta was also very successful."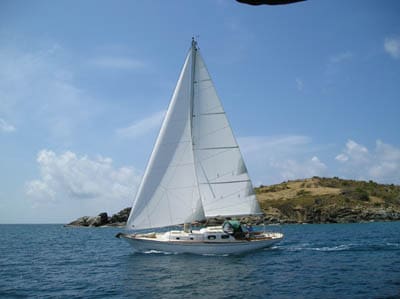 Regatta Draws More People
"We had around 13 boats racing," Conro continued. "Even though there was light wind – which was great for the small boats, but frustrating for the larger boats – I heard a lot of positive comments from people in the race."
The regatta might be expanded next year, and Conro hopes its popularity grows.
"We might do a longer course next year or add additional races," he said. "I would like to see the U.S.V.I. have a spring regatta, and not just the B.V.I."
The event supports the public school children, which is something that the entire community can rally around, Conro added.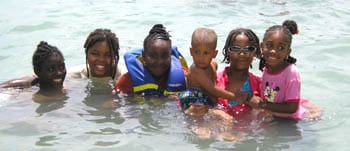 All for Kids
"It's all for the kids and everyone can support that," he said. "Plus we were doing something that everyone on St. John loves to do – party."
Although Yacht Club officials didn't have an exact head count, Conro said that more than 400 lunches were served.
The Yacht Club spends months preparing for the flotilla and beach party, but all the work is worth it, added Conro.
"This is time consuming, but also an expensive event to put on," he said. "We supply food to hundreds of people, purchase a first class prize for the raffle, cover the cost of the venue and pay for the band. It's a lot of work, but the kids deserve this."
Children Ride on Tall Ship
A ride on Elliot Hooper's tall ship Silver Cloud was one highlight of the day for the school children.
"A big thank you goes out to Elliot," said Conro. "He had about 35 kids, parents and chaperones on the boat. Everyone was great and the kids—who were all well behaved—had a wonderful time."
Along with Inner Visions, Ted "Crab Mon" Scheer also helped entertain the large crowd.
"Inner Visions is always a big draw," said Conro. "Guy Benjamin was there and donated proceeds from the sale of his book.
Crab Mon not only entertained the crowd but added a substantial amount to our funds."
The whole day is a great example of Love City coming together for a good cause, Conro explained.
Community Comes Together
"There are so many people to thank," he said. "Paradise Lumber and Cimmaron Builders donated lumber, we had numerous volunteers, and a number of anonymous donors."
The much sought-after dinghy raffle prize went to Victoria Rodriguez, but for everyone who had losing raffle tickets, "there's always next year," said Conro.
The Guy Benjamin School playground project will resume this summer when the children are on summer vacation. Anyone interested in volunteering on the project should contact the Coral Bay Community Council at 776-2099.