The waves from hurricanes Irma and Maria and a destructive winter storm at the end of February have taken a toll on coral reefs around St. John, according to marine biologists who work within the Virgin Islands National Park.
But seven months after the initial hurricane destruction, the scientists had guarded good news to deliver to an audience who packed the park's Visitor Center for a special presentation in early April.
The damage is moderate, and it could have been a whole lot worse.
Jeff Miller, a fisheries biologist who's worked within the VINP for 20 years, said that low-profile reefs – reefs with encrusting corals – have generally fared better than high-profile reefs where corals tend to extend upwards in the water column.
[adrotate group="6"]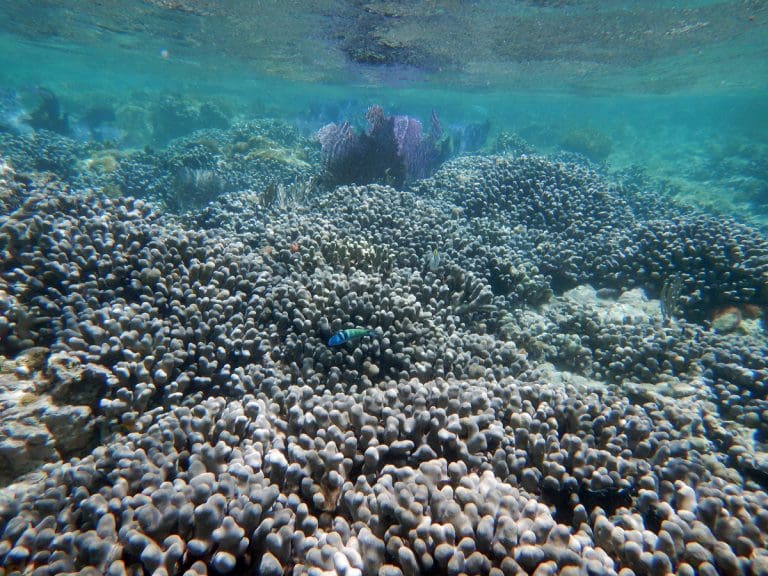 "It's hard to see your favorite things lying down," said Miller as he showed slides of the same pillar coral colony, one of the coral flourishing before the hurricane, and the other taken after the storms with the coral knocked on its side.
But some corals that were knocked down are now showing signs of reviving.
"Many are still attached to the bottom," Miller said. "On some, where there was damage we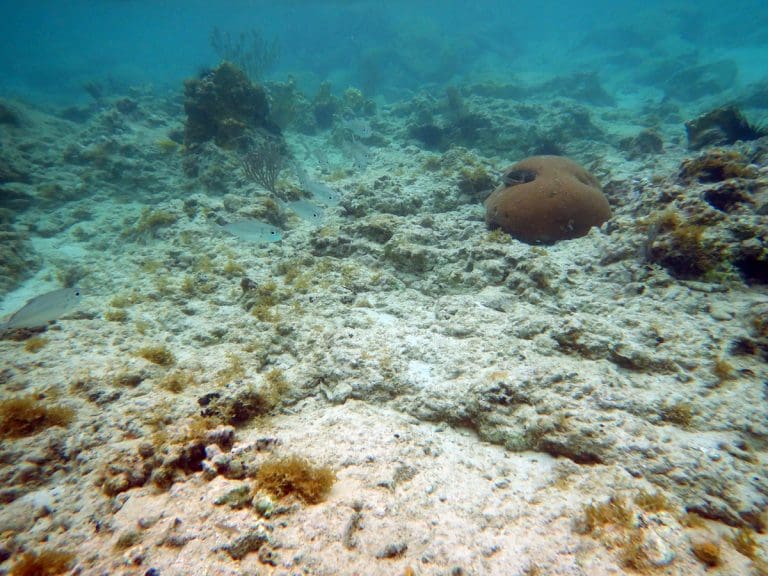 can see signs of regrowth. That means the conditions are still right for coral to regrow."
Coral reefs facing north and west seem to have sustained the worst damage from Hurricane Irma. For example, the corals along the rocks on the eastern edge of Hawksnest Bay were scoured by storm surge during Hurricane Irma, but the fringing elkhorn coral at the popular beach at the opposite side of the bay fared relatively well.
"Given the direct impact and magnitude of these two storms, I was afraid I'd find all this coral in the parking lot, so I was pleased that there is still elkhorn coral attached at the bottom here," Miller said.
Many soft coral in the shallow water fringing Waterlemon Cay wave back and forth in the current as if nothing happened, while the north-facing side of Leinster Bay, only a quarter mile away, caught the brunt of the storms' force; soft and hard corals there are scattered and toppled.
But deeper coral reefs at Leinster Bay (around Waterlemon Cay and near the three-buoys area) "look mostly like they did before the storm, and we don't know why. Corals at greater depths, 20-30 feet, tend to show fewer signs of damage," Miller added.
At one study site, Yawzi Point on the south side of St. John, biologists recorded a 31 percent decline in coral cover. At another site around St. John, preliminary studies suggest a 20 percent decline in sea fans, whips and plumes. Data from four long-term study sites (Yawzi Point, Tektite, Haulover, and Mennebeck) indicate an average 60 percent decline in sponges.
In most places around the island, "The water quality is not what it used to be, but it's definitely improving," said Miller. "Somehow we have a lot of nutrients in the water. We're not sure of their source." The nutrients have led to the abundant growth of fleshy algae which is overgrowing both hard and soft corals, "And this is not good," said Miller.
Naturally, the decline of coral reefs is associated with a reduction of the number of fish. Miller said after Hurricane Marilyn struck in 1995, each of the five families of fish most often found on our reefs declined.
"When your home is gone, you tend to go somewhere else," he said, explaining the absence of fish. But since then, the populations have rebounded.
While it's uncertain how long it will take fish populations to recover, snorkelers who spend time in the waters around St. John have observed a recent increase in the number of parrotfish, sergeant majors, damsel fish, and snappers, as well as angelfish and puffers.
Because much of the waters surrounding St. John is protected by its status as a national park or monument, "We're in better shape than other places, and we have a better chance of seeing recovery," said Caroline Rogers, a marine biologist with the U.S. Geological Survey (USGS) who has worked in the park for decades.
"These coral reefs have adapted to stresses for thousands of years; the question is, how much can they take?" she asked.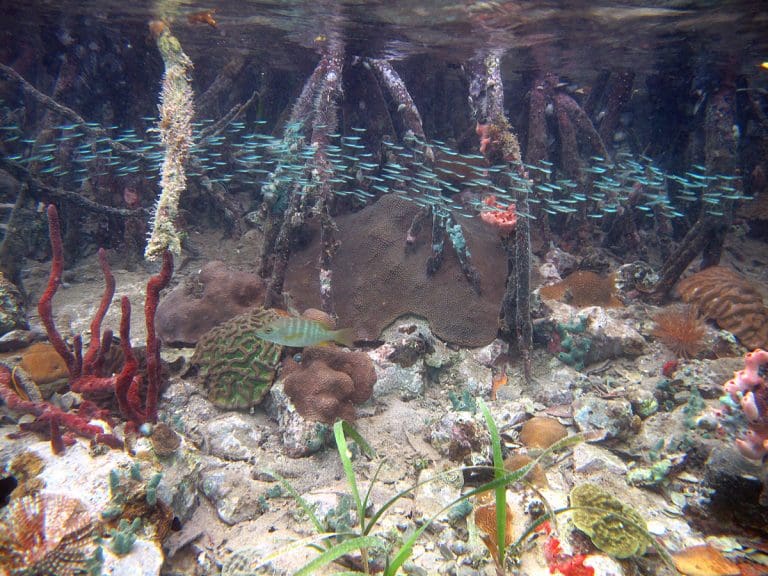 Rogers has a particular fondness for the mangroves at Hurricane Hole because they support "a remarkable range of biodiversity." Shade provided by the mangrove trees, and the remote location, apparently provided ideal conditions for corals to grow.
"I don't know another place in the Caribbean like this," Rogers said.
One bay in Hurricane Hole became a study site recently mapped by a team of students and biologists from Santa Fe College in Florida. But the site has been catastrophically impacted by Hurricane Irma. Dozens of boats which sought shelter there were grounded or sunk, crushing the mangroves and dispersing unknown amounts of toxic fluids. The team from Santa Fe College is planning to return in the summer to re-survey the same area, thanks to support from the NPS and USGS.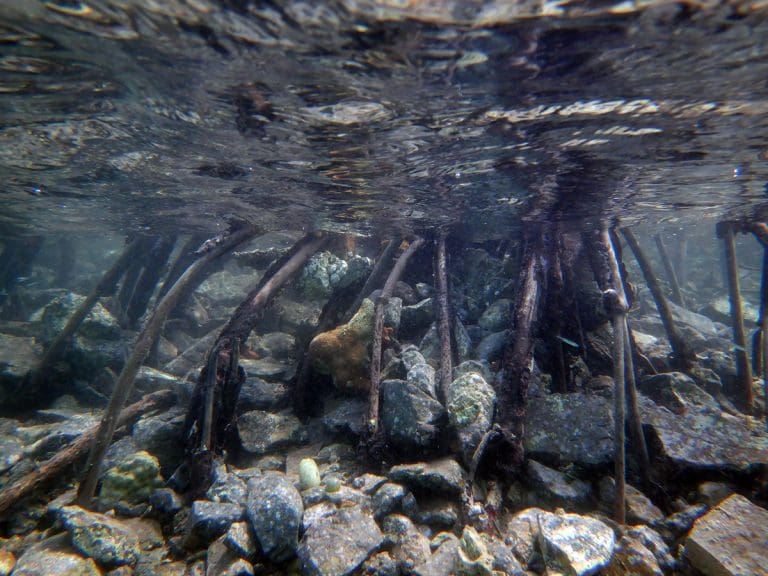 Before the storm, the mangrove-lined bays of Hurricane Hole provided a particularly colorful place to view corals and sponges of turquoise, yellow, and pink that attached to mangrove prop roots. "It looks like a black and white movie now," Rogers said. "Some mangroves will not recover."
Rogers is looking forward to the arrival of a colleague from the USGS, an expert on mangroves, who can help assess the damage and monitor recovery.
At the start of their presentation, Miller posed the question, "So what if the reefs get torn apart?"
During their talk, they provided several answers. First, there's the loss of natural beauty that draws locals and visitors to Virgin Islands' waters. Then, there's the loss of diversity as fish and other marine creatures are forced to seek shelter elsewhere. There's also the loss of shorelines; coral reefs provide structure which mitigates the force of waves that crash against the shore. Shoreline erosion is a growing problem as coral reefs decline.
Climate change and rising sea temperatures lead to coral bleaching. The Great Barrier Reef in Australia has lost an estimated 30 percent of its coral in the past year, but it's up to us all to do what we can to protect our reefs, Miller said.
"We can't give up," said Miller. "Every piece of coral is more important than ever before. Don't ever step on coral. If you're talking to someone when you're in the water, float on your back. Don't drop anchors on coral. Choose sunscreens without harmful chemical agents."
Miller also told the audience to "Know where the fish you eat comes from. Healthy populations of reef fish help make healthy reefs."
Shared content for St. John Tradewinds and Virgin Islands Source.