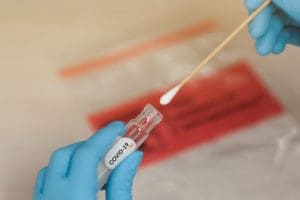 COVID-19 samples forwarded to the Centers for Disease Control and Prevention for routine COVID-19 sequencing have identified the presence of the COVID-19 Omicron BA.4 subvariant in the territory, according to the Health Department.
Preliminary reports also indicate the presence of the BA.5 subvariant, which Health Department officials say they will confirm when conclusive data is available.
The department's release says Omicron subvariants BA.4 and BA.5 are now the dominant strains in the United States, making up over 52 percent of infections. There may breakthrough infections meaning that if you are vaccinated you may still become infected, but vaccinations continue to be the best defense against severe illness or death.
The Health Department continues to encourage the community to remain cautious. "Variants are expected to circulate while COVID remains endemic," said Health Commissioner Justa Encarnacion, "I ask that you continue to practice healthy behaviors and remain cautious in public spaces to prevent exposure and transmission. Vaccines are the most powerful preventative tool that is available to us. I urge the public to remain vigilant, isolate and test when feeling ill, and stay up to date with vaccinations by getting boosters when eligible."
If you suspect you have COVID-19, please call the COVID-19 Hotline at (340) 712-6299 or (340) 776-1519 for information on scheduling a test. The Hotline is open Monday through Friday between 8 a.m. and 5 p.m. Testing is also available on St. John every Wednesday from 12 p.m. to 3 p.m. in the Port Authority Gravel Lot.
To report a suspected case of COVID-19, call 340-712-6299 or 340-776-1519. If you have a medical emergency, call 911. For more information, visit covid19usvi.com. For COVID 19 updates, text COVID19USVI to 888777.