On Dec. 15, a small group of educators and students participated in a two-hour professional development workshop entitled "Creating Safe Spaces to Support LGBTQ+ Students in the U.S. Virgin Islands Schools," facilitated by Dr. Sheila Gregory, a professor at Clark Atlanta University.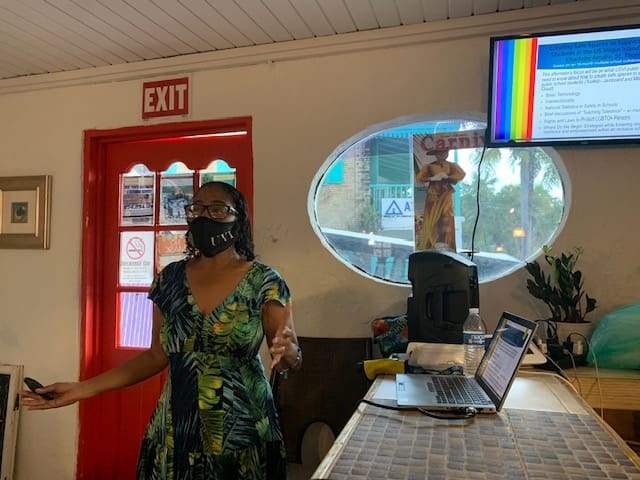 The workshop, held at the V.I. Appetite restaurant on St. Thomas, was made possible by a Koch Foundation Grant sponsored by the Center for Educational Opportunity, Albany State University. Gregory is also an adjunct professor in the University of the Virgin Islands' Creativity Leadership and Innovation for Change Ph.D. program. Her students from that program attended the workshop on Zoom.
Michealrose Ravalier, an educator at the Eudora Kean High School, said that attending was an opportunity to see the need for creating safe spaces for all students through a high-powered lens, especially those whose choices may differ from what is considered the norm. Laying aside biases to see, hear, teach, and learn from those we interact with within our learning communities is not just the truly human thing to do but the right thing, she said.
"What we do not know cannot hurt us" is an old cliché that is often heard. The workshop demonstrated this to not be true in all circumstances. Not knowing the provisions of the law as it pertains to the LGBTQ+ community is one of those instances and can place educators in violation of the law.
"Educators must know that laws protecting LGBTQ+ youth, or they will be breaking them without knowing and will be liable if sued. Furthermore, even if they do not know, they should know, and therefore, they would still be liable. Any legal protections they think they have will be instantly nullified," said Gregory.
"As an educator, it is my privilege and duty to create spaces in which all students feel safe to learn and think critically. When a student steps into my classroom, I must be willing to constantly work on myself to weed out deep-seated biases that I might not even be aware of," said Ravalier. She wants each student to see their potential, "to be the next great creative problem solver, the next astronaut, the next scientist, or the Virgin Islands ambassador to promote world peace and human justice."
This should be the focus of every teacher, said Ravalier. "Promoting equity is a skill that we must not just hone for ourselves but transmit to every student. Only then will the barriers to respecting others begin to come down. Let us create spaces in our homes, schools, and community where we will all feel safe to share and become the best version of ourselves. It is time to put on the 3D Microscope Glasses that magnifies character at the cellular level," she said.
Highlights from the workshop included presentations by two college students. Courtney Gregory Jones sang a song she named "Harmony," which spoke to the theme of not knowing what it will take for people to accept others who have differences.
"The most important things for me as an ally is to show effort, be open to correction, and do your own research," said Majestik Estrada-Petersen, founder of UVI PRISM, a club created to support and advocate for the LGBTQ+ students that attend UVI and in the community.
PRISM is a small, newly formed club at the University of the Virgin Islands centered around providing a safe space for the LGBTQ+ community and allies. PRISM strives to promote respect as well as discuss what positive and negative media representation looks like. Future events include viewing educational presentations and films and engaging in discussions related to the LGBTQ+ Community.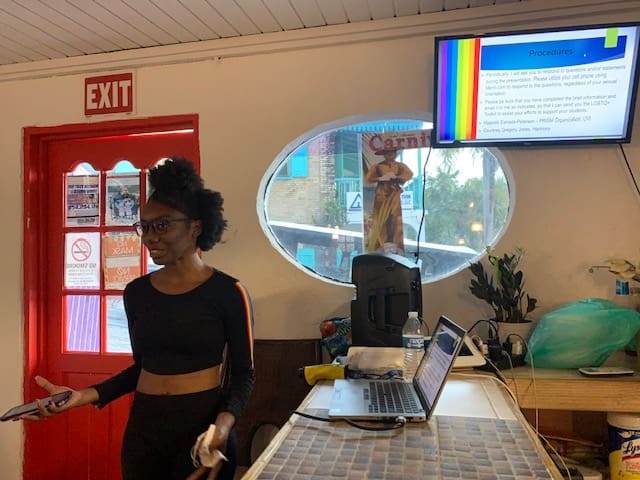 "The club is not about acceptance. Sometimes people feel like they need to understand you to respect you, and I feel like you don't need to understand someone to respect them. You just need to treat everyone fairly and equally," she said.
Paulene Lee, the owner of the V.I. Appetite restaurant located at the head of Pave Street, agreed to open the space for UVI PRISM Club students to have a comfortable location to meet. As more open conversations like these occur, it is the hope that other private, government, and religious establishments will openly welcome persons who identify as LGBTQ+ and their allies who can be equally present without fear of prejudice or discrimination.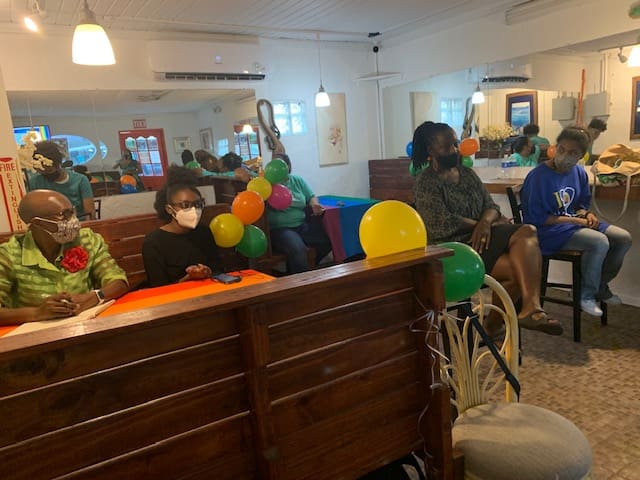 Participants expressed their appreciation of the topic being discussed openly and hoped that the workshop was the beginning of other much-needed conversations.
For more information, Sheila Gregory can be reached at drsgregory@gmail.com or email prism.uvi@gmail.com.