Despite an enormous jump in the number of COVID cases in the Virgin Islands, the governor did not shut down beaches, but he did impose new restrictions on restaurants, bars, travelers, and Crucian Carnival festivities.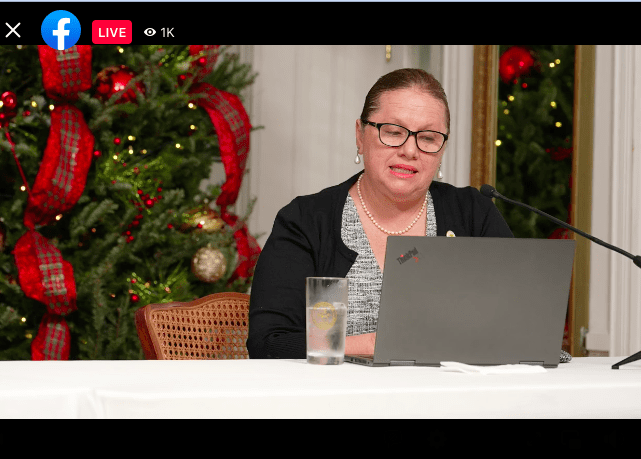 A decision on opening schools on Jan. 10, as previously announced, will be made during the week by the Health and Education Departments, according to Gov. Albert Bryan, Jr.
After a conference call with President Joe Biden, Dr. Anthony Fauci, Biden's chief medical advisor, and the other U.S. governors earlier Monday, Bryan pleaded again with residents to follow coronavirus precautions during the weekly Government House briefing Monday.
"With everything we know now, this is a highly contagious variant, the Omicron variant, and it is spreading worldwide. The evidence is clear it is here, among us in the territory, whether it has been verified or not," Bryan said.
In just a week, the active cases have spiked from 72 to 544, with a positivity rate of six percent compared to 1.6 percent on Dec. 21. Bryan said the recovery rate recently has been faster, and the hospitalization rate is half what it was last year.
"If you think you have a cold, you probably have COVID. Stay home," he said. "If you feel you have been exposed, just stay home. If you feel sick, that's a different story – get tested."
Bryan announced that government workers, who can work remotely, will work from home until Jan. 10 to stop the spread.
Also effective immediately, restaurants and bars will give last call at 11 p.m. and close by midnight, mainly because "our police are exhausted," he said.
For New Year's Eve, restaurants and bars will be allowed to give a last call at 1 a.m. and close the establishment at 2 a.m.
"If we have to close you down, we'll close you down for 30 days, " he warned.
Bryan crushed Crucians by announcing the cancellation of the few Crucian Carnival events on Jan. 4, 5, 6 that had been approved earlier.
"We cannot have people walking around at the fair, interacting," he said.
The governor said this surge is expected to last another month, with numbers increasing, and perhaps some festivities will be re-scheduled in February. At the end of the briefing, he promised: "some kinda fete" for St. Croix.
New restrictions for travelers begin on Jan. 3 and will continue until Feb. 3. However, everyone will be required to show a negative COVID test within 72 hours whether they are vaccinated or not, Bryan said.
Over the weekend, two cruise ships were turned away from the territory – a memorandum of understanding allows the VI to close the port with an infection rate over one percent. Two ships had 1.2 and 1.9 infection rates and were refused dockage.
Adding statistics to warnings, Commissioner Encarnacion broke down the COVID numbers as of Dec. 26. St. Croix has 240 infections, St. Thomas has 296, and there are eight cases on St. John. The Juan F. Luis Hospital has one COVID patient, and there are three admissions in the Schneider Regional Medical Center. Due to the spiraling numbers territory-wide, both facilities have restricted all in-person visitors.
There have been 88 deaths throughout the territory, but none since Omicron has been suspected, according to Encarnacion. The stateside testing site at Yale University has been closed for two weeks, so Omicron hasn't been verified. The "signs and symptoms show we are dealing with Omicron," Encarnacion said, adding that more than 80 test results from CDC are expected any day.
Monoclonal antibodies are being given to those who are infected, and the new oral medication, Pfizer's Paxlovid, has been ordered, she added.
Free testing continues on St. Croix by calling 340-712-6299 and 340-776-1518 for St. Thomas and St. John. Tests can be scheduled online at: covid19usvi.com/testing.
Vaccinations are also free and can be scheduled at 340-77-8227 or covid19usvi.com/vaccines.
"It is more crucial than ever to practice social distancing," Encarnacion said, adding to wear a mask, use hand sanitizer, get a vaccine and stay at home.