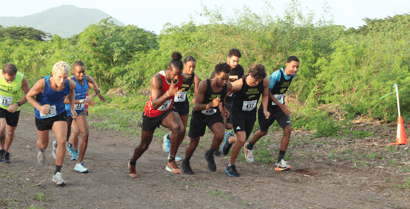 The Virgin Islands Cross-Country Season on St. Croix started on Wednesday, Oct. 27, and was held on a newly created course with the help of VI Paving and the Department of Agriculture, which assisted the Virgin Islands Track and Field Federation.
The St. Croix athletes are overjoyed to compete on this new course. Course records were set in the 2-Mile Boys' race by Kaeden Gleason (12:01.31) and the 2-Mile Girls' race by Kirra Lambert (13:44.94).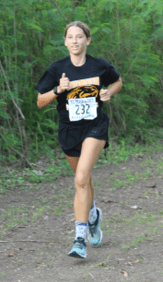 In the 5K race, the male overall winner was Malique Smith (19:32.08). Smith is a Virgin Islands National Team member who has represented the V.I. in the World Championships in Doha, Qatar and various other competitions.  The female in 1st place was Lisha Hamilton (20:58.22). Hamilton is the current V.I. national record holder in the marathon with a time of 2 hours 45 minutes 59 seconds, which she set in 2004 in San Diego, Calif.
Makari Matthew finished 1st place in the Male High School 5K in a time of 19:51.15, and Alexandra Bhola finished 1st in the Female High School 5K in a time of 36:33.56.
The full results are listed below.
The start of the 5K race can be viewed via this link: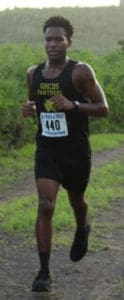 Michelle Smith, a high school sophomore at Montverde Academy, competed with her Cross-Country Team in the 3.1 mile in the District Championship (FHSAA 2A District 3) in Hernando Beach, Fla., on Oct. 30. Michelle placed 3rd overall in a time of 19:52 and helped her team to a 2nd place finish in their district team-standing.
Michelle and her team qualified for the regional championship, which will be held on Friday, Nov. 5, in Melbourne, Fla.
Mikaela Smith, a senior at Austin Peay State University, ran in the OVC Conference Championship in Nashville, Tenn., on Oct. 30, in the 3.1 Mile. Mikaela finished the distance in a time of 20:34.
The OVC Conference Championship was the last race of a successful season for Mikaela Smith.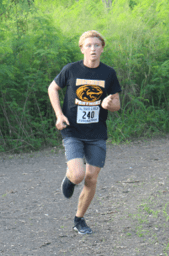 Ursinus College junior Rachel Conhoff competed in the Centennial Conference Championship on Oct. 30 in Baltimore, Md. She ran the 6K race in 23:06, finishing 18th place overall and 1st for her team. Conhoff helped her team to a 5th place team-standing in the Centennial Conference.
The Centennial Conference concluded a great season for Rachel Conhoff.
For more information, contact Keith Smith Sr., VITFF president, at keithsmithsr@gmail.com or 277-1123.
St. Croix Interscholastic 2021 Cross Country – Race 1 Results 10/27/2021
Female 2 Mile
(Place) Name — Time
KIRRA LAMBERT — 13:44.94
CANDACE FELIX — 16:59.20
AKYRA JOSEPH — 18:39.65
KENNEDY JAMES: — 23:04.49
Male 2 Mile
(Place) Name — Time
KAEDEN GLEASON — 12:01.31
MASON LAMBERT — 12:27.26
NATHAN LANGLEY — 12:48.69
COLE SOMMER — 14:20.20
QUINN SAYRE — 14:22.50
CROIX BENTON-HUGGINS — 14:25.32
NICO FORNO D'ADAMO — 15:00.05
LUIS TORRES — 15:24.43
MALIEK SOUTHWELL — 15:27.59
RILEY POMYKAL — 16:50.75
MAKEO FREDERICK — 21:40.28
Y'ZELL BENGOA — 26:06.40
JAIDEN MITCHEL — 34:18.00
Female HS 5K
 (Place) Name — Time
ALEXANDRA BHOLA — 36:33.59
Male HS 5K
 (Place) Name — Time
MAKARI MATTHEW — 19:51.15
JALEN FLEMING — 33:00.89
HAKEEM HAMED — 49:31.38
Male Open 5K
(Place) Name — Time
MALIQUE SMITH — 19:32.08
ANTHONY DELNEGRO — 20:39.56
Female Masters 5K
(Place) Name — Time
LISHA HAMILTON — 20:58.22
HEIDI SNOW — 26:29.10
Male Masters 5K
(Place) Name — Time
ALEJANDRO ASHE — 23:52.49