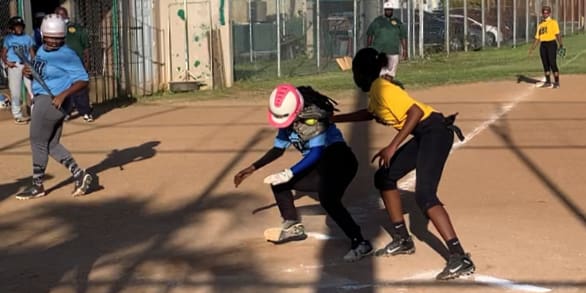 Four games took center stage over the weekend in RBI Junior Softball League play.* Two games took place on St. Thomas and two on St. Croix.
Ain't No Vibes 12 – All The Way 7:
Ain't No Vibes Jamia Cochrane was a star in the circle Friday evening as she shined bright in the team's 12-7 win over All The Way at the Joseph Aubain Ballpark.
Nia Roper started the RBI Junior Softball League game pitching for Ain't No Vibes. Roper allowed the first four batters of the game to reach first base via walk or hit by pitch.
After two runs had scored and a runner was on base Cochrane came into the game and restored order. The right-hander struck out the side without surrendering any more runs. In the bottom of the first, All The Way starting pitcher Jahniya Williams had control issues of her own, walking four batters and hitting the leadoff batter resulting in Ain't No Vibes scoring five runs in that frame.
Cochrane resumed her dominance on the rubber, striking out Mekaela Richardson to start the second. However, two errors and back-to-back hits from Williams and Samaya Cruz powered All The Way to a 6-5 lead with one and a half innings complete. Ain't No Vibe used a hit by Alahya Jackson and three errors to fuel their four-run fifth inning, securing the victory.
Cochrane got the win for Ain't No Vibes in her nine-strikeout performance. Richardson took the loss for All The Way.
Good Vibes 12 – Going Places 6:
Scoring six runs in the top of the first inning Friday was not enough to keep Going Places on top of its RBI Junior Softball League game, as Good Vibes won the game, 12-6, at the DC Canegata Ballpark.
Nia Francis did not have her best stuff when she entered the circle as the starting pitcher for Good Vibes. She recorded only one out while allowing nine walks and six runs. Reliever Aleah Mann came in and held the Going Places offense hitless for the remainder of the game. Going Places starting pitcher Tyssane Lake also endured some hard times, hitting two batters and issuing a base on balls before surrendering consecutive singles by Mann and Mikaila Rogers.
Good Vibes pushed across five runs in their half of the first and second innings.
Good Vibes Mann finished the game with a game-high eight strikeouts.
All The Way 12 – Aint No Vibes 11:
These two teams had fans on the edge of their seats for the entire RBI Junior Softball League game Saturday afternoon at Joseph Aubain Ballpark, as All The Way just slid by Ain't No Vibes 12-11.
The teams combined for 11 hits, with Ain't No Vibes Jamia Cochrane leading the way with three. Cochrane teammates JKoia Percival stroked two hits while Yemeli Rodriguez and Leah George collected one each. All The Way Rashell Machuca, Sapphire Cruz, Joemyra Clendinen and Joeniah Clendinen all joined in the hit parade with one each.
Ain't No Vibes was down by one run going into the top of the fifth inning. Shaquilla Lewis was on first base when Cochrane stepped to the plate and drove a double into centerfield, Lewis stopped at third base on the play. Jackson got Lewis home on a sacrifice bunt that moved Cochrane to third. Rodriquez and George came up with back-to-back hits, giving Ain't No Vibes a short-lived 10-8 lead going into the bottom of the frame. In the bottom of the fifth, Machuca came up to bat with one run already in and two teammates on the base pads, when she laced a triple to right field. Machuca came in to score on a throwing error.
Ain't No Vibes mounted a serious two-out charge in the top of the sixth inning getting the tying run to third base and the go-ahead run just 60 feet behind on second base. Ain't No Vibes Rodriquez stepped confidently into the batter's box. But, All The Ways Joeniah Clendenin got her to fly out harmlessly to second base ending this exciting game.
Going Places 11 – Good Vibes 9:
Going Places used a 10-run first inning and held on for dear life in its RBI Junior Softball League 11-9 win over Good Vibes Saturday at DC Canegata Ballpark.
Going Places starting pitcher Jayla Brown got off to a rocky start, walking the first five batters she faced. But she settled down to register two strikeouts to end the inning, only giving up four runs. Going Places was doing just that on the basepaths as they walked and hit their way to scoring 10 runs in the bottom of the first. Rashani Sackey and Elisha Ramirez both registered hits in that frame. Brown and Dirajah O'Reilly kept Good Vibes at bay for the duration of the game, allowing only hits by Mikaila Rodgers and Nia Francis.
Tyssane Lake also had a hit for Going Places.
*RBI stands for Reviving Baseball in Inner City. It is an outreach program created by Major League Baseball, sponsored in the territory by the Department of Sports, Parks and Recreation to create a love for the game of baseball and use that to foster the value of teamwork, working hard to achieve their goals, academic excellence and community service.