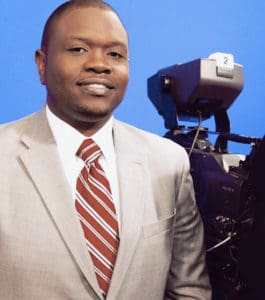 While showcasing the musical heritage of the territory during a two-day festival planned for Nov. 5 and 6 at Antilles School's Prior-Jollek Hall, the Grammy award-winning 21st Century Band will also celebrate the life and work of Netfa Romain, who began documenting the band – and its members – nearly a decade ago as part of his effort to connect the world to the achievements of Virgin Islanders making a difference abroad.
Romain, who died in August, had been working with 21st Century Band founder Dion Parson to expand opportunities for local youth in film and music. The concert was meant to launch an official partnership, which Parson's wife and co-founder of the United Jazz Foundation Nicole Parson said is now is more important than ever.
"Netfa and Dion connected in 2013 when Netfa eventually began working for himself," Nicole Parson said, referencing the evolution of Romain's production company, JNR Media Solutions. "We were so impressed when Netfa explained how strongly he felt that the world needed to know more about what Dion was doing, and so, he asked if he could follow us around, putting Dion out there on the news and in the media as much as possible."
What started as a professional relationship grew into a powerful friendship, despite what Nicole Parson said was a 10-year age gap between the two creative minds.
"What Netfa did for media and film, that's what Dion does for music education, so they found each other in this space right away," she added. "Because of Netfa, it was really amazing for us to see the younger generation begin to follow what Dion was doing and change their perception of him and jazz."
Documenting the band also meant traveling with them and Romain was often seen documenting live performances at Lincoln Center and other venues across New York. In 2015, Romain won one of the first of several Telly Awards for his production of the band's live performance at Dizzy's Club Coca Cola.
"And that's also how the USVI Ambassadors came along," Nicole Parson said, referencing Romain's regionally syndicated television show, which was in the works for a fourth season. "Working with the band, members like Rashawn Ross inspired the idea of looking at more people from the Virgin Islands who are doing great things around the world."
In a statement announcing the upcoming music showcase, Ross wrote, "Netfa connected Virgin Islanders in every field, all over the world with each other. And for that, we are grateful. He was able to shine a light on our little islands in the Caribbean and show future generations of V.I. children that anything is possible. These dates in November are dedicated to honor his passion, to celebrate his life and work, and show how much our community reveres him for his tireless work in putting Virgin Islanders on the map in a big way."
Band members are Dion Parson on drums, David Sanchez on sax, Melvin Jones on trumpet, Reuben Rogers on bass, Victor Provost on steel pan, Carlton Holmes on keyboard and Alioune Faye on sabar and percussion.
Together, they will feature a mix of traditional V.I. music, such as quelbe, and Caribbean infusions, from reggae and calypso to ska, zouk and funk, with New Orleans and African overtones. With the theme "Music, the Force that Unites," the concert is not only meant to honor local music but improve cultural understanding, according to organizers. The event is put on in partnership with the V.I. Center for Arts and Technology and the Department of Tourism.
The schedule for the event is as follows:
Friday, Nov. 5
6 p.m. – Courtyard Open – Yard Vibes, Steel Ensemble
7 p.m. – Presentation & Celebration of the Life and Work of Netfa "Tafa" Romain
8 p.m. – Musical Presentation for Netfa "Tafa" Romain
8:30 p.m. – Intermission
9 to 10:30 p.m. – Dion Parson and the 21st Century Band
Saturday, Nov. 6
6 p.m. – Courtyard Open – Yard Vibes, Steel Ensemble
7:30 p.m. – Dion Parson and the 21st Century Band
8:30 p.m. – Intermission
9 to 10:30 p.m. – Dion Parson and the 21st Century Band
The event is open to vaccinated residents only, and masks will be required to be worn during the concert. A temperature check will also be conducted before entering the Prior-Jollek Hall. Tickets are available online.
Prices are $50 for adults, $25 for students or $15 for the live stream. Questions can be sent by email to: eventsontheusvirginislands@gmail.com or by calling 646-725-3353.
Related link: Jewels of the Virgin Isles: Netfa Romain