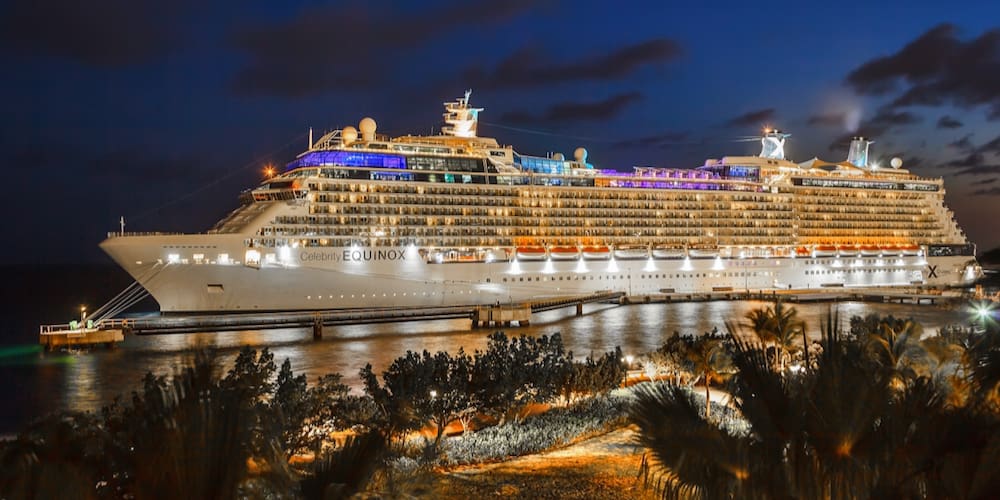 For the first time since the end of February 2020, a cruise ship will call at the Ann Abramson Pier in Frederiksted and allow more than 2,500 visitors to explore St. Croix all day Wednesday.
Celebrity Equinox, which can carry as many as 2,852 passengers, is scheduled to dock at 8 a.m. and leave port at 6 p.m. Following V.I. Government and Celebrity regulations, all passengers should be fully vaccinated against COVID-19 and practice safety protocols. The cruise line also requires all staff to be immunized and the ship will only be filled to 95 percent capacity, which in the ship's case means 2,709 passengers.
The St. Croix Tourism office in Frederiksted plans to celebrate the visit with activities all day along Strand Street and near Buddhoe Park. Steel pan bands and deejays will provide music for guests to enjoy while they watch moko jumbies, masqueraders, the Music in Motion dancers and other cultural and festival dance groups, said Neelia Ross of the Tourism Department.
Two vendors will serve food and beverages at the Fort Frederik beach. They will also have chairs and umbrellas to rent. According to Valencia Williams of Sports, Parks and Recreation, the limit of two vendors on the beach and eight more at the Eliza James McBean clock tower selling T-shirts, jewelry, clothes and other souvenirs is due to COVID-19.
Some visitors will take taxi-vans or tours to see the island or the towns. Island Network is the contractor providing tours for Celebrity Cruise Lines. Theresa Ponce, Island Network general manager, said more than a dozen tours are scheduled. Passengers will travel in 15- or 25-passenger vans and visit Captain Morgan Distillery and the Botanical Gardens or take a panoramic tour of the North Shore to Salt River. Visitors will also go to Buck Island to snorkel or take walking tours of Christiansted and Frederiksted. A bicycle tour of Frederiksted will also be offered.
"We have safety procedures and we will be practicing them and are hopeful everything goes well," Ponce told the Source.
Leatherback Brewery, Mutiny Vodka Distillery and the St. George Village Botanical Gardens will be open for visitors, as will most of the retail outlets on Strand Street in Frederiksted.
Susan Mickelecky, owner of Polly's on the Pier, said because the restaurant is directly across from the pier it usually sees a lot of cruise ship visitors. This year she doesn't know what to expect from the Equinox passengers, she said.
"We hope for a business boost – how much? We'll have to wait and see, but we're definitely looking forward to it. It's been so long," she said.
Another merchant, who asked not to be named, said employees are not looking forward to the visit because they are concerned about the passengers observing COVID safety protocols.
According to the schedule on crew-center.com, Equinox will call again on Sept. 8 and Sept. 29 and Royal Caribbean's Vision of the Seas will dock at the Frederiksted Pier on Sept. 15 and Sept. 28.