Special content for St. John Tradewinds and Virgin Islands Source.
WAPA is ready to light up parts of Cruz Bay as soon as St. Thomas can power up the Tutu substation that feeds the underwater cables to St. John, according to Richard Lanclos, WAPA Line Superintendent.  "They just need to plug it in," he said.
WAPA crews continue to repair poles and downed wires as they work their way from the Marketplace toward Pine Peace and from Grande Bay towards Gallows Point.  The two feeders that supply the island with power can be "tied in" and WAPA can energize Mongoose Junction and the rest of Cruz Bay.
In past decades, St. John relied on a generator in Cruz Bay to supply electricity to the surrounding area when outages occurred.  However, the Silver Arrow, the generator that went into service in the 1990's, has been decommissioned and can't be repaired, Lanclos said.  St. John now gets all of its electricity from St. Thomas.
Friday the 13th is the day linemen from the States are expected to arrive in the territory to assist WAPA, according to Steve De Blasio of the Bloomberg Group which is helping to restore power to the island. The team on St. John will initially include 35 pole climbers and setters, and 10 supervisors to work with local WAPA crews, "but we expect the number will quickly be increased," De Blasio said.
WAPA has ordered 200 composite poles to replace broken poles, and crews would be starting at Myrah Keating Smith Community Health Center and working their way to the East End.
When asked why crews would not begin working in Coral Bay right away, Lanclos said, "There's no reason to fix Coral Bay if we can't energize Coral Bay.  We have to salvage as we go."   He added that one foreman cried when he saw the destruction in Coral Bay.
TROOPERS GO HOME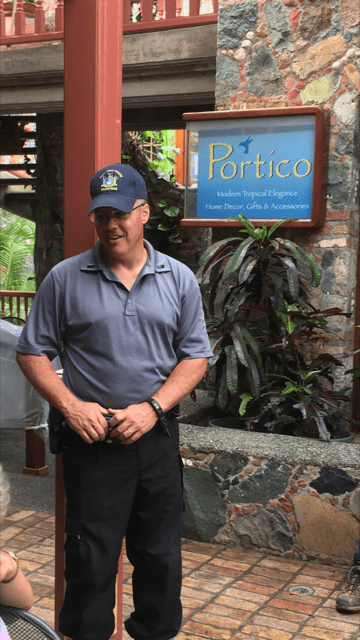 Nearly 30 New York State Troopers went back home on Tuesday, October 10, but not before they "deputized" the 130 students at the Gifft Hill School, asking the little ones to promise to be good, and the older ones to be worthy leaders.  The younger children clamored for the shiny New York Trooper sticker badges that were handed out, according to Lt. Kurt Schmitt.
The New York State Troopers assisted VI Police Department patrol officers for more than two weeks. Their red and blue lights were a comforting presence to some as they cruised the dark night streets, especially in Coral Bay where residents said visible law enforcement was often absent following the storms.
The New Jersey State Police has a team on island that is assisting the Emergency Medical Services and staff at the Morris DeCastro Clinic. As of October 11, officials had not determined whether their New Jersey officers' mission would be redirected towards law enforcement.
HEALTH GROUPS ROTATE IN AND OUT
Michael Wolverer of the US Department of Health and Human Services announced that his team would be leaving the island, but the staff at the De Castro clinic is welcoming back the Go Team from John's Hopkins University.
Wolverer had words of praise for St. John as he said farewell at Monday's FEMA-VITEMA-NGO meeting.  "The way the community came together, I've never seen anything like it," he said.
CONNECTIVITY
The Bloomberg Group was given credit for helping to resolve licensing agreements among phone service providers which normally take between 90-100 days to process.  "They completed it in about 48 hours," said Clayton Covell, who works with Global Disaster Immediate Response Group (DIRT).
The VINGN's free public access WIFI network "went down hard" for about 12 hours on October 9 when a line on St. Thomas was accidentally cut, according to Rob Tutton.  "This type of thing is likely to happen again," he added.
On a more positive note, Tutton said the plan to extend the network to Coral Bay is going well.   Relay sites have been established in Great Cruz Bay and on Ditleff Point. The team is now working on the site at Bordeaux Mountain on St. John.  Once the equipment arrives that will allow the signal to be distributed, the entire south shore of St. John will have internet access.
VINGN provides hotspots in Cruz Bay at Ronnie's Pizza, Connections, the parking lot between the BMV and the tennis court, and the third floor of the Marketplace.
DEBRIS COLLECTION
The contracts have been signed, and crews now employed by Public Works are beginning to move along the primary roads to collect all storm-related debris.  The rule is that the debris must be piled within 10 feet of the roadway.  Debris left further than 10 feet from the road is considered to be on private property, and crews cannot touch it.
"Debris" includes white goods and appliances; household goods, like wet books and furniture; electronics; and natural debris like fallen trees and brush.  The sorting of objects into these categories is appreciated but not expected.  After the main roads have been cleared, crews will move to secondary roads.  Officials warned residents to be ready when the crews arrive because it's not known when these crews will make another round.
Debris will not be collected from hotels or private-for-profit organizations, according to Steve De Blasio of Witt/O'Briens, which is assisting Public Works and the Bloomberg Group in debris removal. "They need to pay contractors and the tipping fees; it's the cost of doing business," he said.
The debris collection is another good example of the public-private partnership that's taken place on St. John, according to Joe Robinson of the Bloomberg group.  He said other "quiet philanthropists" have assisted in this and other efforts.
Officials continue to advise residents to leave their household waste at the bins for regular collection.  Special arrangements have been made to barge the household waste to the Bovoni Landfill during curfew hours.
Deputy Fire Chief Ernest Matthias said no burning permits for waste or debris would be issued.
CHESNEY'S GROUP IS SPREADING THE LOVE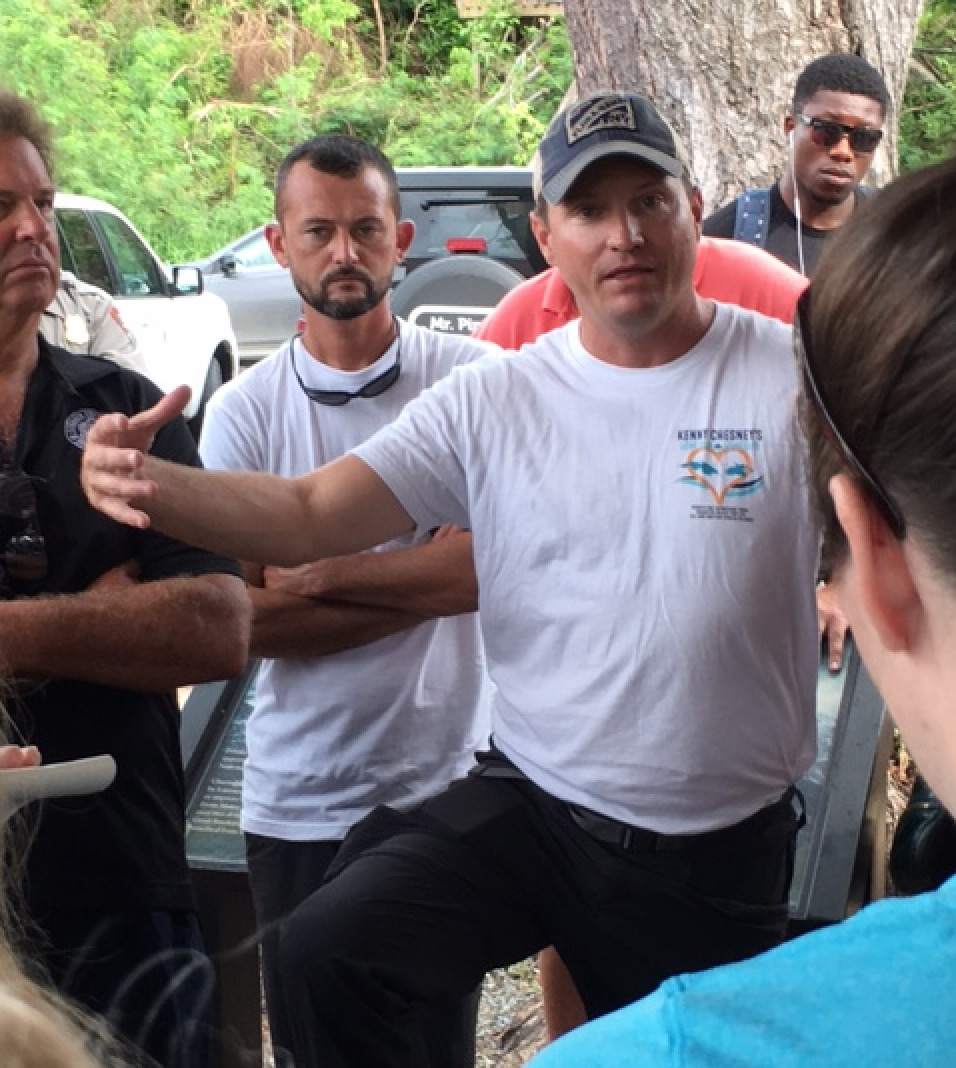 Ben Bourassa of the Kenny Chesney's Love for Love City Foundation said his group has assisted local schools and businesses by tearing down damaged structures and removing debris.  Their crews made it possible for the Gifft Hill School and the Christian Academy to open weeks before the public school on St. John is ready.  (No firm date has been established for the opening of the Julius E. Sprauve school.)
"We're trying to help clean up bars and restaurants," said John McInnis of the Chesney group. "If they need a freezer or a generator, let us know.  We do not have red tape."
When asked how they could be contacted, one Chesney staffer suggested smoke signals.  In fact, Meaghan Enright, who has been working with Love City Strong, will now be serving as Chesney's communications liaison and can be contacted at the town meetings. Messages for Chesney's group can also be left at Connections.
Chesney's group, which helped clean up the beaches in Cruz Bay, is now assisting the people on Jost van Dyke. They're looking for volunteers to join the effort this weekend. Check their Facebook page.
BOATS IN HURRICANE HOLE
Tony Davis, who took over as last week as incident commander for the National Park Service (but was scheduled to rotate out on October 12,) said the park was developing a plan to remove the damaged boats in Hurricane Hole.  Current plans call for owners to be given 30-days' written notice before their boats may be removed by a contractor.
FEMA IS LOOKING FOR A FEW GOOD WOMEN AND MEN
Officials on St. John announced that FEMA is hiring local residents to work as translators and administrative assistants.  Applicants must apply online. Visit their website or send an email to fema-workforce.caribbean@fema.dhs.gov.  Applicants should write "Virgin Islands" in the subject line of the email, attach a resume, and write a brief statement of intent which includes the island(s) they wish to work on and any bilingual skills.
FEMA IS LOOKING FOR A FEW PLACES TO LIVE
The number of FEMA workers arriving from the States is continuing to grow, but with no WAPA-generated electricity on the island, finding housing for them is a problem.  Property owners who can provide rooms with electricity and running water should contact FEMA about rental opportunities at the 7:30 a.m. meetings at the National Park Headquarters held on Mondays, Wednesdays, and Fridays. FEMA pays the current rate set by the Federal government.
FEMA ASSISTANCE
Homeowners who are not on island may designate a friend, neighbor, or contractor to represent them to FEMA for site inspections.  Property owners should provide written notice of right of entry to their representative through email, text, or letter.  Applications are still being taken for the Blue Roof program.
FEMA workers are meeting with residents who wish to register for Disaster Survivor Assistance at the NPS pavilion in Cruz Bay and the Coral Bay Fire Station from 8 a.m. till noon.   FEMA staff are going out "into the field" in the afternoons to try to contact residents who may need help but can't make it into town.
Desiree Vincent, Disaster Survivor Assistance task force leader, clarified that families may apply for federal assistance if one member of the household, even a minor child, has a social security number.
FEMA also has a disability specialist on island.  Lauren Fleming is available to help those with any type of physical or mental disability. Anyone who requires medication or equipment that was lost in the storm should contact her.
John Covell said FEMA would soon be finalizing plans to open a "one-stop" center for all their services that would be operational for 30-90 days.  Usually, these centers are set up in donated space which is accessible to the disabled.
For those who have internet service, FEMA has also set up Facebook page. Check the listings for each island on Facebook.