It once was said that if you want to see anyone on St. John, stand by the Post Office. Hurricanes Irma and Maria, and their shy brother, Hurricane Jose, rearranged that picture.
Now, if you want to see anyone, stand around a couple of Cruz Bay restaurants where a daily meal is handed over the counter, free of charge. This generosity began two days after Irma struck when some eateries decided to help a community set on its ear by back-to-back Category 5 storms.
Cruz Bay Landing and The Longboard were two of four places where anyone could come in, pick up a dish and eat. Their efforts caught the attention of Gov. Kenneth Mapp as he toured the devastation a few days later.
The portly chief executive who often jokes about his battle with the scale mentioned the Cruz Bay feedings in his daily radio address, noting that the portions were generous and customers seemed to enjoy their meals.
The work of kitchen crews and volunteers kept it coming while emergency managers set up distribution points for pre-packaged food and water.
Locals start to congregate a few minutes before the two venues start the daily service. They occupy white plastic chairs on the walkway leading to Cruz Bay Landing in Franklin Powell Park. Next block over, near The Longboard, folks stand near the patio or settle into doorsteps of stores across the street.
For those who've been around for awhile, it's not an unusual scene because Longboard used to be Joe's Diner, an institution in town since 1972.
Two o'clock comes. the roll down gate at Longboard rolls up and portions of the daily meal move across the counter in red and white cartons. At Cruz Bay Landing server Amanda Perry stacks cartons atop two bistro tables set side by side.
Customers walk up, pick up and dig in. There's penne pasta with a warm marinara sauce and a dollop of bright green pesto. Another day there's a seasoned medley of beans served with dirty rice or a substantial hot dog with crispy steakhouse fries.
Longboard serves something green on every plate. Bartender Patrick McCafferty said that's the chef's call. "We've got rice, salad, croutons. Every day we have protein, a starch, some kind of salad. That's the healthy part. We'll burn through the lettuce one day and then we'll have cabbage so we'll make some slaw," he said.
Todd Beaty, the owner of Cruz Landing, estimates up to 1,000 meals move out over the course of a day. That starts with a line for fresh brewed coffee in the morning, bagged sandwiches by mid-day, followed by the hot meals at 2.
Compared to the volume his kitchen puts out at the height of tourist season, Beatty said there are similarities.
"It's still about the same amount of daily hours. It's just different work. We never had to order in bulk like this. We're used to feeding 400 people a day, as opposed to 1,000 people a day. It's just a completely different realm," he said.
As a food service professional, Beaty has been around Cruz Bay for a while. The former owner of Woody's Seafood Saloon, he and wife Christie took over JJ's Texas Coast Cafe in 2013. Because of Cruz Bay Landing's location, a lot of locals move through on their way to and from the Loredon Boynes Ferry Dock.
As a hands-off manager, Beaty can often be seen at the dock or in the park, doing business by cell phone or waiting for his two sons to get off the boat from St. Thomas after school. Since the September storms, he said, he's seen the start of a comeback on St. John.
Now it's a mix of regulars and new faces. Last Sunday, a mother comes up with three children, dressed for church or maybe afternoon brunch. The denizens of Powell Park show up as well, those with who use the public space as their living room.
"I've seen the community really bounce back quickly. The spirit has never died on St. John and you can see everyone going through the hardships as well. You see families coming through the line. You see the best and worst of humanity coming through the line like this. And it's kind of an eye-opening experience I've never seen before," Beaty said.
McCafferty said he also appreciates most of those he and his kitchen crew serve and vice versa. "Usually in season we get packed with tourists but right now this is a place where everybody can hang out. We get Army guys, we get cops, we get nurses — everybody," he said.
Lending a hand to the first phase of hurricane recovery interrupted the bartender's plans for an off season trip to Asia with his girlfriend, he said. Plane tickets were bought and the plan was to leave the first week in September.
"I decided to stay a bit longer. She left on Sept. 2 and then we got hit by the storm, so I stayed. We got her back here as soon as we could. We were about to celebrate — then we woke up the next morning and then we got news that Maria was going to hit us," McCafferty said.
Since then the couple has taken to the task of feeding their community. Job One was clearing a fallen tree in the road in front of Longboard. Then came the volunteers, filling in for workers who went off island for off season. Many of the regulars have come back since then, he said.
Mid-morning service starts with snacks and sandwiches — turkey, ham, and cheese or a vegetarian option. Granola bars. After a break, the crew preps lunch for relief workers first responders.
"We start at 8. We'll bag about 500, then we start giving them out. Some go to the schools, some go to the DIRT guys.The rest goes to the people on the street who come in," McCafferty said.
Much of the work is done assembly-line style. "It's the same thing every day. It's like Ground Hog's Day, whereas in season, a lot of things are more organized. Usually, we have about two or three people in the kitchen. Now we have four or five."
The community response — overwhelming, he said. Many customers try to pay for their meals. One of the bright spots of the day is when the students come in after school. McCafferty said he gets a kick out of one boy who shows up for refills of Kool Aid.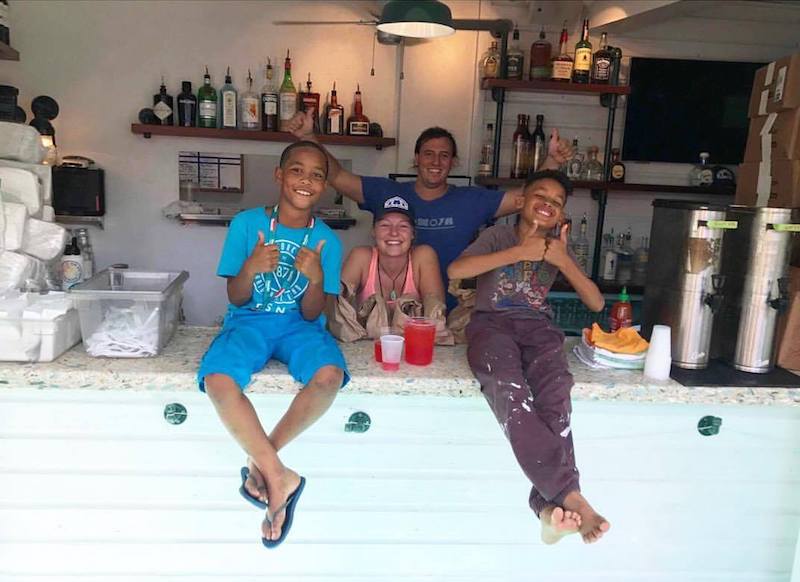 People are overwhelmed with gratitude. We do get people who are a little picky, who prefer white bread over wheat. But 90 percent of the time, it's overwhelmed with gratitude," he said.
Out of pocket funding by restaurant owners helped make the meals possible, along with funding from the American Red Cross. Daily meal service under the Red Cross contract expired on Oct. 11 at Cruz Bay Landing, which is expecting to resume regular restaurant service around the 15th. Editor's Note: As we were preparing this story to post today, Cruz Bay Landing opened for business today, October 13th at 7am with breakfast. The restaurant will be open 7am to 7pm with happy hour from 3 to 5pm featuring $1 wings and $1 off all beers.
Beatty said when he looks around at his St. John neighbors — especially the families showing up for a cup, a carton or a brown bag, the effort was all done for the right reasons.
"We always had a good relationship. I hope everybody knows we've got their back," he said.
McCafferty said Longboard would probably continue a few days longer.