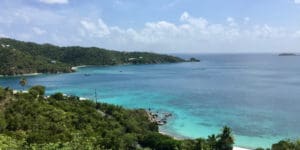 The Division of Coastal Zone Management (CZM) has created the Round Bay User Management Plan to manage the increased use and maritime activity occurring in Round Bay, St. John. This document comprises inputs from the residents in Round Bay, St. John, and local boating interests both commercial and recreational, according to Commissioner Jean-Pierre L. Oriol of the Department of Planning and Natural Resources.
Round Bay is home to the Virgin Islands Coral Reef National Monument (VICRNM), a national historic wreck, healthy seagrass beds and sand flats — all of which will greatly benefit from mooring installations and buoy signage that would regulate, protect and mitigate the pressures and impacts of the increased boating and maritime activity.
To view the draft document, visit https://dpnr.vi.gov/czm/ and scroll down to "Recent Research & Useful Information" where one can download the pdf.
For additional information or to provide additional feedback, contact the Division of Coastal Zone Management at czm@dpnr.vi.gov or call 774-3320.