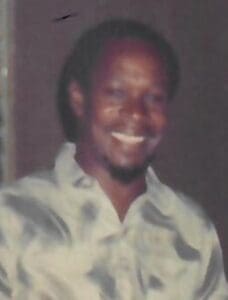 Darius F. Dalsan died on Friday, March 11.
He was preceded in death by his mother, Ada Dalsan; and father, Moses Dalsan.
He is survived by his spouse, Agnes Dalsan; son, Thadius Dalsan; grandchildren: Tya Dalsan and Jenascia Dalsan; sister, Margarita Dalsan; brothers: Gilbert Dalsan, Tomey Dalsan and Julian Dalsan; nieces: Delma Louis and Samantha Dalsan; cousin, Alita Theophilus-Phillip; In-laws: Petunia Dalsan and Simone Dalsan; special friends: Coconut and Catherine; as well as other family and friends too numerous to mention.
Funeral arrangements are by Divine Funeral Services LLC.
A Memorial Service will be held at 9:30 a.m., Friday, March 25, at Divine Chapel, No. 129 Peters Rest, Christiansted. Interment will be cremation.
Due to government mandated social distancing guidelines, all guests must wear face masks at the viewing, church and cemetery.