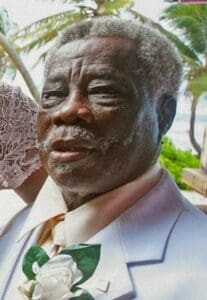 Wilbert O. Drew Sr. died on Wednesday, Feb. 23.
He is survived by his children and their spouses: Wilbert Jr. and Annette Drew, Mahalia and Leroy Nurse, Denise and Trevor Elliot, Peola and Stedroy Dover, Violet Drew and Samuel Tyson, Varris Arnold, Calditer and Godrey Saunders, and Stuart Drew; and grandchildren: Shenel, Shadelle, Shawn, Charisma, Darnell, Deroy, Dayvon, Luis, Kishawn, Shamalia, Rasheed, Tashima, Elijah, Renata, Reana, Rachel, Renine, Nathalia, Elijah, LaToya, Tyeisha, Audreonna, Yterius, Ayomide, Shanice, Shadae, Cordell and Dillon.
He is also survived by great-grandchildren: Jahniyah, Josiah, Ikaeda, Keniya, Kenai, Devonte Jr., Enoch, Annurah, Tia, Sophitiah, Reighley, Amari, T'shawn, Kahari, Jahlicia, Gregory and Gabriayl; sisters: Claretta Drew, Hortense Drew and Shirley King; brothers: Bertram Drew, Rupert Drew and Pinto Williams; nephew, Hubert Drew; and cousins: Constance Germin and Tyhany Williams-Hanley.
Other survivors include In-laws: Ron, Bernadine, Perlina, Val, Mary, Vernice, Florence, Gloria, Roy, Noel, Ivern, Tony, Elvis, Carlos, Kenneth and Danny; special friends: Mango Man, Elmo, Frank, Jacob, Myrthlyn, Kenrick, the Blake family, Clementina, Merrit, Murree, and the Hewlett family; as well as other relatives and friends too numerous to mention.
Funeral arrangements are by Divine Funeral Services LLC.
A viewing will be held from 1-3 p.m., Saturday, March 26, at Divine Chapel, 129 Peters Rest, Christiansted. A second viewing will be held at 9 a.m. followed by a funeral service at 10 a.m., Sunday, March 27, at Bethel Seventh-day Adventist Church, 2 Williams Delight. Interment will be at Kingshill Cemetery.
Due to government mandated social distancing guidelines, all guests must wear face masks at the viewing, church and cemetery.