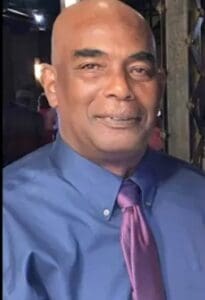 Elphege Alfonso died on Thursday, Feb. 17.
He is survived by his daughters: Passion and Mabika; sons: Kelin Callway and Elphege Alfonso; brothers: Rikkie Brown, Christopher James, Aldwin James, Shuan Sorzano and Athony Sorzano; sisters: Laura James and Nicole Parris; special friends: the entire Ebenezer Methodist Church Congregation; and other family and friends too numerous to mention.
Funeral arrangements are entrusted to Divine Funeral Services LLC.
There will be a viewing at 9 am. followed by a funeral service at 10 a.m., Saturday, March 26, at Ebenezer Methodist Church, 195-196 Richmond, Christiansted. Interment will be cremation.