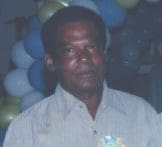 David Dolcar Sr. died on April 5. He was 68 years old.
He is survived by his spouse, Jackie Dolcar; sons: Luther, Travis and David Dolcar Jr.; grandchildren: Morgan, Aundre, Alexander and David Dolcar lll; sisters: Daphny Joseph, Madeleine Alexis, Christina Peter, Ira Polimis, Marjorie Henry, Vira Smith, Paula Campbell, Carol Fevrier, Angella Martelli and Elmise Evans; brothers: Sylvester and Philbert Smith; very special close friend, Anthony Deterville; as well as father-in-law, sisters-in-law, brothers-in-law, nieces and nephews, other relatives and friends too numerous to mention.
Due to the COVID-19 pandemic and public health regulations, masks and facial coverings must be worn at all times.
The viewing will begin at 9:30 a.m. and be followed by a funeral service at 10 a.m., Thursday, April 15, at Christiansted Seventh-day Adventist Church. Interment will be at Kingshill Cemetery.