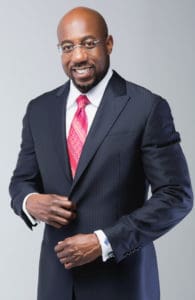 Newly-elected U.S. Senator Raphael Warnock (D–Georgia) will be the keynote speaker at the University of the Virgin Islands' online commencement on May 14, the university announced.
In January, Warnock became Georgia's first Black senator and the first Black Democrat to represent a southern state in the U.S. Senate.
The ceremony will be online this year due to the COVID-19 pandemic.
"The Class of 2021 deserves high recognition for having persevered through a pandemic that forced them to suddenly adapt to new learning methods and having successfully completed this important chapter in their lives," UVI President David Hall said in a news release from the university.
"We have selected a keynote speaker who epitomizes overall excellence," Hall said. "Rev. Raphael Warnock is not only a highly recognized pastor, but he is also known beyond the doors of his church for his social and political influence in defending the voting rights of those in his state. I think that as a product of a (historically black college or university) Reverend Warnock's recent ascension to being Georgia's first Black senator and the first Black Democrat to represent a southern state in the United States Senate will also serve to inspire our students as they prepare for their careers."
Beginning in 2005 Warnock was senior pastor of the historic Ebenezer Baptist Church, spiritual home of Rev. Martin Luther King, Jr. Under Warnock's leadership, reportedly more than 5,000 new members have joined Ebenezer, enhancing the Church's legacy of social activism with both spiritual and numerical growth.
In 2006, Warnock led a "Freedom Caravan" of citizens back to New Orleans to vote after Hurricane Katrina. Warnock has taken on the contradictions in the criminal justice system, public education, health care, HIV/AIDS and has defended the downtrodden and disenfranchised through his preaching and his public advocacy, the UVI news release said.
Warnock graduated cum laude from Morehouse College in 1991, receiving a bachelor's degree in psychology. He also holds a master of divinity degree from Union Theological Seminary, New York City. He continued his graduate studies at Union, receiving a master's and a doctorate in systematic theology.
Warnock's first book is entitled "The Divided Mind of the Black Church; Theology, Piety & Public Witness."
UVI will also bestow an honorary degree on District Court of the Virgin Islands Chief Judge Wilma A. Lewis. Lewis is the first woman to serve as a federal judge in the USVI and has been chief judge since 2013.
Lewis' appointment to the federal bench was her fourth presidential appointment with Senate confirmation, having previously served as assistant secretary for land and minerals management at the U.S. Department of the Interior, U.S. attorney for the District of Columbia, and inspector general for the Department of the Interior.
Lewis began her professional career in 1981 as an associate with the Washington, D.C. law firm of Steptoe & Johnson LLP. She has served as an adjunct faculty member in trial advocacy at The George Washington University Law School.
UVI also will bestow an honorary degree on retired UVI Board of Trustees chair Alexander Moorhead. Born on St. Croix, Moorhead was elected to three terms in the Legislature of the Virgin Islands, from 1971-1976, serving as a Senate minority leader.
Moorhead was employed by the V.I. Water and Power Authority from 1977-1979, first as director of management services and later as deputy executive director, the number two position in that public utility. After securing his master's degree in 1980, Moorhead was hired by the Hess Oil, later Hovensa, refinery on St. Croix, and served as the company's vice president, government affairs, community relations and secretary until his retirement in June, 2010.
He was appointed and confirmed to the Board of Trustees of the University of the Virgin Islands in March 1996 and served continuously until May 2020.