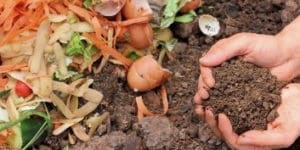 The Virgin Islands Department of Agriculture's VI Conservation District (VICD), in partnership with the nonprofit organization Island Green Living, is inviting the public to a free Composting and Food Security presentation and workshop event from 11 a.m. to 1 p.m., Saturday, Nov. 5, at Gifft Hill School's Upper Campus, St. John. there will be similar workshops held on St. Croix and St. Thomas.
Agriculture's VI Conservation District will showcase the basics of composting and demonstrate how to build a "Johnson-Su Bioreactor" composter. The demonstration will be done by Jason Budsan, a Virgin Islander artisan and business owner of Caribbean Herbals.
Harith Wickrema, president of Island Green Living, will present the fundamentals of container gardening in the journey toward food independence in the territory. There will be giveaways available to the first 20 attendees and activities for children.
The public is encouraged to take an active role in addressing food security at home while maximizing exposure to nutrition and freshness. They can divert food scraps and other organic waste from the landfill by composting, allowing it to nourish the soil for home gardening.
Free Composting presentations will also be offered on
St. Croix, 11 a.m. to 1 p.m., Saturday, Dec. 3, at Rudolph Shulterbrandt Agricultural Complex in Estate Lower Love
St. Thomas, 11 a.m. to 1 p.m., Saturday, Nov. 12, at TuTu Park Mall